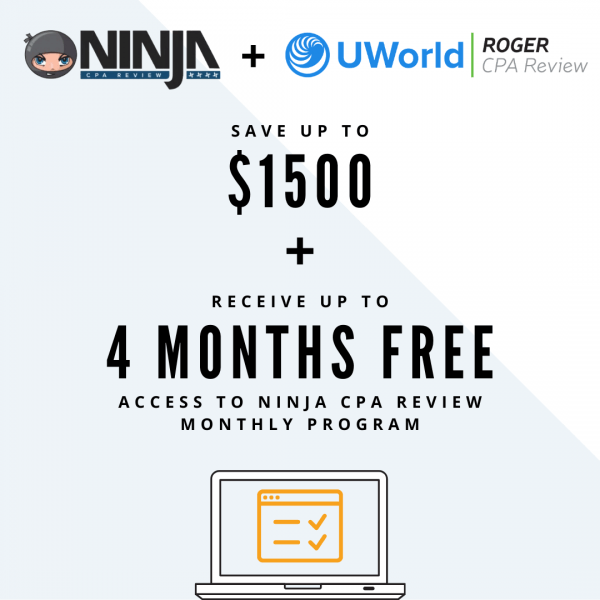 This promo has ended.
Disclosure: UWorld Roger CPA Review and NINJA CPA Review have a paid partnership.
---
Update: To accommodate Future CPAs who purchased Roger's 4-Part course prior to this promotion, NINJA is extending a free (1) month to all Roger students who purchased a 4-part course within the last 12 months.
While we can't extend the four month offer to past Roger students, we wanted to do something.
To claim your free month of NINJA, forward your purchase receipt to jeff@another71.com. Feel free to share this offer with all Roger students.
---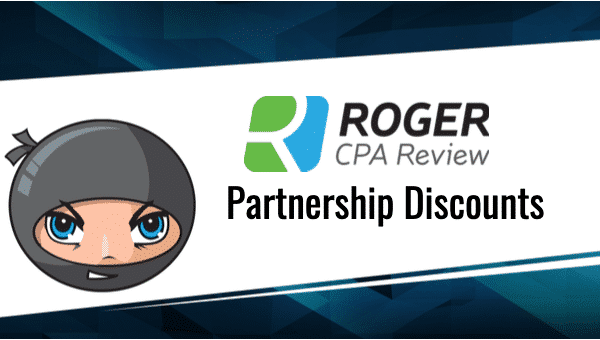 UWorld Roger CPA Review and NINJA CPA Review have announced a partnership to help CPA candidates pass the CPA Exam faster.
"We at UWorld Roger CPA Review are excited to announce that we have partnered with Jeff Elliott, CPA and NINJA CPA Review to help you pass the CPA Exam even faster.
While our comprehensive Roger CPA programoffers everything you need to pass the CPA Exam, we know that students often want more. More materials, more questions and more exam-day assurance.
From now until September 30th, any student who purchases a new UWorld Roger CPA course (single course or full program) will receive up to four months of free NINJA Monthly program access. Even better – all of our courses are discounted exclusively for you.
In these unpredictable times, we understand you have a lot on your mind — and we'd like for the CPA Exam not to be one of them — so we have teamed up with Jeff to offer this unbeatable package so you can be on your way to CPA."
Link: accounting.uworld.com/cpa-review
The limited-time promotion offers:
Free NINJA Monthly access (details below).
How it works:
1. Enroll in your Roger CPA Review program of choice using the discount codes above
2. Email jeff@another71.com with a screenshot of your purchase confirmation showing that you purchased through this promotion.
3. Within 5 business days (this will be a popular promotion, so please be patient), I (Jeff) will set you up with your bonus NINJA Monthly access.
The Fine Print :
1. This promo is for new UWorld Roger CPA Review purchases only. (It can't be retroactively applied).
2. You must use one of the designated coupon codes for this promotion. (When you email, please forward your receipt showing the coupon).
3. You must email jeff@another71.com for your bonus access within 3 business days of your Roger purchase. (This avoids us both forgetting and 8 months later – "hey – I have this access I need to claim") 🙂
4. You can delay/defer your NINJA Access start until September 30, 2020.
5. If you purchase an Elite Course, your 4 Free Months will run concurrently and can't be paused. (You'll start with one section and may switch every 30 days, so if you start with FAR, you can switch to AUD after 30 days, etc)
6. Any questions? Email jeff@another71.com and we'll figure out the answer 🙂
---
---
See full details and pricing at accounting.uworld.com/cpa-review