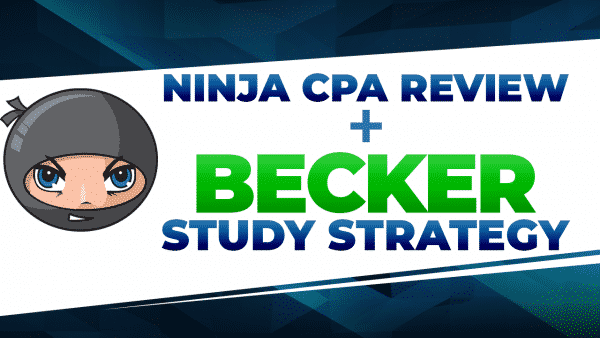 Scenario: You want your Becker Course to do the heavy-lifting for your upcoming exam, but want to give it a NINJA boost.
From Elijah Watt Sells Award winners to struggling CPA candidates praying for a 75, and everyone in-between the NINJA Framework has literally been used by tens of thousands of CPA Candidates to pass the CPA Exam.
So, whether it's your first time taking the CPA Exam, or it's your 5th battle with FAR, you can trust the NINJA Framework to arm you for Exam Day.
Let's get started…
N.
---
Nail the concepts with your Becker lectures.
If something is confusing in your Becker materials, look it up in the NINJA Book. Start listening to your NINJA Audio. Never drive to work without it on. You can listen to fun things when you're a CPA. Let that motivate you. 🙂
If your commute is 1 hour round trip, then that's 1 hour of NINJA Audio per day (and that's for the commute alone … if you can work and listen to the NINJA Audio: even better.)
Start reading the NINJA Notes in your downtime, especially at work. It's ok if you haven't studied the section before. It will all start clicking the third time through, regardless of where you are in your prep.
Map out your entire study week with the NINJA Study Planner.
---
I.
---
Take Intense Notes over your Becker lectures.
First Time? Retake? 15th Retake? It doesn't matter. Take Intense Notes.
---
N.
---
Non-Stop MCQ.
If this is your first time taking this exam, then do Non-Stop MCQ with your Becker test bank and then in the review phase (A – All Comes Together), then you switch to NINJA MCQ and work backward, beginning with your weakest topic.
If this is a retake OR you've found yourself memorizing your Becker questions, then switch 100% over to NINJA MCQ for this phase. When it comes time to do the SIMS, switch back and forth, according to which software you like better.
Again … if this is your first time taking this exam, use your main course MCQ for N (Non-Stop MCQ) and use NINJA MCQ for A (All Comes Together) as you review.
If this is your first time taking this exam and you're memorizing the test bank questions (which is really bad because it causes false confidence … you're scoring in the 90s, but on exam day, you score a 65 and can't figure out why), then switch over to NINJA MCQ 100% for both (N) and (A).
SIMS – First time or retake alike: switch back and forth between the Becker and NINJA test bank platforms.
---
J.
---
Just Re-Write Your Notes.
This phase is pretty much universal, no matter if you're going #fullNINJA or supplementing. If you took killer notes, re-write those. If taking notes just wasn't in the cards this time around and you did the best you could do, then re-write the NINJA Notes.
Make sure you start the process at least two weeks out from exam day and take no longer than a week.
---
A.
---
It All Comes Together.
If you're using your Becker software in the Non-Stop MCQ phase, this is where you switch over to NINJA MCQ (if you've already switched, then keep using it here as well). Start with your weakest topics first and work backward. You can let the software feed you questions, but since you're in a final review phase, I recommend doing topic-specific mini testlets and really drill-down.
Do a set of 20 over your weakest area. If you're weak in several areas, then choose the one that keeps you awake at night first. The one you DREAD seeing on exam day. If you are hitting in the low-70s (70-75), then move on to your next weakest area.
The reason why you don't go for mastery here is that you have a lot of ground to cover in a short amount of time for your review. It's better to get all of the topics into the 70s and then come back and hit them again vs get a few into the 80s/90s and run out of time before you can get to the rest.
---
The Night Before The CPA Exam
---
Some people say, "Go watch a movie. What's done is done."
I say, "Pffft" to that.
I am a big fan of 1pm exams so that you can study late the night before and then get up the next morning and hit the weak areas one more time.
Crank. Crank. Crank.
Cram. Cram. Cram.
Notes. Notes. Notes.
Read the NINJA Notes so many times that you hate me, the word "NINJA", and the state of Kansas in general.
(There's nothing to do here, except head West to Colorado, so we're not offended.)
Listen to the NINJA Audio up to the millisecond that you get out of the car to walk into Prometric, and give your exam a spinning back-fist to the face.
Take several days off from studying after your exam. If possible, go on that Road Trip (and send pics to your co-workers who are still studying).
---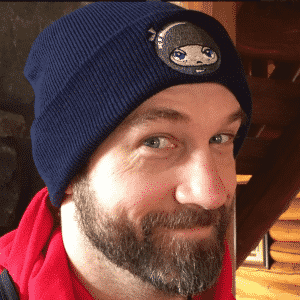 Jeff Elliott, CPA (KS)
Another71.com & NINJA CPA Review
PS – Check out the NINJA Free Trial.
---
Here's what a few NINJAs had to say…
---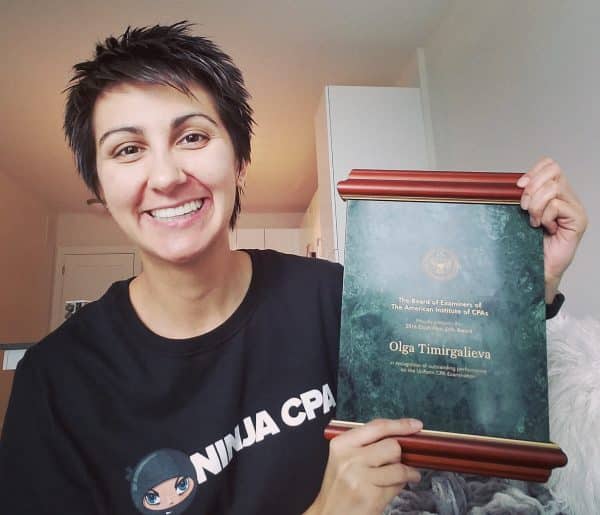 "NINJA MCQ – A must! Solving through all of the MCQ, understanding solutions, and adding new information nuggets to your notes — absolutely critical.

With the NINJA Notes, I printed out the notes and used as a knowledge check closer to the exam. Information is high-level, so you can quickly run through and get a comfort level on what you should go back to review in detail.

NINJA Audio is nice to use during the commute or if you are an auditory learner. The Audio MCQ are nice to keep you engaged."
– Olga Timirgalieva (Roger + NINJA), Elijah Watt Sells Award Winner
(Used NINJA for all four CPA Exam sections & passed on the first try with an average score of 95.5*)
* Not a typical result … Only 1 out of every 1,000 CPA Candidates win the EWS Award each year.
---
Kairra (Becker + NINJA):

"I passed AUD with an 88! Took about 3 1/2 weeks. Working full time while studying. I would say what helped was listening to the Becker lectures, do a few of those multiple-choice questions, and then completing the NINJA MCQs by topic. This method helped me identify the areas I needed help on. Thank you Ninja."
---
Kayla (Wiley + NINJA):

"I just found out that I passed BEC with an 81! I used Wiley and the Ninja monthly subscription! I think the NINJA notes, audio, flashcards, and MCQs helped me a lot. I took BEC before and used only Wiley and got a 58 so I definitely believe in the NINJA method and will be using it for REG and FAR!! I'm soo happy 2 down and 2 to go!!! This feels very doable now!!
---
Jarod (Becker + NINJA):

"Just found out I passed FAR, which was my last exam! I am DONE!

Thank you NINJA and thank you Jeff for the hard work that you and your team do. I wouldn't have passed all 4 without you guys.

For those curious, here's how I did it:

1st exam: REG.
Did everything in Becker, used NINJA to supplement: 81

2nd Exam: BEC
Did everything in NINJA, used Becker to supplement: 80. I really think NINJA MCQ alone would have been good enough for this.

3rd Exam: AUD
Studied NINJA MCQ, and notes, and used Becker MCQ as a supplement. 77. I also tubing NINJA MCQ alone would have been good enough for this.

4th exam: FAR. 61
Tried to rush through only NINJA MCQ and it didn't work. I was also super stressed and had CPA senioritis.

2nd attempt: 79

Studied Ninja MCQ in depth. Studied NINJA Book and notes. Used Becker MCQ and SIMS to supplement.

Again, thank you Jeff and the Ninja team. I would have never been able to do this without you guys!"
---
---
Want Free Downloads to Use with your Becker Course?
---
Can I send you $162.12 of free NINJA CPA Exam Materials that will will help you…
Find The Time To Study
Know What To Study
Spend Less Time Studying
Retain & Recall Information Better
Get Higher Scores