Disclosure: This site owns

NINJA CPA Review

and it has an advertising/affiliate relationship with

Becker CPA Review

, meaning we may receive a commission if you purchase through these links. Retail prices listed as of September 2019.


NINJA Monthly

Becker Premium

$67

$2,999

✅ AICPA-Licensed
✅ AICPA-Licensed
✅ Videos
✅ Videos
✅ Book
✅ Book
✅ Test Bank
✅ Test Bank
✅ Study Notes
✅ Study Notes
✅ Audio Course
🚫 Audio Course
✅ Flashcard App
✅ Flashcard App
✅ CRAM Course
✅ CRAM Course
✅ Adaptive MCQ
✅ Adaptive MCQ
✅ Audio MCQ
🚫 Audio MCQ
✅ Study Groups
🚫 Study Groups
✅ 30 Day Returns
✅ Full Refund
✅ No Restrictions
✅ 10 Day Returns
✅ No Return Fee
✅ No Restrictions
How to Supplement Becker with NINJA CPA Review
Scenario: You want your Becker Course to do the heavy lifting, but give it a NINJA boost.
This is how you do it.
N.
Nail the Concepts with your Becker lectures.
If something is confusing in your Course materials, look it up in the NINJA Book.
Start listening to your NINJA Audio. Never drive to work without it on. You can listen to fun things when you're a CPA. Let that motivate you. 🙂
If your commute is 1 hour round trip, then that's 1 hour of NINJA Audio per day (and that's for the commute alone … if you can work and listen to the NINJA Audio: even better.)
Start reading the NINJA Notes in your downtime, especially at work. It's ok if you haven't studied the section before. It will all start clicking the third time through, regardless of where you are in your prep.
I.
Take Intense Notes over your lectures.
First Time? Retake? 15th Retake? It doesn't matter. Take Intense Notes.
N.
Non-Stop MCQ.
If this is your first time taking this exam, then do Non-Stop MCQ with your Course Test Bank and then in the review phase (A – All Comes Together), then you switch to NINJA and work backward, beginning with your weakest topic.
If this is a retake OR you've found yourself memorizing your Course MCQ, then switch 100% over to NINJA MCQ for this phase. When it comes time to do the SIMS, switch back and forth, according to which software you like better.
Again … if this is your first time taking this exam, use your Becker Course MCQ for N (Non-Stop MCQ) and use NINJA MCQ for A (All Comes Together) as you review.
If this is your first time taking this exam and you're memorizing the test bank questions (which is really bad because it causes false confidence … you're scoring in the 90s, but on exam day, you score a 65 and can't figure out why), then switch over to NINJA MCQ 100% for both (N) and (A).
SIMS – First time or retake alike: switch back and forth between the two platforms.
J.
Just Re-Write Your Notes.
This phase is pretty much universal, no matter if you're going #fullNINJA or supplementing. If you took killer notes, re-write those. If taking notes just wasn't in the cards this time around and you did the best you could do, then re-write the NINJA Notes.
Make sure you start the process at least two weeks out from exam day and take no longer than a week.
A.
It All Comes Together.
If you're using your Course MCQ in the Non-Stop MCQ phase, this is where you switch over to NINJA MCQ (if you've already switched, then keep using it here as well).
Start with your weakest topics first and work backward. You can let the software feed you questions, but since you're in a final review phase, I recommend doing topic-specific mini testlets and really drill-down.
Do a set of 20 over your weakest area. If you're weak in several areas, then choose the one that keeps you awake at night first.
The one you DREAD seeing on exam day.
If you are hitting in the low-70s (70-75), then move on to your next weakest area.
The reason why you don't go for mastery here is that you have a lot of ground to cover in a short amount of time for your review. It's better to get all of the topics into the 70s and then come back and hit them again vs get a few into the 80s/90s and run out of time before you can get to the rest.
47,000+ Facebook NINJAs and Counting…
Breaking Down the 7 NINJA Study Weapons
What is it?
NINJA Book is a CPA Review textbook like no other book on the market. Instead of having a book that requires video lectures to tell you what parts to skip we eliminate this step by only including content that is directly relevant to the CPA Exam. We don't "content-stuff" to make it look more intimidating.
FAR Book: 500+ page PDF
AUD Book: 700+ page PDF
BEC Book: 230+ page PDF
REG Book: 300+ page PDF
How will it make your life easier?
The book is 1/2 the size of your standard "phone book" study text, without sacrificing any punch.
NINJA Book is a heavyweight fighter trapped in a lightweight's body.
You'll get through the concept phase in a lot less time, causing you to get through your study plan faster. You can study for FAR in 7 weeks vs the typical 8-10 weeks, giving you a chance to hang out or grab a quick road trip with friends and loved ones before your next exam prep starts, while your co-workers and peers are still locked in their spare bedrooms, studying on a Saturday night.
What is it?
NINJA MCQ is a super-popular (100,000+ CPA Exam sections since mid-2014) CPA Exam Test Bank with AICPA-Licensed Content, Adaptive Learning, and Simulations.
FAR MCQ: 1,995
FAR SIMS:
Closing Journal Entries
Allowance for Uncollectible Accounts
A/R Allowance Calculation
A/R Allowance Journal Entry
Marketable Securities
Dollar-Value LIFO
Cost of Goods Sold
PP&E
PP&E
Depreciation
Capitalized Interest
Depreciation
PP&E
R&D Costs
Bonds – Amortization
Bonds – Terminology
Bonds – Amortization
Bonds – Amortization
Bonds – Interest Expense
Debt and Equity Transactions
Reporting Contingencies
Bonds – Amortization
Contingent Liabilities
Estimated Liabilities
Estimated Liabilities
Finance Lease
Operating Lease
Pension Cost
Stock Issues
Stockholders' Equity
Stockholders' Equity
Long-Term Construction Contracts
Accounting Classifications
Functional Currency
AUD MCQ: 1,044
AUD SIMS:
U.S. GAAS
Risk of Material Misstatement
Risk of Material Misstatement
Risk of Material Misstatement
Risk of Material Misstatement
Adjusting Journal Entries
Communicating Internal Control Matters
Internal Control Procedures
Internal Control Flowchart
Internal Control Procedures
Audit Procedures & Internal Control
Audit Procedures
Audit Procedures
Financial Statement Analysis
Journal Entries
Financial Statement Ratios
Financial Statement Ratios
Analytical Procedures
Financial Statement Ratios
Attorney Letter vs Audit Report
Audit Documentation
Audit Documentation
Errors & Fraud
Substantive Tests
Kiting
Bank Reconciliation
A/R Confirmations
Sales Cutoff Procedures
Unrecorded Liabilities
Tickmarks: Long-Term Debt Audit Procedures
Audit Procedures: Long-Term Debt
Audit Procedures: PP&E
Substantive Tests
Financial Statement Assertions: Investments
PPS Sampling
Errors & Fraud
Audit Report (Non-Issuer)
Types of Opinions
Report on Compliance
Audit Report Modifications (Issuer)
Audit Report (Issuer)
Audit Report (Issuer)
Internal Control (Issuer)
Audit Report – Cash Basis of Accounting
Compilation & Review Procedures
Compilation & Review Procedures
Review – Comparative Financial Statements
Review – Comparative Financial Statements
Independence
Review – Standard Report
REG MCQ: 1,486
REG SIMS:
Contracts
Bankruptcy
Secured Transactions
Sales and Agency
Business Structures
Partnerships (RULPA)
Limited Liability Entities
Regulation D
Regulation D
Business Law
Antitrust
Professional Responsibilities
Professional Responsibilities
Professional Responsibilities
Form 1040
Gross Income Treatment – Individuals
Form 1040
Form 1040
Form 1040
Schedule F
Adjusted Gross Income
Office in Home
Form 1120 – Page 1
Form 1120 – Schedule M-2
Form 1040 – Schedule A
Form 1040 – Schedule A: Medical Expenses
Form 1040 – Schedule A: Employee Expenses
Depreciation – Farm Equipment
Property Transactions: Like-Kind Exchange
Property Transactions: Stock Sales
Estate Taxation: Transfer Tax
Estate Taxation: Asset Valuation
Gift Taxation: Tax Treatment of Gifts
Fiduciary Return: Estates and Trusts
Tax-Exempt Organizations: Transactions
Tax-Exempt Organizations: Criteria
Property Transactions: Shareholder Basis
Corporate Formation
C-Corporation: Dividends Received Deduction
BEC MCQ: 1,231
BEC SIMS:
WC: COSO ERM Framework
WC: SOX
WC: SOX 404
WC: Audit Committee
WC: COSO Internal Control
WC: Internal Controls
WC: Market Structure
WC: Business Cycle
WC: Product Life Cycle
WC: Client's Credit Policy
SIM: Activity-Based Costing
WC: Allowance for Doubtful Accounts
WC: Forward Contracts
WC: Manufacturing Cost
WC: Cost Behavior
WC: Financial Statements
WC: Spoilage
WC: Activity-Based Costing
WC: Standard Costing
WC: Responsibility Accounting
WC: Delphi Method
WC: Benchmarking
WC: Concentration & Diversification
WC: Topology Overview
WC: Cloud Storage
WC: Telecommuting
WC: Disaster Recovery
WC: Segregation of Duties
WC: LIFO vs FIFO
SIM: Corporate Governance
SIM: Corporate Governance
SIM: Cost Accounting
SIM: Cost Accounting
SIM: Economics – Comparative Advantage
SIM: Economics – Price Elasticity
SIM: Economics – National Economy
SIM: Financial Management – Financial Formulas
SIM: Financial Management – Investment Evaluation Methods
SIM: Financial Management – Accounts Receivable
SIM: Information Technology – Emerging Technologies
How will it make your life easier?
Sure – the CPA Review providers get their core questions from the AICPA. The nuances come from the edits to the questions as laws and regulations change, as well as the answer explanations, which each course has to create themselves.
Example: The same lease question (FAR) or itemized deduction question (REG) was licensed to each review provider way back when (2002, 2007, etc), but a lot has happened since then and many of the core questions won't be the same because they had to be re-written by each course's editorial staff in order to line up with the law changes.
What one editor thinks is important (some nuance of revenue recognition), will differ with the next editor, and with that, you cast a wider conceptual net so you're more prepared on exam day.
To put it another way, each review course has mostly the same questions, but those questions have evolved over time and are likely now quite different.
This is why using two test banks is recommended.
Elijah Watt Sells Award Winner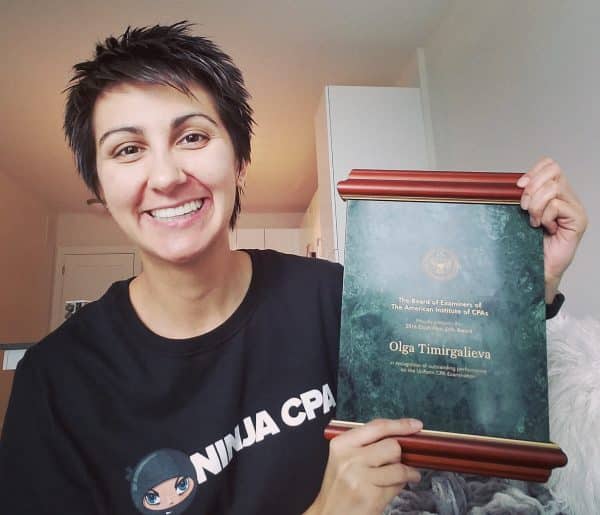 "NINJA MCQ – A must! Solving through all of the MCQ, understanding solutions, and adding new information nuggets to your notes — absolutely critical.
With the NINJA Notes, I printed out the notes and used as a knowledge check closer to the exam. Information is high-level, so you can quickly run through and get a comfort level on what you should go back to review in detail.
NINJA Audio is nice to use during the commute or if you are an auditory learner. The Audio MCQ are nice to keep you engaged."

– Olga Timirgalieva, Elijah Watt Sells Award Winner
(Passed the CPA Exam on the first try with an average score of 95.5*)
* Disclaimer – Not a typical result … Only 1 out of every 1,000 CPA Candidates win the EWS Award each year.
What is it?
A high-level view of the tested materials. Perfect for review and/or cramming.
FAR Notes: 120+ page PDF
AUD Notes: 85+ page PDF
BEC Notes: 90+ page PDF
REG Notes: 120+ page PDF
How will it make your life easier?
Not everyone is a note-taker. In fact, taking notes can be stressful because of the fear that you might miss something, so we accountants tend to OCD things and write everything down, which has diminishing returns.
NINJA Notes takes the stress away in two key ways:
1) It serves as a safety net for your own notes. You're free to jot down what you think is important and keep going. Miss something? NINJA Notes has you covered.
2) If you don't take notes, that's ok. It's not ideal, but neither is life. NINJA Notes has you covered.
During the Just Re-Write Your Notes phase, if you have nothing to re-write, again, NINJA Notes has you covered.
Think note-taking/re-writing is a bunch of nonsense?
Harvard Library doesn't think so.
"Throw away your highlighter: Highlighting can seem like an active reading strategy, but it can actually distract from the business of learning and dilute your comprehension … Pen or pencil will allow you to do more to a text you have to wrestle with."
—Interrogating Texts: Six Reading Habits to Develop in Your First Year at Harvard
3) Reading the NINJA Notes one last time the morning of your exam is the perfect way to cap off weeks of study prep and it will be fresh in your mind as you confidently walk through the doors of Prometric.
What is it?
The most-popular CPA Review audio on the market that's designed specifically for auditory learning.
How will it make your life easier?
Life is busy. You can't just sit down and study whenever you want. NINJA Audio solves this.
Commuting to work? Study.
At the gym? Study.
Doing laundry? Study.
Mowing the lawn? Study.
Sitting at your desk at work? Study.
How many extra study hours a week does the NINJA Audio buy you? 5? 15? 20?
It's significant and it adds up.
CPA Candidates who use the NINJA Audio are at a significant advantage because they are studying when their peers otherwise can't.
What is it?
CPA Exam Flashcard App (iOS/Android)
How will it make your life easier?
That guilty feeling when you've just spent the last hour wasting time on Facebook will be gone.
Simply delete your time-wasting app of choice (for me, it's fantasy baseball – don't judge!) and replace it with the NINJA Flashcard app.
The next time your thumb insists on tapping its favorite spot, you'll be studying instead. 🙂
What is it?
Cram-Style study videos. It's a hybrid of the NINJA Notes and NINJA Audio. It's lightning fast with no fluff.
How will it make your life easier?
BLITZ is a perfect review tool for the final week of your CPA Exam prep. It keeps your attention when you might otherwise space-off (this late in the game, you're tired and ready to be DONE). BLITZ can be easily be completed on a Saturday afternoon.
Some people like BLITZ more than the Notes and Audio – everyone is different.
One of the perks of NINJA Monthly is that you don't have to pick and choose what you buy – you get everything for the old price of the NINJA Notes alone ($67).
Bottom Line:
This roadmap should help you pair your Becker Course with NINJA Monthly, which will help you to fill in the study cracks with the Audio, Notes, and another perspective on the MCQ & SIMS, at the affordable price of $67/mo. Of course, you can always take the leap and go #fullNINJA.
One more thing: we have the friendliest refund policy in the industry, so investing in NINJA is 100% Risk-Free (and a no-brainer).
To Your Success,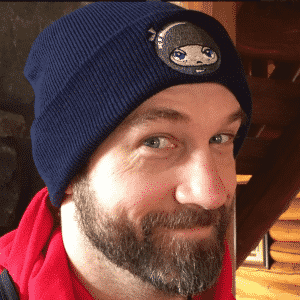 Jeff Elliott, CPA (KS)
Another71.com & NINJA CPA Review




 
NINJA Free Trial
Try NINJA CPA Review

Free for 7 Days
Includes:
Free NINJA Study Planner
Free Access to NINJA MCQ & SIMS (Full Version!)
Free NINJA Notes
Free NINJA Audio
Free NINJA Book
Get Instant Access: