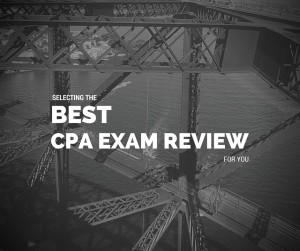 Disclosure: This site owns NINJA CPA Review and has affiliate relationships with other CPA Review Courses and could receive a commission if you purchase through our links.
Selecting the CPA Exam review that is right for you can be a daunting task. After all, it's an investment in both your time and your money. You don't want to invest a big chunk of change into a review provider and spend hours studying, only to realize that the course isn't the right one for you. Everyone has their own preferences when it comes to learning, so here's an overview of several so you can make an informed decision to select the best CPA Exam review for you.
Becker Review
Becker CPA Review is one of the biggest names in CPA Exam review and one of the priciest at almost $3,400 for all four sections. The course is available in online, DVD/CD, print and classroom formats. You'll receive about 100 lecture hours, 7,000 multiple-choice questions (MCQs), and 300 simulations. Common complaints about the Becker courses are that the live classes are sometimes nothing more than a group of students watching videos together with no live lecture or discussion. Also, you only have access to the course for 12 – 18 months. Becker does not offer a money back guarantee, but they claim their pass rate is twice that of non-Becker students.
Wiley – CPAexcel (Gold Course)
Wiley CPA Review is one of the oldest publishers of professional education materials in the country. Their purchase of the CPAExcel business in 2012 allowed them to finally offer a fully integrated CPA Exam review course. For about $1,800, they provide 80 lecture hours, 5,500 multiple choice questions, and 460 simulations. They're one of the few CPA Exam review providers that include a final review/cram course in their price. The biggest limitation for Wiley is that Wiley CPAexcel is completely computer-based. Students that don't learn best sitting in front of a computer monitor for hours may not do well with Wiley.
NINJA CPA Review
NINJA CPA Review came from Jeff Elliott, CPA (owner of this site, another71.com). Jeff started out blogging about the CPA Exam in 2008 before launching his own CPA Review Course in 2012. You can purchase the NINJA MCQ, Notes, Audio, Book, and Blitz all for one low monthly price, which includes all NINJA materials and covers all four sections of the CPA Exam.
NINJA's strength is the MCQ adaptive learning technology. (Disclosure – NINJA is owned by this site, and we are inherently biased) The system learns about your strengths and weaknesses and feeds you more questions from weak areas, helping you improve quickly. NINJA CPA is especially popular among students who've tried other review courses without success, as the adaptive learning system can efficiently help them achieve the additional points they need for a passing score.
Roger CPA Review
Roger CPA Review started with live classes in San Francisco in 2001 and has expanded into an interactive e-learning platform. It's claim to fame is fun and engaging lectures. For just over $2,000, students will receive over 100 lecture hours, 5,000 multiple choice questions, and 200 simulations. However, if you want audio review, flashcards, or a final review/cram course, those items will cost extra. One of the main complaints of the Roger CPA Review Course is that Roger speaks very fast. If English is your second language, or if you just prefer a slower lecture pace, you may have trouble keeping up.
Disclosure: This site owns NINJA CPA Review and has affiliate partnerships with the courses on this page. No course "ranking" intended or implied.


➡️

$67/month

➡️

See Discount

➡️

See Discount

✅ AICPA Course
✅ AICPA Course
✅ AICPA Course
✅ Course Videos
✅ Course Videos
✅ Course Videos
✅ Cram Videos
✅ Cram Videos
✅ Cram Videos
✅ Testbank
✅ Testbank
✅ Testbank
✅ Simulations
✅ Simulations
✅ Simulations
✅ Adaptive
✅ Adaptive
✅ Adaptive
✅ Course Book
✅ Course Book
✅ Course Book
✅ Study Notes
✅ Study Notes
✅ Study Notes
✅ Audio Course
🚫 Audio Course
🚫 Audio Course
➡️

See More

➡️

See More

➡️

See More