Thanks again for the support and advice you provided during the last 11 months. I couldn't have passed the exam without you and Club 75!! Thanks.
– Brian (Big 4 Auditor)
FREE CPA Exam Survival Guide: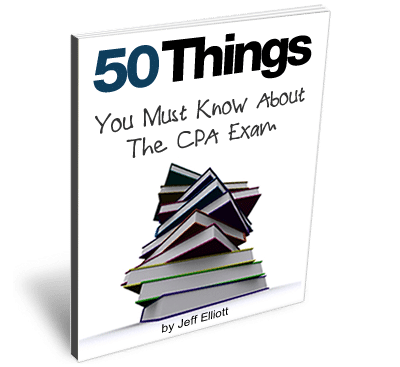 Try Club 75 Risk-Free for 30 days and instantly download the CPA Exam Survival Guide ($24.95 Value), which answers 50 of the most-asked questions about the CPA Exam.
If you don't like it – cancel at anytime during the 30 days.
I will refund your 1¢ if you would like, and you can keep the CPA Exam Survival Guide.
I'm here to help you PASS the CPA Exam, not waste your time or money.
This is literally a 100% Risk-Free offer.
Plus, you get a $24.95 book, $19.95 Study Planner, and a $10 Result Watch software download FREE.
Thank you so much for Club 75. I couldn't have passed without it!
– Rachael Deen, June 2010
Club 75 Trial Member Benefits:
CPA Exam Survival Guide ($24.95 Value)
The first book written about the computerized CPA Exam from someone who actually passed the computerized CPA Exam. This book was written from the trenches and it's a first-hand account of how to successfully PASS the CPA Exam.
CPA Review Study Planner and Progress Tracker ($19.95 Value)
This is a plan that you can follow regardless of what CPA Review course you are using.
CPA Exam Result Watch™ Software ($10 Value)
Club 75 Members get a special edition of Result Watch™, which monitors score releases on NASBA.org so that you don't have to. When your score is released, your actual score gets e-mailed to you. Simple as that.
CPA Exam Study Groups
Study Groups for July 2010 Exams are now under way.
CPA Exam Score Release Updates via E-mail
No need to waste time waiting for score release information. The updates come to you.
CPA Exam Webinars
Monthly live webinars with CPA Exam Review instructors on predetermined topic(s) or as voted on by Club 75 members (beginning June 2010).
Archived CPA Exam Webinars
View past webinars covering CPA Review topics from FAR, REG, BEC, AUD, and 2011 CPA Exam changes.
CPA Exam Chat Room
Live chat feature. Need a quick answer? Want to vent? Hit the chat room.
CPA Exam Community
Join the hottest CPA Exam Community on the internet. Get access to other CPA Exam candidates who are in your exact same situation and can offer help, encouragement, and support.
Joining Club 75 was an easy decision to make. I want to finish these exams…can't think of a better way to put me over the top! Thanks for all you do Jeff!
– Andrew M. (Passed the CPA Exam in 2009)
Additional Full Member Benefits:
I joined club 75 at the end of August as a desperate measure to get as much help from Jeff before sitting for FAR. I never expected to get as much out of this club as I do. The posts that everyone shares , the advice from Jeff, the opportunities, compassion, the list goes on.
– Shannon F.
Who Joins Club 75?
Anyone who is serious about the passing CPA Exam.
Club 75 has a wide range of members – from Big 4 Auditors to recent college graduates, 30-somethings to candidates in their 50's, stay at home parents to people working the corporate grind.
No matter their experience background or family makeup, Club 75 members have one thing in common: the CPA Exam.
If you are looking for accountability and to stay on track as you progress through your study program, Club 75 is second to none.
Jeff with all the freebies we already received, I almost feel like we are cheating you on the subscription. Thanks for everything.
– Daniel
How Much Does It Cost?
Unfortunately, there really aren't any 'Online CPA Exam Review Study Club' businesses that I could look to for price comparisons. The best I could come up with was private tutoring. I researched tutoring and found out a session with a quality private tutor ranged anywhere from $85 to $150 (per hour).
Bearing that in mind, if you choose to become a member of Club 75 you will get 24/7 access to the Member Forums, Member Chat, Live Webinars, Archived Webinars, CPA Student Notes, CPA Review Study Plan, CPA Exam Score Release Notification, the best CPA Review Discounts anywhere, a community of like-minded candidates to interact with and a trusted source to get your questions answered about the CPA Exam all for the low, low price of…
$47.00 (per month)
( Which in the world of CPA Exam Review, makes it truly one of the best bargains out there.)
I am loving this website. I just signed up for Club 75. i mean i spent a couple of grand on study materials, what is $20 a month for great advise? Thanks Jeff!
– F.L .
I have recommended your site to a couple of people that have mentioned wanting to take the exam. I will make sure in the future to recommend that they join Club 75 as well. Your site, forum, and Club 75 are wonderful tools that make the process less painful.
– Amanda H – Passed in December 2009