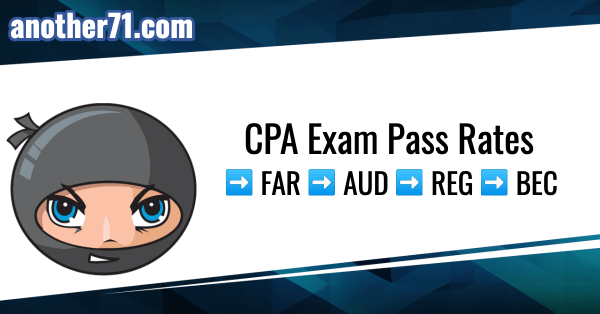 ---
CPA Exam Pass Rates by year for the last 15 years (2006-2021).
---
The CPA Exam Pass Rate data shows some interesting 5-year Trends:
AUD increased approx. 7 points, and then tanked in 2021
BEC is way up, 2/3 who took it passed in 2020 (lockdowns = more studying), and then it dropped some in 2021.
FAR leaped from mid-40s to the 50s (and then back to the mid-40s in 2021)
REG actually increased with the TCJA changes, and the CARES Act didn't change that either.
---
| | | | | | |
| --- | --- | --- | --- | --- | --- |
| 2021 | Q1 | Q2 | Q3 | Q4 | Year |
| AUD | 49 | 50 | 47 | 45 | 48 |
| BEC | 62 | 63 | 62 | 60 | 62 |
| FAR | 47 | 43 | 48 | 41 | 45 |
| REG | 59 | 59 | 63 | 58 | 60 |
| | | | | | |
| 2020 | Q1 | Q2 | Q3 | Q4 | Year |
| AUD | 48 | 65 | 57 | 48 | 53 |
| BEC | 62 | 77 | 70 | 61 | 66 |
| FAR | 46 | 63 | 56 | 44 | 50 |
| REG | 55 | 76 | 66 | 58 | 62 |
| | | | | | |
| 2019 | Q1 | Q2 | Q3 | Q4 | Year |
| AUD | 49 | 55 | 52 | 48 | 51 |
| BEC | 58 | 60 | 63 | 59 | 60 |
| FAR | 44 | 49 | 50 | 41 | 46 |
| REG | 50 | 59 | 58 | 56 | 56 |
| | | | | | |
| 2018 | Q1 | Q2 | Q3 | Q4 | Year |
| AUD | 49 | 55 | 51 | 49 | 51 |
| BEC | 56 | 60 | 60 | 60 | 59 |
| FAR | 42 | 49 | 49 | 45 | 46 |
| REG | 50 | 56 | 57 | 50 | 53 |
| | | | | | |
| 2017 | Q1 | Q2 | Q3 | Q4 | Year |
| AUD | 43 | 52 | 52 | 48 | 49 |
| BEC | 50 | 55 | 55 | 55 | 53 |
| FAR | 43 | 44 | 48 | 43 | 44 |
| REG | 46 | 48 | 49 | 46 | 47 |
| | | | | | |
| 2016 | Q1 | Q2 | Q3 | Q4 | Year |
| AUD | 45 | 49 | 45 | 44 | 46 |
| BEC | 55 | 56 | 58 | 53 | 55 |
| FAR | 45 | 46 | 48 | 43 | 46 |
| REG | 48 | 50 | 50 | 46 | 48 |
| | | | | | |
---
| | | | | | |
| --- | --- | --- | --- | --- | --- |
| 2015 | Q1 | Q2 | Q3 | Q4 | Year |
| AUD | 45 | 49 | 48 | 47 | 47 |
| BEC | 53 | 58 | 59 | 55 | 56 |
| FAR | 44 | 49 | 50 | 43 | 47 |
| REG | 48 | 51 | 51 | 47 | 49 |
| | | | | | |
| 2014 | Q1 | Q2 | Q3 | Q4 | Year |
| AUD | 47 | 49 | 47 | 42 | 46 |
| BEC | 53 | 58 | 58 | 52 | 55 |
| FAR | 44 | 48 | 51 | 46 | 48 |
| REG | 49 | 52 | 52 | 44 | 49 |
| | | | | | |
| 2013 | Q1 | Q2 | Q3 | Q4 | Year |
| AUD | 45 | 48 | 47 | 43 | 46 |
| BEC | 53 | 56 | 59 | 54 | 56 |
| FAR | 47 | 49 | 51 | 45 | 48 |
| REG | 48 | 50 | 50 | 47 | 49 |
| | | | | | |
| 2012 | Q1 | Q2 | Q3 | Q4 | Year |
| AUD | 45 | 48 | 50 | 44 | 47 |
| BEC | 49 | 53 | 58 | 51 | 53 |
| FAR | 44 | 47 | 54 | 46 | 48 |
| REG | 45 | 50 | 51 | 46 | 48 |
| | | | | | |
| 2011 | Q1 | Q2 | Q3 | Q4 | Year |
| AUD | 44 | 48 | 47 | 43 | 46 |
| BEC | 42 | 46 | 52 | 45 | 47 |
| FAR | 42 | 44 | 50 | 44 | 46 |
| REG | 41 | 45 | 45 | 44 | 44 |
---
| | | | | | |
| --- | --- | --- | --- | --- | --- |
| 2010 | Q1 | Q2 | Q3 | Q4 | Year |
| AUD | 47 | 51 | 49 | 45 | 48 |
| BEC | 47 | 49 | 51 | 44 | 47 |
| FAR | 45 | 48 | 53 | 45 | 48 |
| REG | 49 | 52 | 54 | 47 | 51 |
| | | | | | |
| 2009 | Q1 | Q2 | Q3 | Q4 | Year |
| AUD | 48 | 52 | 52 | 48 | 50 |
| BEC | 46 | 49 | 52 | 46 | 48 |
| FAR | 46 | 51 | 51 | 46 | 48 |
| REG | 48 | 52 | 52 | 47 | 50 |
| | | | | | |
| 2008 | Q1 | Q2 | Q3 | Q4 | Year |
| AUD | 45 | 53 | 51 | 47 | 49 |
| BEC | 47 | 48 | 50 | 46 | 47 |
| FAR | 46 | 50 | 54 | 46 | 49 |
| REG | 46 | 49 | 51 | 49 | 49 |
| | | | | | |
| 2007 | Q1 | Q2 | Q3 | Q4 | Year |
| AUD | 44 | 48 | 51 | 45 | 48 |
| BEC | 44 | 48 | 47 | 47 | 47 |
| FAR | 44 | 49 | 52 | 46 | 48 |
| REG | 42 | 48 | 50 | 47 | 47 |
| | | | | | |
| 2006 | Q1 | Q2 | Q3 | Q4 | Year |
| AUD | 41 | 44 | 47 | 44 | 44 |
| BEC | 42 | 43 | 46 | 43 | 44 |
| FAR | 42 | 43 | 47 | 45 | 48 |
| REG | 39 | 42 | 45 | 42 | 42 |
---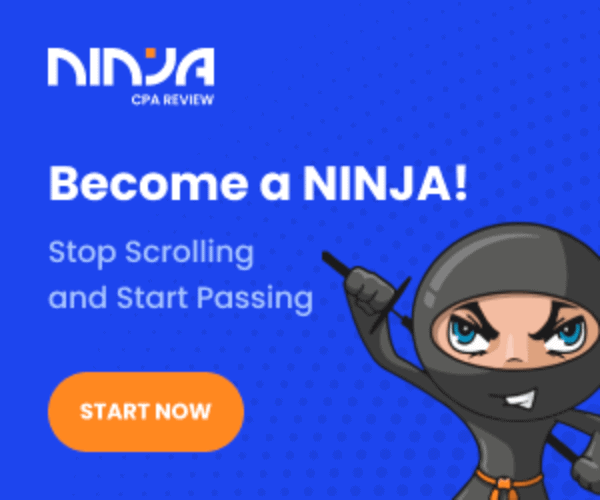 ---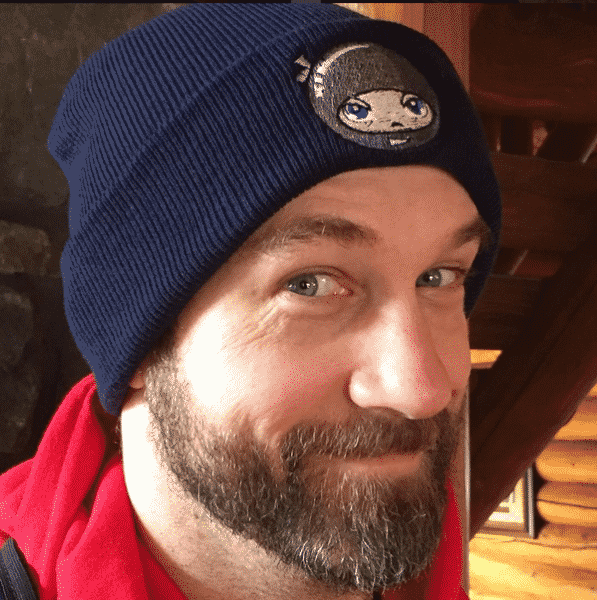 To Your Success,
Jeff Elliott, CPA (KS)
Another71 | NINJA CPA | NINJA CMA | NINJA CPE
---