---
Hate the CPA Exam? I Did Too.
---
Do you ever feel like no one close to you "gets" how hard it is to study for the CPA Exam and balance all of life's other demands?
Have you ever dreaded telling a boss/spouse/father/nosy co-worker that you failed yet again?
Are you sick and tired of the CPA Exam and ready to either pass this thing or quit?
If you answered "YES" to any of these, My Story might resonate with you.
---
Family & Background
---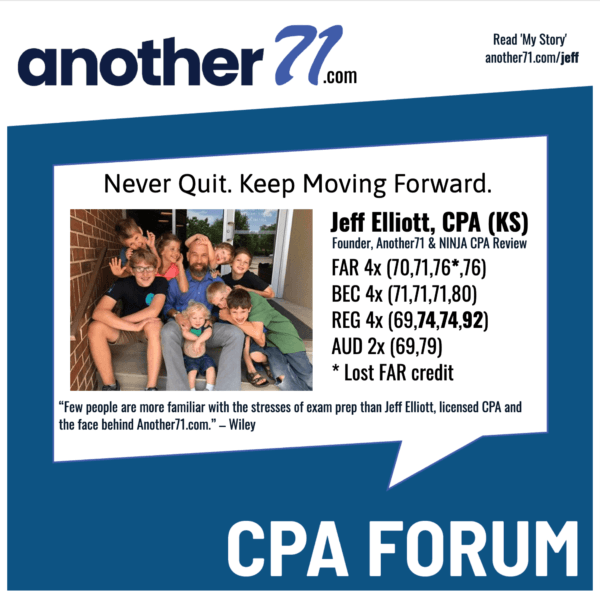 My name is Jeff Elliott CPA, founder of another71 and NINJA CPA Review.
(I cringe at using the word founder, however, as self-important jerks normally throw that term around. I am surrounded by an awesome team of NINJA Dan, NINJA Bobby, NINJA Blair, NINJA Andria, and everyone's favorite: NINJA Mike).
More importantly, I am married with 10 children.
(Yes – they're all with my wife).
(Yes – we get weird/judgmental looks in restaurants).
(Yes – our life is blessedly chaotic at times).
I passed the CPA Exam when I was 30 and had "only" three kids at home at the time:
Two kids under the age of 5 and a newborn baby.
I know what it's like to study for the CPA Exam while trying to balance…
…a full-time job…
…a marriage…
…a family…
…church commitments…
…a mortgage…
…little league…
…LIFE!
Whatever your circumstances, I can probably identify with them.
Newborn? Yep.
Three-year-old that's into everything? Check.
Six-year-old that spray-painted the garage floor? Yes.
Teenagers going through the "teenage years"? Absolutely.
19-year-old in college? Affirmative.
I'm doing all of these parenting stages all at once 🙂
I began my long (too long) journey toward the CPA designation in late 2005.
I wanted to be a CPA, but I didn't really want to be a CPA enough to study like I needed to.
I wasn't fully committed to studying (who wants to go home and study after a full day of public accounting?), and I would try to "cram" for two weeks before my exam and was coming up short.
Maybe you can relate?
Everything changed, however, in February 2008.
I said "enough is enough" and created a new approach, which I would later dub "N.I.N.J.A.". Then I passed all four sections of the CPA Exam by the end of the year – each exam on my next attempt.
In 2008, I was a desperate CPA Candidate on the verge of throwing in the towel.
---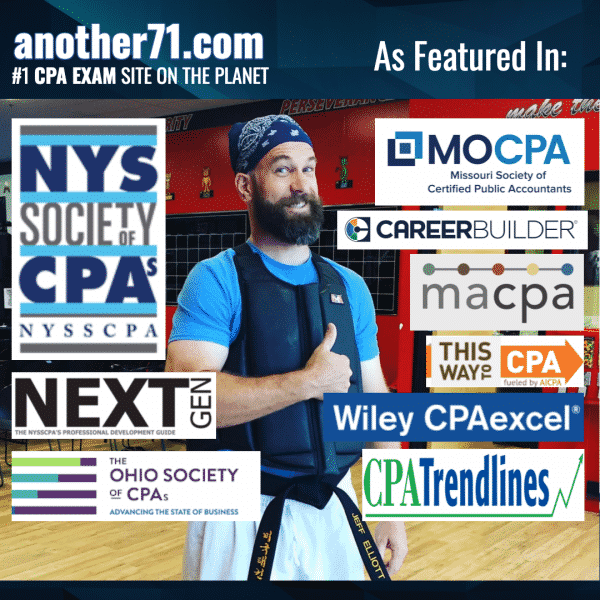 My CPA Exam Scores:
FAR 4x (70,71,76*,76)
BEC 4x (71,71,71,80)
REG 4x (69,74,74, 92)
AUD 2x (69,79)
AICPA Ethics (89,92)
* = I lost my credit due to the "18-month rule"
(By the way, did you catch that I scored back-to-back 74s on REG? It was brutal. It also cost me my FAR credit.)
Today, I am a Licensed CPA (KS) and an active member of the American Institute of Certified Public Accountants (AICPA).
If you're struggling with the CPA Exam, this site is for you.
Right now, you might find yourself in similar shoes – a desperate CPA Candidate on the verge of throwing in the towel.
There was hope for me, and there's certainly hope for you.
Just stick with it, follow my NINJA Study Plan (it's free), and you'll be adding those three letters after your name faster than you can say "HIYA."
If you're already finding success with the CPA Exam, this site is still for you.
Maybe you find yourself in the enviable territory of kicking butt and taking names on the CPA Exam. This site is for you as well. You're firmly on the path to passing, and I can help you get there a little faster and you can taste freedom a little earlier. Imagine extra months of doing whatever you want instead of having to study.
---
Work Experience and Education
---
Education: Undergraduate degree in Accounting from Kansas State University and some graduate classes (for my 150 hours).
Work Experience: I've been in the accounting profession since 2001 and have worked in public accounting (two tax seasons were enough for me), private accounting, and industry for two public SEC Registrants.
I've been self-employed (i.e. it's always "busy" season) 🙂 and running another71.com and helping people Pass the CPA Exam full time since 2010.
I don't do taxes (except for my sweet mother-in-law).
I don't have accounting or audit clients.
The "CPA Exam" is all I do, and it's been that way for 12+ years (that's a lot of score releases, btw) 😀
Licenses: Certified Public Accountant (CPA) in the State of Kansas since 2009
Memberships: American Institute of Certified Public Accountants (AICPA)
---
Another71.com (2008 – Present)
---
Back in 2008, when I was sick and tired of being sick and tired, I started a blog.
This was pre-social media, and some blog posts had 3,000+ comments.
In 2009, we added the another71 Forum, which has 600,000+ posts, so there's something for everyone.
---
NINJA CPA Review (2011 – Present)
---
In 2011, we launched NINJA CPA Review (NINJA Notes (free download), NINJA Audio (free download), and NINJA Flashcards), which has become the #1 CPA Exam Supplement.
In 2014, we became an AICPA-Licensed CPA Review Course and added the NINJA Book (free download) & NINJA MCQ (free access):
CPA Test Bank with Adaptive Learning & 6,000+ MCQ & 200+ SIMS to our study package, making NINJA a complete CPA Review Course and putting an end to the notion that you need to spend thousands to pass the CPA Exam.
In 2016, we had our first of many Elijah Watt Sells Award winners who used NINJA.
---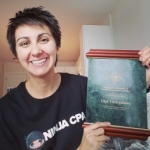 "NINJA MCQ – A must! Solving through all of the MCQ, understanding solutions, and adding new information nuggets to your notes — absolutely critical. With the NINJA Notes, I printed out the notes and used them as a knowledge check closer to the exam. Information is high-level, so you can quickly run through and get a comfort level on what you should go back to review in detail. NINJA Audio is nice to use during the commute or if you are an auditory learner. The Audio MCQ is nice to keep you engaged."
Olga Timirgalieva
Elijah Watt Sells Award Winner
Previous
Next
---
In 2018, we disrupted the CPA Review industry yet again with our NINJA Monthly plan, making NINJA the only CPA Review company that offers the firepower of a complete study course with the flexibility to come and go as needed.
In 2020, NINJA added NINJA Sparring (free access) – live CPA Exam tutoring four nights a week with full replays if you missed the live session.
(See – something good came out of 2020).
In 2021, we added the NINJA CRAM (free access), which has become wildly popular as a final CPA review.
New in 2022:
NINJA CMA: We're NINJA-fying the CMA Exam.
NINJA CPE: Get 60+ hours of NASBA-approved CPE for $67 (hard to believe and impossible to beat).
---
Have a CPA Study Question? Ask Me.
---
Thank You For Reading
---
In closing, thank you for visiting Another71.com and reading My Story!
As you can see, God/Jesus has blessed me immensely.
---
Get Your NINJA Study Framework
---
---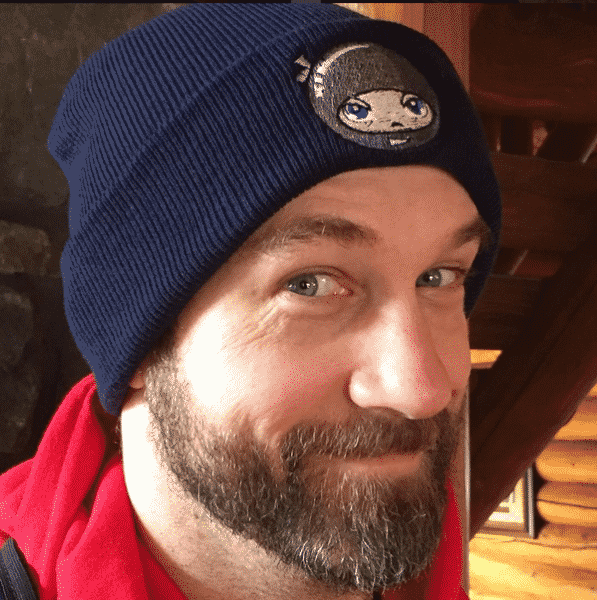 To Your Success,
Jeff Elliott, CPA (KS)

PS – Have a CPA Study Question? Ask Me.
---