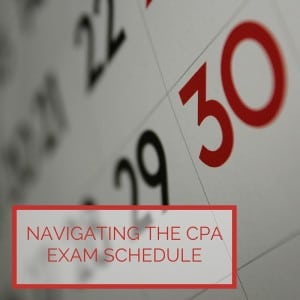 One of the most important – and sometimes difficult – parts of becoming a CPA is navigating the CPA Exam schedule. Registering for exams, waiting on a Notice to Schedule (NTS), and scheduling exams with Prometric can be a balancing act. Here's what you need to know:
Apply to Take the Exam
Before you do anything else, apply to your State Board of Accountancy. Each state has their own requirements for licensure and you'll have to get their approval before you sit for the exam. A list of state boards can be found at NASBA's website. The state board will review your education and experience to determine your eligibility. Once you've been approved by the state board, they will send an Authorization to Test (ATT) to the National Candidate Database (NCD) at NASBA and NASBA will send candidates a bill for the exam fees.
Receive Your NTS
In some states, you will pay your application and examination fees to your State Board of Accountancy and they'll inform you of the application processing time and when to expect your NTS. In other states, you will pay exam fees separately to NASBA. In this case, you should receive your NTS within three business days of paying your examination fees if you selected to have your NTS sent via e-mail or fax. If you selected regular mail as the method of contact, your NTS should arrive within 7 to 10 business days.
The NTS will list the section(s) of the exam that you are approved to take. You can now contact Prometric to schedule the exam. The State Boards of Accountancy determine how long a NTS is valid, generally six months. You must schedule and take the exam section(s) for which you've paid. Otherwise, your exam fees will be forfeited.
The CPA Exam Schedule
The CPA Exam is offered during the first two months of each calendar quarter: January and February, April and May, July and August, October and November. Plan your studies and pay for your exams keeping the schedule and the time limit on your NTS in mind.
Contact Prometric to schedule your exam as soon as you receive your NTS, and at least five days in advance of your test date. For the best chance of getting your desired date, time and location, try to schedule at least 45 days out. If you wait until the last minute to schedule, you may find your testing center full. If you're unable to schedule your exam before your NTS expires, neither your state board, NASBA, nor Prometric will refund your fees.
The easiest way to schedule your exam is through the Prometric website. Prometric's website is available 24 hours per day, seven days a week and has several tools available to help you navigate the CPA exam schedule. Their Seat Availability Tool allows you to check for appointment availability at the location of your choice. You don't need to have your Exam Section ID from your NTS to use this tool. Prometric also provides a Google Maps site finder for directions to nearby test centers.
Whether you plan on taking all four sections of the exam in one testing window or you space them out over an 18-month period, allow yourself three weeks to a month to study for each section. Prepare, know the CPA exam schedule, keep your head in the game, and you'll be on your way.
Photo credit: Dafne Cholet via Flickr CC