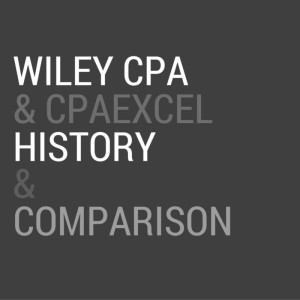 Wiley CPA
is one of the oldest providers of CPA Exam study materials. Charles
Wiley
got his start in business in 1807 when he opened a print shop in lower Manhattan at the age of 25. He initially printed titles for other publishers but eventually added finance and distribution services to his clients and became a full-fledged publisher. Charles died in 1826 and his son John took over the business. John expanded the company's products to include practical and professional topics. The company did very well during the industrial revolution due to the wealth of opportunity in science and technology. World War II and the post-war boom were profitable for the company. John's great grandson, William Bradford
Wiley
took over management of the company in 1956. By 1961,
Wiley
was the fourth-largest publishing house in the United States. The company went public in 1961 and over the course of the next decade, expanded to include offices in London, Australia, India, and Canada. By the 1980s,
Wiley
had sales offices in every continent. Acquisitions throughout the 1980s and 1990s allowed
Wiley
to continue to expand into business education and training and college textbooks. In 2012 the
Wiley
publishing company purchased
Efficient Learning Systems, Inc.
provider of
CPAExcel
, one of the most widely used
CPA Exam review
courses in the U.S.
Wiley
had previously published
CPA Exam review
course books, but the merger allowed
Wiley CPA
to offer a fully-integrated CPA Exam test prep course. Under
Wiley
,
CPAexcel
made several changes. The budget for producing lecture videos expanded and additional topics were added to their bite-sized learning segments. The original
Wiley CPA books
are now known as the study guides, part of the complete
Wiley CPAexcel
review course. While
Wiley CPA
does offer its books for purchase separately from the
CPAexcel
course, there are several value-added tools that are offered only in the complete
CPAexcel
course:
Personalized exam planner – the interactive exam planner helps candidates estimate the number of study hours based on their exam dates and sends reminder emails to keep candidates on track.
Professor mentoring – offered only with the Wiley CPAexcel Platinum and Wiley CPAexcel Gold packages, professor mentoring allows candidates to post Wiley CPAexcel related questions and get a response within 24 hours or less, get clarified lecture points, and have a professor demonstrate how to solve problems.
Video Lectures & Slides – each lecture is broken down into Bite-Sized Lessons with accompanying slides so candidates can take notes while they watch
32GB Flash Drive – for offline access to the course
The
CPAexcel
courses have no expiration date and can be used until one year after passing the exam. Course repeats, online content updates, and software upgrades are free.
Wiley CPA
offers an
online test bank
of 4,400+ practice questions and 150+ simulations. With the
CPAexcel
Online Test Bank
, candidates have access to an additional set of 5,500 multiple choice questions and an additional 450+ task-based simulations.
Wiley CPA
's
Self-Study Pack
is geared more towards candidates concerned about budget and who prefer self-study to video lectures. The self-study option provides access to the test bank for one year and after that it will need to be repurchased. For candidates who prefer to watch videos via a computer monitor to the textbook, the
CPAexcel review course
provides more support and unlimited access until you pass the exam.