NINJA CPA Review is dedicated to saving time, focusing on what matters and passing the CPA Exam once and for all. Starting as a blog, growing into an online forum and finally evolving into the ultimate Un-Course, NINJA CPA Review answers the question: How do you pass the CPA Exam?
The question hits home for CPA candidates facing the Business Environment and Concepts (BEC) section of the exam.
BEC is widely regarded as the easiest of the four CPA Exam sections. Through the first three quarters of 2015, the BEC cumulative pass rate climbed to an all-time high of 57 percent. But hold your applause: that means 43 percent sitting for the section failed.
What's So Hard About BEC?
What's the difficulty underlying BEC? The BEC section tests on a collection of unrelated concepts: business law, economics, financial management and information technology. Most accounting majors are not expert in these areas. And BEC questions are notoriously ambiguous, if not downright tricky.
CPA candidates who look for a strong BEC review learn NINJA CPA Review BEC offers a robust suite of supplementals that work with any CPA study course.
When you explore NINJA CPA Review BEC, start by connecting with the Another 71 BEC community. Jeff Elliott launched the Another 71 forum to give back to fellow candidates who supported him on the way to earning his CPA. He continues serving that community through Another71 and its BEC study group.
Visit Another 71 for information on how to become a NINJA and obtain the free CPA Exam Survival Guide. View the videos How to Study for the CPA Exam and Want to Pass the CPA Exam using only NINJA? Take advantage of the Another 71 Free CPA Review Materials – Notes, Flashcards & More.
Then look at some NINJA CPA Review tools you can use to pass BEC once and for all.
NINJA Book BEC
Ninjas say the BEC book beats competitors hands down with its comprehensive coverage of CPA Exam material. The value of AICPA-licensed content is apparent when you realize there's no filler here. NINJA Book BEC is strictly material you will find on the CPA Exam.
While it is complete, the authoritative text also is readily understandable and reader friendly. This book makes reading a breeze with layout that's easy on the eye whether you're studying on desktop, iPad or iPhone.
Another71 BEC founder and NINJA master Jeff Elliott guides you through topics that may be uncharted territory for accounting majors. Studying with NINJA Book BEC give you a solid grasp of corporate governance, economics and strategic planning. You'll unravel the mysteries of financial and operations management. IT will roll off your tongue.
Multiple choice questions and examples are incorporated into the small sections. Each section is summarized with an application. Here's an application for the section on Cost Measure Methods and Techniques looking at inventories in a traditional manufacturing environment: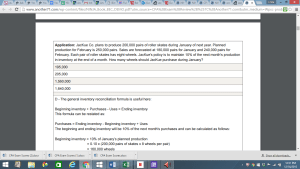 A sample chapter is available at NINJA Book BEC chapter on Operations Management.
This book is so thorough and effective as a stand-alone resource that you won't feel compelled to buy a pricey lecture video from an expensive review course.
The 464-page PDF is available as an instant download. NINJA Book BEC gives you free updates until you pass the exam. The book is included in the NINJA 10 Point Combo.
The price for NINJA Book BEC is $97.
"You have got a SOLID package going here!" – David B.
NINJA Multiple Choice Questions BEC
The coolest thing about these MCQs may be the high-falutin' sounding but immensely down to earth Adaptive Learning Technology incorporated into the software. Adaptive Learning simply means the test software figures out what you know and what you don't know and adjusts accordingly.
That customization will actually end up being the secret to your CPA Exam success. Learn more about NINJA's totally awesome Adaptive Learning Technology here.
It's no secret that NINJA provides an amazing number of practice questions. There are 1,354 BEC MCQs and 28 simulation essays. Included in the simulations are practice memos so that you can get comfortable with the BEC Written Communications section of the CPA Exam.
This is a sample of the practice you will get on BEC's Written Communications: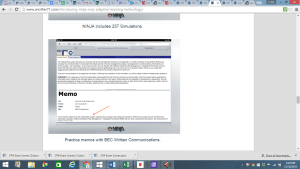 Three months unlimited access to online practice exams is provided, and the MCQs work well on tablets and iPads. You must have Internet, and Android tablets must run 4.0+.
These MCQs boast a pass rate of 85 percent to 90 percent for candidates who were trending in the 80 percent range on their practices and who also hit the review phase. That statistic comes from a 2014 customer survey totaling more than 400 responses. The sample size was 22 percent.
"NINJA MCQ helped me improve my score by 16 points for BEC." – Key522
"For BEC, the NINJA MCQ is a must…you put together a great test bank." – Robert M.
Price of the NINJA MCQs BEC is $47.
NINJA AUDIO BEC
Take BEC with you to work and to the gym. Need entertainment on your commute? Take BEC along. NINJA Audio is an MP3 album that downloads to your desktop or mobile device for offline studying.
It's designed for repeated listening, although you may find, as one NINJA did, that spouses soon grow tired of the sound of Jeff Elliott's voice. With free updates guaranteed until you pass the CPA Exam, spouses will have plenty of time to tire.
The BEC Audio is effective with any BEC course, not just NINJA.
The BEC section of the CPA Exam hits on a range of academic topics foreign to most accounting majors. You probably didn't spend a lot of time in economics and information technology classrooms during college. To sample just how much NINJA Audio BEC can help you fill in those missing blanks, listen to a free demo of NINJA Audio BEC on Economics and Information Technology.
This tool is included with the Ten Point Combo.
Cost of NINJA Audio BEC is $97.
"I just received my highest score yet! An 82 on BEC! The only thing I did differently from my previous three tests was add Ninja audio! I loved the Ninja audio! It really helped me to remember the concepts in each section, and I was able to remember specific topics on the exam I would have forgotten otherwise. Definitely worth it to buy the audio!" – UCFCPA
"I have found the NINJA audio to be a huge help in squeezing in extra study time. I was at my son's baseball practice last night and I listened to the audio for almost an hour that would have normally been "down" time." – tgkevine
NINJA BLITZ BEC
NINJA Blitz is a cram course that kicks it up several notches. These videos are short and sweet and to the point. They make it easy to take advantage of scarce study time whenever you have only a few minutes. Cramming just became a whole lot easier.
The Blitz videos explain the really important information in a way that NINJAs say is more interesting and easier to understand than other very pricey courses. They offer the straightforward clarification you need.
While the subjects are significant, the delivery is lighthearted. That goes a long way toward making viewing and studying palatable. Combining the Blitz videos with notes helps many CPA candidates to see the light much faster.
Watch these informative videos to reinforce the concepts you must know to pass the BEC section. Retention is all about reinforcement, reinforcement, reinforcement.
The Blitz video format including slides with written explanations has proven helpful for CPA candidates. Below you'll see a slide that illustrates Jeff's discussion about the cash conversion cycle.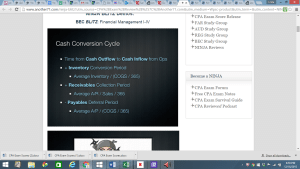 See a free demonstration of four NINJA Blitz BEC videos on Financial Management.
The price of NINJA Blitz BEC is $127.
"The BLITZ videos are awesome." – Zahid S.
"I love your videos and you break them down into small portions so it is easier to digest the material." – Lynette
NINJA Notes BEC
NINJA Notes BEC continue the NINJA tradition of offering review material that is concise and to the point. These extremely organized notes summarize and outline almost everything included in study materials offered by other review courses.
Breeze through a free sample of NINJA Notes 2015 BEC and you'll see why this action-packed, 90-page tool will help you once and for all to Put The Highlighter Down. Tucked inside your free sample is another gift, this BEC NINJA Study PLanner: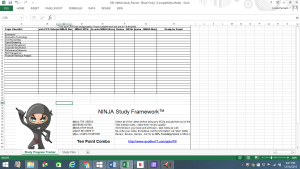 Price for the NINJA Notes BEC is $67.
"I just wanted to update you with my score, I passed BEC with an 84!!! I am sure that those Ninja notes helped a lot!!!" – Jessica W.
"I used them for BEC & passed! I really think they helped to review right before the test – I saw several questions that the notes helped me on." – Melissa S.
Ten Point Combo BEC
Bundling all the BEC tools together for the perfect study system, the Ten Point Combo is so comprehensive and complete that you can use it as a stand-alone course.
As a study supplement, it works with any other review course of your choice. And you keep getting free updates until you pass the CPA Exam.
This is what you receive when you invest in the Ten Point Combo BEC:
Purchased separately, the individual sections of the combo would cost $579. The Ten Point Combo price is $397 for a savings of $182.
"After two very long years of trying to pass all of the CPA exams, I'm DONE! I used the REG and BEC 10-Point Combos for my retakes, and I am very pleased with the increase in my scores. I added 11 points to my REG score and 16 points to my BEC score…" – CPAsag
"I raised my score 17 points from a 60 to 77 by using the Ninja flashcards, notes, audio…I listen to the Ninja audio notes everywhere I go in the car, gym, and at work when I have down time. If I don't listen to the audio notes my day feels so incomplete! Lol!" -rbcpa
Don't let BEC's reputation as the easiest section lull you into a false sense of security. Attack BEC head on with NINJA CPA Review BEC from the folks who bring you the Another 71 BEC community.