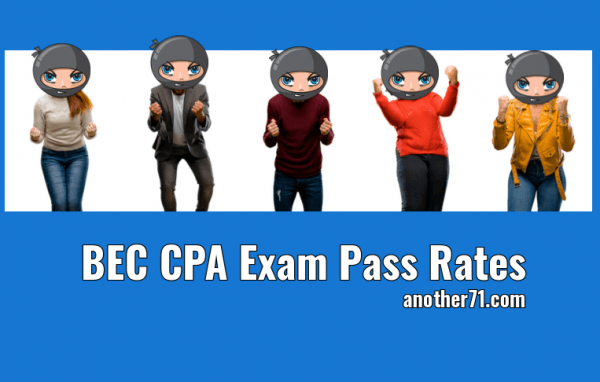 The BEC CPA Exam Pass Rate (2006-2021) is 53%.
The Business, Environment, and Concepts (BEC) exam is the CPA Exam section with the highest pass rate.
BEC formerly had one of the lowest CPA Exam pass rates, but the transition of written communications being solely on the BEC Exam has caused candidate exam performance to now be stronger than the other CPA Exam sections. This is due to the notion that written communications can be easy points if a CPA candidate uses proper grammar, memo structure, and strong use of relevant keywords.
---
See Also: How to Pass with NINJA
---
BEC CPA Exam Pass Rates
| Year | Q1 | Q2 | Q3 | Q4 | Cumulative |
| --- | --- | --- | --- | --- | --- |
| 2021 | 62 | 63 | | | |
| 2020 | 62 | 77 | 70 | 61 | 66 |
| 2019 | 58 | 60 | 63 | 59 | 60 |
| 2018 | 56 | 60 | 60 | 60 | 59 |
| 2017 | 50 | 55 | 55 | 55 | 53 |
| 2016 | 55 | 56 | 58 | 53 | 55 |
| 2015 | 53 | 58 | 59 | 55 | 56 |
| 2014 | 53 | 58 | 58 | 52 | 55 |
| 2013 | 53 | 56 | 59 | 54 | 56 |
| 2012 | 49 | 53 | 58 | 51 | 53 |
| 2011 | 42 | 46 | 52 | 45 | 47 |
| 2010 | 47 | 49 | 51 | 44 | 47 |
| 2009 | 46 | 49 | 52 | 46 | 48 |
| 2008 | 47 | 48 | 50 | 46 | 47 |
| 2007 | 44 | 48 | 47 | 47 | 47 |
| 2006 | 42 | 43 | 46 | 43 | 44 |
| | | | | | |
---
See Also: How to Switch to NINJA
---
Pass Rates:
---
---