---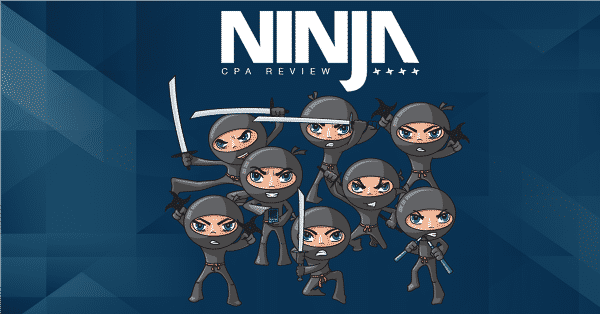 Future CPA,
As you're reading this today, you likely find yourself in one of two camps:
Camp #1: You're ditching your CPA Review course (maybe it expired, or maybe you're just simply "over" it) and going #fullNINJA
Camp #2: You have a full CPA Review course and want to supplement with NINJA
I get these questions all of the time, if not daily, at least several times a week:
"I have X CPA Review course. How do I supplement it with NINJA?"
or
"My X CPA Review Course expired. How do I study with only NINJA?"
or
"AHHHHH! I literally cannot stand another second of X CPA Review Course. HELP ME!!!!!"
If you're in either camp or find yourself asking a question similar to these, you've come to the right place.
Tens of thousands of CPA Candidates have successfully followed my advice in this area, and I wish you the same success.
Camp #1: How to Pass the CPA Exam using only NINJA CPA Review
For starters, NINJA Monthly has everything you need in a full CPA Review Course.
Don't mistake a lack of price tag for a lack of punching power.
If giving us thousands of dollars will make you feel better about studying with NINJA – then by all means. 🙂
(We figure you have better uses for that money – like a celebratory cruise with loved ones when it's all over).
NINJA has …
Full Textbook with examples and application questions? Check.
6,000+ MCQ with 200+ Simulations? Check.
AICPA-licensed content? Check.
Cram-type Review videos? Check.
Flashcards? Check.
Notes and Audio Course? Check. Check.
It has all of the CPA Review tools you need (at a fraction of the cost).
Of course, that's great and all, but *how* do you do it?
Let's jump into the N.I.N.J.A. Study Framework using the NINJA Study Planner.
N – Nail the Concepts
Read your NINJA Book for two weeks max. Create a per-day study budget according to how many days out of the week you're going to study.
You're going to study 5 days a week for those two weeks?
Great. That's 10 study days.
Just using a nice round number, assume a book has 500 pages. That's 50 pages per day.
By 50 pages per day, I mean reading … skimming … going over examples … skimming some more … application questions.
Make sure you hit your daily budget!
This is where you deploy two other NINJA weapons: NINJA Notes and NINJA Audio.
You want to consume each of these as many times as possible between now and exam day.
Have a 30-minute commute each way? That's 5 hours of NINJA Audio per week, which is at least one listen all the way through, depending on the section.
Load it onto your phone and listen as much as possible.
At the grocery store? Earbuds (Airpods) + NINJA Audio.
Doing laundry? NINJA Audio.
At the gym? NINJA Audio.
Going to sleep at night? NINJA Audio (a side benefit is that you'll fall asleep faster than ever before).
NINJA Audio.
NINJA Audio.
People tell me all of the time, "I kept hearing your voice on exam day."
(They also tell me that their kids hate the NINJA Audio because it's always on. #winning)
Similarly, load the NINJA Notes onto your tablet, phone, and if you want to – print them out.
Read them constantly.
Some people don't like the fact that sometimes they are listening/reading material in the notes or audio that they haven't yet covered in the book.
Two things here:
1) When you do cover it, it will make more sense.
2) The repetition over time will pay big dividends, I promise.
Notes Notes Notes.
Audio Audio Audio.
Your kids and significant other will be sick of my voice, which will cause them to celebrate even more once you pass and they chant, "no more ninja!"
I – Intense Notes
If you've already plunked down a few thousand on a CPA Review course, you likely had study videos and you likely took notes.
When the instructor said something interesting, you wrote it down.
Same thing here.
As you see things in bold, or something in an example that catches your eye – write it down.
I recommend buying a big stack of legal pads and going to town on them.
Keep in mind that taking notes is still part of your daily budget. Using 50 pages as an example – you still have to hit it even though you're taking notes in addition to reading.
Very Important: If you find yourself getting bogged down and can't quite get through the book at the budgeted pace: That's ok. It's normal actually.
Keep going.
After your two weeks are up, punt the book and move on to the MCQ. You can make up lost ground there.
N – Non-Stop MCQ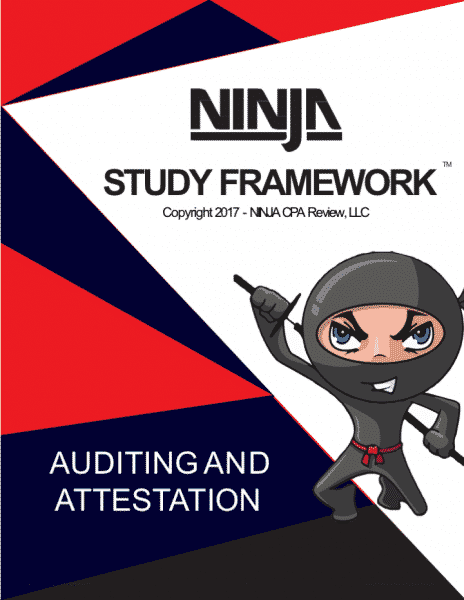 MCQ. This is the single-most important step in your CPA Exam prep. Anyone who tells you otherwise is either confused or has another agenda.
You can read the NINJA Book all day long. You can watch XYZ review course videos about ABC topic, but one thing is for certain:
The multiple-choice questions in NINJA MCQ are from actual exams.
Yes, they are theoretically retired questions (but come on, you can only ask a question about Bonds or Leases so many different ways), but these are actual concepts that the AICPA has actually tested on in the past.
Concepts are wonderful.
Concepts that have been tested are wonderful-er. That's a word.
What I mean is this:
NINJA MCQ is where the proverbial rubber meets the road. You must know the concepts in your software.
I recommend camping out in this middle stage 2-3 weeks.
If you miss a question: write it down.
If you get it right but think you'll forget it in 3 weeks: write it down.
You can make up for a lot of lost time by cranking on the MCQ.
You need to have a "Trending" score in NINJA MCQ of at least 81%.
Why? That's the average.
An 81% also gives you some breathing room.
People who have a passing Trending Score in NINJA MCQ pass the actual exam 94% of the time (sample size: 600).
What about the Simulations?
Good question. Let's talk about that.
I have never been a huge proponent of spending a lot of time on the Simulations.
I know some people disagree, and that's fine.
Here is why.
You can study 20 SIM topics and get none of them on exam day.
You are guaranteed to see your MCQ topics on exam day, and those same topics will be tested in the SIMS.
Consequently, I believe that if you are conceptually-sound enough to master the MCQ, then you can apply that knowledge to the SIMS.
Let's face it: The SIMS are simply MCQ concepts tested another way.
Sure, they have a different look and feel, but that's why it's imporant to do the AICPA Sample Test.
In the past, I recommended people do an 80/20 split between MCQ/SIMS. That was when SIMS were 40%. They're 50% now … So, I can see someone doing 70/30.
(Although, I'm still a fan of 80/20 … 75/25? Sure. I'll give some ground there.)
J – Just Re-Write Your Notes
It's boring.
It's tedious.
It's horrible.
(hmmm…sounds vaguely like the CPA Exam itself…)
It works.
Two weeks out from your exam, re-write your notes.
What if taking notes along the way wasn't for you, or you just didn't have time, or whatever?
No worries. Re-write the NINJA Notes.
In the decade-plus that I've been recommending this, I can count on zero fingers the number of emails from people who were upset that they spent all of that time re-writing their notes.
I have received many emails over time from people thanking me for recommending that they do it.
There's nothing magical about it. It's simply this:
Taking your furious note scribbles and re-writing them into little fact nuggets causes you to think about the material and let it marinate in your brain.
It's why highlighting is bad and taking notes is good. Your brain absorbs the information better.
Again, only do this if you're two weeks out…because it will take a week to do this step.
A – All Comes Together
You made it! Review time. It's your final week of exam prep.
Your Notice to Schedule is printed out (multiple copies – including one in your glove box), and it's t-minus 7 days.
Start doing 20 question mini testlets in the MCQ, starting with your weakest topic first.
Picking your weakest topic is easy.
Sure, you have the analytics showing your deficiencies, but think about which topics you HOPE they don't test you on.
The ones that scare you to death, keep you up and night, and paralyze you with anxiety and fear to the point that you can't even utter their names.
Those are your weakest topics. Start there.
Do 20 question sets until you're scoring in the mid-70s and move on to your next-weakest topic.
If you're especially weak in an area, it might be a good idea to watch a NINJA PLUS or Hot Spot video over that area before continuing.
As you review during this final week, you only have time for three things:
Eat.
Sleep.
NINJA.
When you're not cranking on NINJA MCQ, you're reading NINJA Notes.
When you make a quick run to the grocery store to grab cat food for Fluffy, you listen to the NINJA Audio.
When you're walking through the store to the cat food aisle, you're listening to the NINJA Audio on your phone.
When you're in the waiting room at the dentist: NINJA Notes.
When you're at work, staring at spreadsheets: NINJA Audio.
Utilize every last study second and cram as much info as you can.
As you do all of this, you'll ask yourself, "Hmmm … What if I listened to the audio non-stop during week one of my next exam as intensely as I am week seven for this one?"
This is where you take an afternoon and watch the NINJA BLITZ videos, preferably the afternoon before your exam for maximum cramming impact.
The Night Before The CPA Exam
Some people say, "Go watch a movie. What's done is done."
I say, "Pffft" to that.
I am a big fan of 1pm exams so that you can study late the night before and then get up the next morning and hit the weak areas one more time.
Crank. Crank. Crank.
Cram. Cram. Cram.
Notes. Notes. Notes.
Read the NINJA Notes so many times that you hate me, the word "NINJA", and the state of Kansas in general.
(There's nothing to do here, except head West to Colorado, so we're not offended.)
Listen to the NINJA Audio up to the millisecond that you get out of the car to walk into Prometric, and give your exam a spinning back-fist to the face.
Take several days off from studying after your exam. If possible, go on that Road Trip (and send pics to your co-workers who are still studying).
Camp #2: How to Supplement Your CPA Review Course with NINJA
Scenario 1: You still have the book, but the MCQ/Videos have expired.
Solution: Go #FullNINJA as prescribed above. No use in monkeying-around with printing out updates and such. Instead, use the outdated materials for a celebratory campfire after you pass.
Scenario 2: You want your CPA Review Course to do the heavy-lifting, but give it a NINJA boost.
This is how you do it.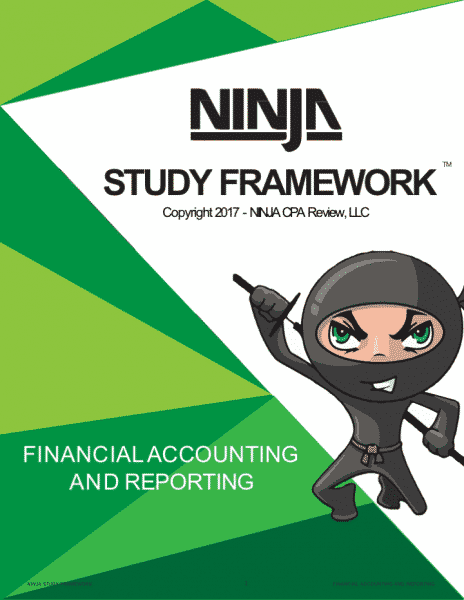 N – Nail the concepts with your CPA Review lectures. If something is confusing in your CPA Review materials, look it up in the NINJA Book. Start listening to your NINJA Audio. Never drive to work without it on. You can listen to fun things when you're a CPA. Let that motivate you. 🙂
If your commute is 1 hour round trip, then that's 1 hour of NINJA Audio per day (and that's for the commute alone … if you can work and listen to the NINJA Audio: even better.)
Start reading the NINJA Notes in your downtime, especially at work. It's ok if you haven't studied the section before. It will all start clicking the third time through, regardless of where you are in your prep.
I – Take Intense Notes over your lectures. First Time? Retake? 15th Retake? It doesn't matter. Take Intense Notes.
N – If this is your first time taking this exam, then do Non-Stop MCQ with your main CPA Exam review course's Test Bank and then in the review phase (A – All Comes Together), then you switch to NINJA and work backward, beginning with your weakest topic.
If this is a retake OR you've found yourself memorizing your CPA Review Course's MCQ, then switch 100% over to NINJA MCQ for this phase. When it comes time to do the SIMS, switch back and forth, according to which software you like better.
Again … if this is your first time taking this exam, use your main course MCQ for N (Non-Stop MCQ) and use NINJA MCQ for A (All Comes Together) as you review.
If this is your first time taking this exam and you're memorizing the test bank questions (which is really bad because it causes false confidence … you're scoring in the 90s, but on exam day, you score a 65 and can't figure out why), then switch over to NINJA MCQ 100% for both (N) and (A).
SIMS – First time or retake alike: switch back and forth between the two platforms.
J – Just Re-Write Your Notes This phase is pretty much universal, no matter if you're going #fullNINJA or supplementing. If you took killer notes, re-write those. If taking notes just wasn't in the cards this time around and you did the best you could do, then re-write the NINJA Notes.
Make sure you start the process at least two weeks out from exam day and take no longer than a week.
A – All Comes Together
If you're using your main course MCQ in the Non-Stop MCQ phase, this is where you switch over to NINJA MCQ (if you've already switched, then keep using it here as well). Start with your weakest topics first and work backward. You can let the software feed you questions, but since you're in a final review phase, I recommend doing topic-specific mini testlets and really drill-down.
Do a set of 20 over your weakest area. If you're weak in several areas, then choose the one that keeps you awake at night first. The one you DREAD seeing on exam day. If you are hitting in the low-70s (70-75), then move on to your next weakest area.
The reason why you don't go for mastery here is that you have a lot of ground to cover in a short amount of time for your review. It's better to get all of the topics into the 70s and then come back and hit them again vs get a few into the 80s/90s and run out of time before you can get to the rest.
Free NINJA CPA Review Materials
Want to Study Less & Get Higher CPA Exam Scores?
Can I send you $162.12 of Free CPA Review Materials that will help you…
Study Less
Avoid Common CPA Candidate Mistakes
Get Higher Scores
Spend More Time with Friends and Family
Finally Pass and Get On With Your Life?