---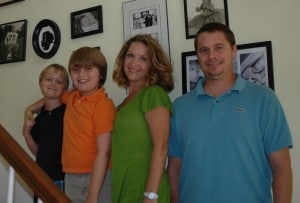 Working mothers are in a category all their own when it comes to passing the CPA exam. We not only strive to balance work and family, but when you throw the CPA Exam in the mix, you're going down a road only few can fathom.
We are the rock of the family. We provide financial support, comfort, nutrition, stability, refereeing, homework checks, matching socks, boo-boo kisses, clean toilets, chauffeur service, etc.
We give everything our absolute all and no one notices when we skip a beat because we are that good. That's why it was so difficult for me to accept I could not reach my unattainable level of perfection while I tried to pass the CPA exam.
Something had to give. For instance, I had a semi-decorated house at Christmas and at another time, I was 3 points shy of passing this exam. Being successful at it all is not realistic, but rejoice in the small triumphs. Your children are absorbing your every reaction.
Jeff's site has wonderful tips for studying the material but here are some things I've learned in the last 2 years to help along the way:
1. This exam is a temporary situation.
It may be miserable now but suck it up, study, and get it done as quickly as possible. Prioritize studying. My house is not as spotless as I like, but it's livable.
2. Make a study schedule and stick to it.
Keep in mind you will need extra days for emergencies. If you think AUD will take you 5 weeks to prepare, schedule 6. When Junior gets head lice and can't go to school, you know YOU are the one who will stay home with him collecting those lice eggs and sterilizing the bed sheets. Jeff has a free CPA Exam study planner.
3. Learn to say "No".
When you are asked to be the Cub Scout treasurer, or tutor some college kid in accounting, or your in-laws want to visit the weekend before your exam, say "No. I'd love to, but I have to study for a very important exam". I'll miss the excuse when I'm done. Unfortunately, I've had to decline fun stuff too. Remember #1, this is not forever.
4. Take full advantage of kid-free time.
Study when they are at school or asleep. If someone offers to keep your kids, let them. Make deals. For example, offer up an agreement to take your sister's kids to the zoo after your exam if she'll take yours right now.
5. Flashcards or portable notes are a must.
Those unexpected times when you are stuck at the pediatrician's office, car line or some lame birthday party. For BEC and AUD, I had cheat sheets that I made copies of and left in the car, my purse, and on the mantle so I could always look at the topics that were pure memorization. Just looking at it a few minutes a day helps.
6. If you love to shop like me, use the Internet.
Nothing beats a study break where I can go online and buy tiger-printed, platform wedge heels and then go right back to my review. Now where will I wear them? To Prometric, of course.
7. Don't stress about dark roots and/or gray hair.
Embrace a ponytail. Focus on comfort and convenience and not so much appearance. Put the People StyleWatch down for now.
8. Find support from someone who knows what it is like to take the CPA exam.
I don't know anyone I can talk to about the exam except my cyber friends at Another71. If it weren't for all of you, I'd be alone in this and would have given up a long time ago. There is an incredible amount of support here.
I'm halfway through the REG material and staying on top of my study schedule. Going back to the books now. More mama advice coming next week. Happy studying!
~Allyson
See also:
A Working Mother's Guide to Surviving the CPA Exam: Part 2
Free NINJA CPA Review Materials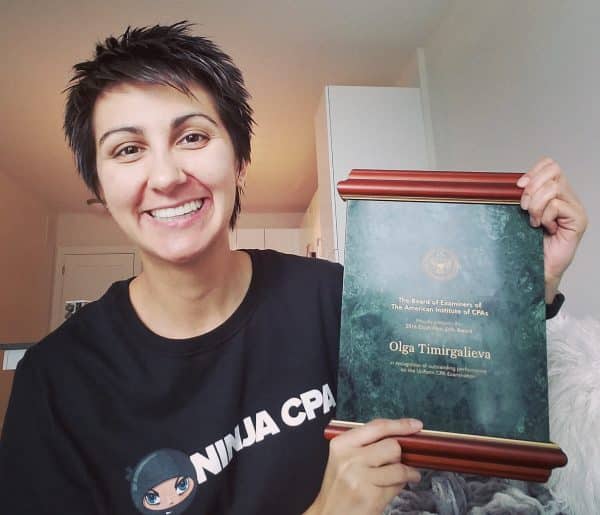 "NINJA MCQ – A must! Solving through all of the MCQ, understanding solutions, and adding new information nuggets to your notes — absolutely critical.
With the NINJA Notes, I printed out the notes and used as a knowledge check closer to the exam. Information is high-level, so you can quickly run through and get a comfort level on what you should go back to review in detail.
NINJA Audio is nice to use during the commute or if you are an auditory learner. The Audio MCQ are nice to keep you engaged."

– Olga Timirgalieva, Elijah Watt Sells Award Winner*
* Disclaimer – Not a typical result … Only 1 out of every 1,000 CPA Candidates win the EWS Award each year.
Want to Study Less & Get Higher CPA Exam Scores?
Can I send you
Free Downloads

that will help you…
Study Less
Avoid Common CPA Candidate Mistakes
Get Higher Scores
Spend More Time with Friends and Family
Finally Pass and (Move On With Your Life?)