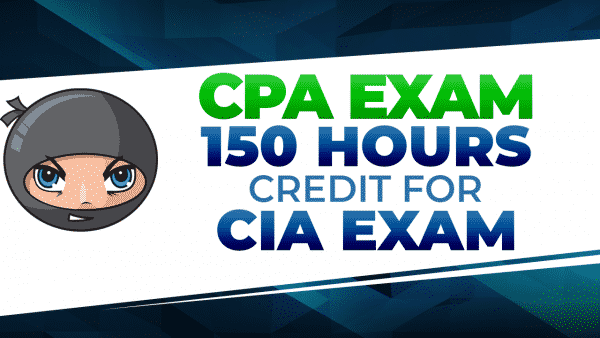 Sony says, "I'm a Ninja student, who has now passed all four sections in the process of obtaining my license. I am short 30 credits to the 150-hour rule, and I was wondering if you know how, how I can use my recently completed CIA exam qualification towards obtaining this remaining 30 credits.
Please help, and if you have any idea around this, thanks in advance." My guess is that, if you're 30 credits short, your CIA stuff isn't going to help you much, because while some of the other certifications are pretty friendly, like, if you pass the CPA exam, then you're exempt from, you know, XYZ certification, exam number one, you can jump ahead to number two, but the CPA exam doesn't work like that, they don't say, "Oh, you're a CIA, you can forgo the Internal Auditing section of Auditing."
Doesn't work that way. And, I don't think it's going to help you with your 30 credits at all, 'cause 30 credits are 30 credits, and havin' another certification will not help. Um, what I would do, is I would figure out what types of classes you're going to take, and, um, I think NASBA has some transcript evaluation services.
Above all else, I would call your state board of accountancy and, whenever you have a question, and this applies to anyone, get it directly from the director of your state board of accountancy, exactly what you need to do, and, I wouldn't, I wouldn't rely on some third-party website or whatever, I'd get it straight from the board of accountancy, because they are gonna be the one that determines whether or not you're, you're eligible to get your license.