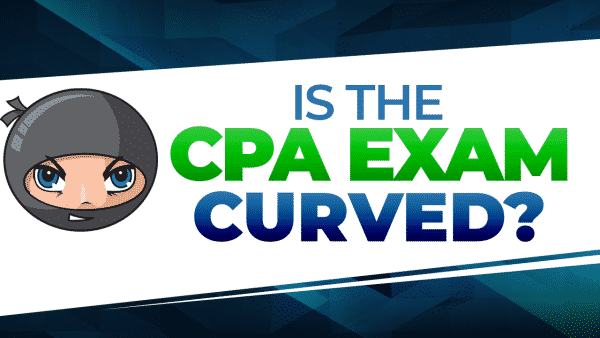 Ninja Claude writes in, I have exactly 30 days left before I take FAR, my first section, and my studying is somewhat improving, and I'm feeling a little better, but I have a question about the exam itself. Is it true that the CPA Exam is curved – they want a certain number of people to pass each time it is administered, so they might actually curve the scores down if too many people do well? I really want to get through this thing on my first try, and any further nuggets or tidbits would be appreciated, especially the ones that would stop me from getting something like a 74. Okay.
Is the CPA exam curved? I don't know.
That's been one of those conspiracy theories that have been around for as long as I have been in exam land, which is over ten years. So… When you look at the pass rates, like for FAR, they're about 45, 47, 49%, pretty much every time. Does the AICPA curve them through the psychometric formulas? I don't know. Does that impact how you study? Not at all.
And, if you fail, does that give you license to blame the fact that you've been curved down? No.
Because, in any given exam section, 50% pass, 50% fail, give or take. And you just need to study really hard, and you cannot control what outside variables are going against you, if at all, and I personally do not believe that they maintain a certain number. You can only control what you can do. So you can only control whether or not you get up early in the morning, study at lunch, study late at night, you follow the NINJA study planner, so you're a ninja, so you have the NINJA study planner.
You can only control if you decide to study bonds for an hour versus watching Netflix for an hour, which turns into three or four hours, and pretty soon it's two in the morning and you have to get up at 5:30, and, oh, wait, you're not gonna get up at 5:30, 'cause you're too tired and you want to sleep until seven, and brush your teeth, and jump in the car, and go to work.
So, you can only control your own life and your own study processes. So, that's that. Now as far as how to study FAR, follow the NINJA framework, use your NINJA study planner, and you'll be good to go.