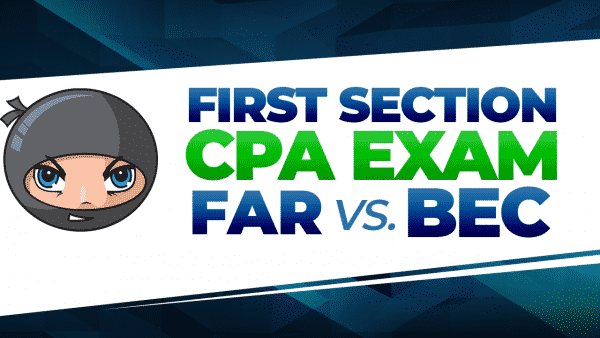 Evonne writes in. I have been out of school for 20 years but I have taken the CPA exam before. I'm juggling kids and a 50 hour work week. I'm 51 years old and passing the CPA exam is on my bucket list. Which exams should I start with?
First of all, good for you Evonne. That's awesome. There are people in their 50s and even 60s taking the CPA exam. So, good for you. And I don't think it matters if you've been out of school for 20 minutes or 20 years.
I recommend everyone take financial accounting and reporting first. Different people have different opinions.
I think they're all wrong. So the only time that you could stray from this is if maybe you had four or five weeks to study and take your first exam.
Then I would take maybe BEC because you can easily fit that in four or five weeks.
But other than that I would take FAR first. Why? Because FAR is the beast.
It is universally regarded as the hardest exam and you want to get the hardest one out of the way before your 18 month window starts.
The worst thing that could happen to you is you have FAR to pass last and then you find out that you can't pass it and you lose your other three credits.
So you want your clock to start when you passed FAR. And as someone who has had the privilege of passing FAR not once but twice, I can tell you it's not fun.