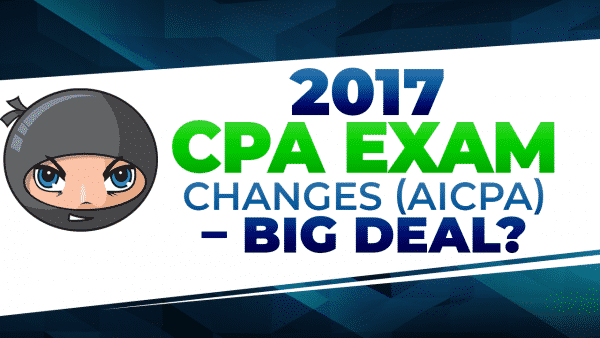 Will the NINJA CPA Review materials be updated for the new 2017 CPA Exam format? Yes. Conceptually the exam is not changing. Some of the topics are moving around just a little bit.
On the 2017 CPA Exam, for the most part, there will be fewer multiple choice questions and more simulations. There will be about a 50-50 weight for the MCQs and simulations except for BEC which is about 35% simulations. BEC right now doesn't have simulations.
The 2017 CPA Exam change date is April 1, 2017.
From a technology perspective, you as the CPA candidate studying, you will not notice a difference. You will need to still study multiple choice questions. You will still need to study simulations.
How the exam grades them, that won't affect you in your CPA study prep. They are going to start to test higher order skills, evaluation and analysis. You still need to know the material. Whatever higher skill you are studying, you have to know the material, how the AICPA grades it. Let them worry about it. Just know the material.
You need to know the multiple choice questions from a conceptual level. You need to know the simulations from a conceptual level. In your studying, your user experience, studying for the exam using your CPA Exam testbank software, that won't change.
The big CPA Exam change happens in 2018 from a user perspective and a user interface perspective. When we summarize that for 2017 both Q1 and Q2 and beyond, which is when the big change happens, you as the candidate, things don't really change that much.
The biggest thing that you'll notice on exam day is you will have few multiple choice questions, more simulations, and you have a break that doesn't count against your time. Other than that it's not that big of a deal.
Don't let some of that fear-marketing out there … I might be guilty of that myself. I put out a video that said the world was going to end and Armageddon was happening. I hope that helps.