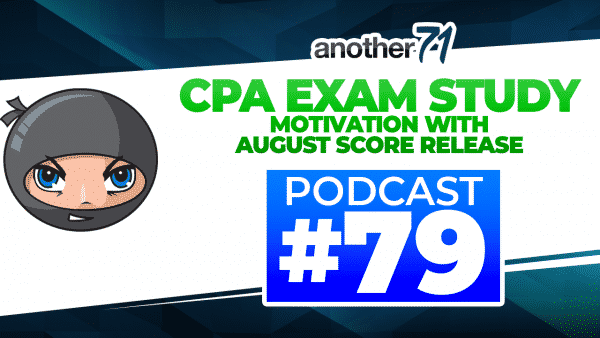 Podcast: Play in new window | Download
Subscribe: Apple Podcasts | RSS
Holi – I am a recent college graduate going to work for a Big Four Accounting Firm in the fall. Because I have some time before then, I budgeted four months to take all four sections of the CPA. I started with the beast, and I studied for FAR. I really put in the time and took the exam last week. But I cannot shake the feeling that I failed and it's weighing heavily on me.
Because of the new exam format and changes, however, my score is being held for 10 weeks — until mid-August. By then, I would have hopefully taken all four sections without knowing any of my scores. This is a terrible feeling because I am starting to become unmotivated without knowing if I am tracking score wise. And worse case I fail, I would have to restudy old material instead of it being fresh in my mind.
How do I stay motivated not knowing any scores? Should I take FAR again before I get my CPA Exam score back in Aug just because I think I failed — and while it's still fresh in my mind? (What about the financial burden?)
Ed – I graduated college in 2006, took the summer off and then started studying. I took all 4 parts and failed.
Then I took auditing and FAR and passed. I could not pass BEC and Reg before losing credit. Two years had gone by and I gave up. Now I am looking to get back into the studying and passing the exam. For the four sections of the test, what order should I take them?
Priscilla – I am currently studying for REG using Roger CPA Review and I am a divorced/single mother with a 5yr old Princess. However, I am currently NOT working so I can completely focus on my CPA Exam. I am sitting for REG on May 30th, 2017 and I am currently on Section 5 Estates, Trusts & Gift Taxes out of 21 Sections.
How should I tackle the rest of my studying? I am nervous and believe it's way too much material to cover by May 30th, should I reschedule REG for July 2017?
(I graduated with my Accounting degree in 2008 and will be doing my MAcc once I am done studying for my CPA Exam).
Hany – I have a question for AUD. When an external auditor use the work of internal auditor. To whom does an internal auditor should report ?
Frank – Probably I'm not your typical CPA exam candidate. I'm in my late 30s I have a senior corporate finance position and have been a finance director in several countries. I have decided to take the CPA and in the past 4 months, I was able to pass AUD and BEC.
Currently, my time is flexible and sometimes I can study during the day.
I have been offered a senior position as a regional FD for an international market.
Likely this opportunity will disrupt my studies.
What would be your advice, take the new role or pass the 2 exams and then see what happens job wise? My AUD credit will expire in August 2018.
Daniel – I have 14 days to study for audit, unfortunately, kept delaying the exam due to work (internship), I am now free from work. Is it double to finish audit in 14, I have bought the ninja notes and was wondering if I should even watch the Becker videos or just do ninja notes and Becker MCQ.
Tracy – I am scheduled to take Reg on July 3rd, all CPA reviews say that first have of year tax is from 2016 info and second half is for 2017 year. So here I am thinking I am going to have to restudy in 3 days these changes! How familiar are you of this transition in the past with candidates along your journey? I know it shouldn't be major changes- mostly thresholds and stuff. however this is the CPA and I walked out of BEC thinking it was easy only to open the score to see a 75. So you can understand my concern 🙂
Also….. with these changes when will you be updating Ninja Notes (if you say July 1, I may cry:)) I hope to do a re-write about 2 weeks before and think it would be awesome if updates are released before to get familiar with the different but similar material.
Thanks for your response and keep up the great work! Your story is very inspiring!!!
Carol – Want to study for BEC using my Gleim materials as well as Ninja Audio. How do I approach that?
Abdi – I need to pass FAR, plain and simple haha. I took it in December and got a 68. I couldn't really study during busy season and out it off for a while. I have the exam scheduled for May 31st but I don't want to move on to the new Becker software. I like the format of my old book. I've also seen the Another71 video on content changes and there wasn't much of a change. Do you recommend sticking with my old book and notes and answering MCQ's and sims of the new Becker update? I also don't want to watch any of the lectures besides the governmental section.
Brooke – I need your professional advice on my CPA exam situation. I have taken REG twice and failed each time. I have scheduled to take AUD twice and never went to the exam. Now my study material has expired and I just don't know what to do. I don't want to sink a bunch of money into it again yet at the same time I really just want to get this passed and move on with life.
I would like to take REG by the end of May but I don't know if that is reasonable. If not, then I am thinking REG at the beginning of July and AUD or BEC at the end of August; then AUD or BEC at the beginning of October and FAR at the end of November. What do you think about this? What are your opinions on the order of the tests?
Instead of sinking a bunch of money into study materials I was thinking about still using my Becker books in addition to using the Ninja notes and Ninja MCQs. What do you think about this approach? I know the exam changed in structure but my Becker books should still be accurate for the information covered.
Phillip – I don't really have a question, but a thank you for your amazing product. I did use Becker product, but it was designed for a one size fits all approach. With the Ninja product, it allowed me to use your question bank to focus on topics that I could not grasp fully. It also helped with how ninja will reference the text relating to the question that I did not correctly answer. I managed to finish my CPA exams before the update.
Daniel – I've passed AUD and recently passed BEC and now am moving onto FAR. I've failed FAR twice in the past, the last time with a 73, but I'm determined to pass my next re-take on July 3rd. However, every time I sit down at the library after my work day, I crack open the material but can't focus. I literally open up my study materials, watch a video or two or read a page but none of it is really sinking in and I waste so much time TRYING to really get into the material that after an hour or so, I just pack up and go home and say "Ok, maybe tomorrow." Some days I don't even open up the materials at all. I also just got a promotion at work, so I'm transitioning to a new position (with all the work and stress that comes with that). Lately, I just want to go out and have a beer after work or hang out with wife/friends/family, or binge-watch The Sopranos. I guess I kind of lost steam.
I know I still have time, but I'm afraid that if I can't get into a study routine soon, I won't be prepared (especially with the new exam format) and I REALLY REALLY REALLY REALLY want to pass this section in July.
Anyway, I guess I'm looking for tips on how to properly reset and get back into the material. I'm halfway done with the CPA exam, and I don't want to lose any momentum.
Rich – My scores are as follows using Becker:
BEC – 69
FAR – 72
AUD – 72
REG – 72
I need to get over the hump. What is your suggestion for the best Ninja Study Package to use?