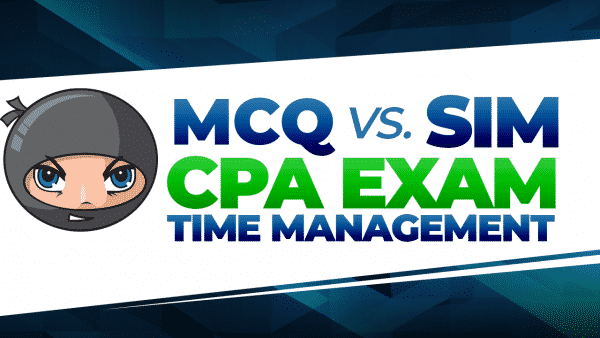 CPA Reviewed #81 – CPA Exam Task-Based Simulation Time Management
Podcast: Play in new window | Download
Subscribe: Apple Podcasts | RSS
Oren – I took Audit in May, and I don't think I did well. My score with REG is expiring on July 21st. I just found out that I will not receive the AUD score until August 16th! If I do not pass, I won't be able to take Audit again before REG expires. Will they extend my REG score? Thanks for your insight.
Nelly – Is the NINJA Audio the same as NINJA Notes? I'm am taking audit in 6 days, I have the notes but I am deciding whether or not to purchase the audio. Is it the same as the notes but spoken out loud?
Amanda – Do you have any insight on the new format of the FAR sims — three different sections rather than just one? I am worried about not knowing the entire picture of the sims and spending too much time on the first one or two sets only to get to the last set and run out of time. Have you heard any details on the type of questions that will be in each section? For example, a research based question would only be in the final section?
Evonne – I have been out of school for 20 plus years but have taken the exam before. I am juggling kids and a 50 hour work week. I'm 51 years old and passing the CPA Exam is on my bucket list. Which exam should I start with?
Sean – I am currently working in the tax service of a Big 4 accounting firm. I started working in public accounting in January with two exam sections already passed. Now that I'm working, it just seems impossible to study effectively. Because I am learning new things on the job, I forget what I studied way too easily. But at the same time, what I learned on the job doesn't get retained well because I am studying for the exams. It's a vicious cycle, and I am going absolutely insane. What can I do to survive this intense time in my life?
Von – Why is there an impairment test for the intangible assets with "finite" lives? Don't we just amortize them?
Jennifer – I am trying to follow the NINJA framework using only NINJA materials, and I noticed that I am having a problem retaining the information. I am so focused on taking notes of what I feel is important in the "Notes" portion of the NINJA framework, that I am not retaining anything I am reading. I'm essentially rewriting the entire BEC book, because I feel like I can't pick out what the most important parts are. How do I take notes and make it through the entire book? I'm also a visual learner, so any advice would be appreciated.
gunyoung – Hey Jeff, I was very impressed with Ninja material. As an introduction, I'm a foreigner who came to the states about 5 years ago for college and now I'm working for one of the big four accounting firm. I bought my CPA materials (sponsored by the firm) when I was in college but didn't happen to study (only for BEC but received 74) before the new CPA came out. Then, since I'm in tax, I wanted to start studying for REG and while I was studying, I found out there was an expiration date for using my software…. Now I'm trying to find another way to pass it and my bet will probably be on you. I apologize for a long introduction. So I just wanted to ask if Ninja course if friendly for a foreigner as well. I like the way you make it Audio but would I understand it after reading the whole chapter? Also, I work and study…. and just want to ask you opinion how long it would take to study with your material until I take the exam? (or pass the exam – REG).
Tony – I have read forum comments, articles and reviews. Just wanted to know if Ninja would be able to prepare me for the new 2017 exams before purchasing. I plan on studying for 4 hours a day. Reading and listening to audio. Would you say to use ninja as a supplement or could it be a full review course? Thank you
Sarah – I was wondering if you had and advice on how to be successful in the Audit Simulations, specifically the simulations that call for searching the Authoritative Literature with keywords from the text provided?
Tamara – Hi, can you please give some advice on how to tackle to review for the REG exam. I'm currently studying full time. Can you advise what timeframe is adequate to complete the review and also what materials are necessary.
Vaheen – Trying to study. And it isn't going well. I don't know why it's taking me so long to get through the material. And I need to review it. And this just sucks. How can I go faster and retain this stuff!
Sarah – Hi Jeff, I am so excited that I stumbled across your site while looking for CPA study materials. I started taking the exam a few years ago while I was pregnant and passed 1 section but I just couldn't bring myself to study after I had my baby and failed a couple sections before giving up. Fast forward 3 years and now I really want to do this. I had difficulty before because I felt like I HAD to get done with every single video (I'm a Checklist person and I needed to see "complete" next to each and every video/section) and just zoned out most the time. Now, thankfully I recognize that this is a horrible way to "study." I'm looking into buying piece-meal your books, audio, and MCQ. My question is, do you think this is sufficient material coverage to pass? And do you have TBS and the new DRS questions? I realized last time that the traditional "kit" of CPA review courses just doesn't work for me, so I want to purchase only what I need to pass.
Connor – Hey Jeff, Im new to ninja, but i have heard great things. I am having a lot of trouble studying for FAR. Nothing is sticking to memory, especially with leases, pensions etc. I am hitting the point of burnout and am extremely frustrated with how poorly I am performing on my mcq practice, as well as the fact that my frustration usually leads me to stop doing mcq all together. My test is in a week and a half, and I am completely stressed out and extremely worried now. What do you recommend?
Valeriya – NINJA MCQ – It is possible to practice MCQ offline?
Tim – Jeff, will you ever do a Ninja CMA Review? I used your ninja notes, audio, MCQs, and books to pass the CPA Exam. I'm currently using a review course for the CMA, but it sucks compared to the ninja products. I'm trying to adapt but it's so hard. The audio that came with the CMA review course I'm currently using sounds like a cyborg that couldn't find another job but to record audio for a CMA Review Course. And the other components of the course material is so boring.
Medina – I am currently studying for the CPA exam and I live in Denver CO. My question is "If I take the CPA exam in CO and get my license will I be able to transfer it to a different state? I might live in Atlanta but I am not sure yet?
Joshua – So, I asked people I know, and I was really curious about what your opinion may be on this strategy? How do you tackle sims, for example, on my Practice Exams on BEC I kept getting 2 to complete in an hour. I felt like one was easier for me than the other. Do you do the easy one first or the hard one? Or what's a good strategy for timing, etc. Does that strategy match other things like MCQ's? Or the sections of the exam as a whole?
B.J. – Hey Jeff, I've got a month until my third attempt at FAR! I. Your opinion, how should I spend this month of studying? What would be the most advantageous course of action? I will be purchasing your FAR MCQ's again and hitting them hard as well as notes and more notes, and then some more. Any other tips or tactics?
Judy – I am currently studying, but cannot commit to studying 60 hours a week due to having a family and working full time. What would be your best advice for me from now to the 15th? Im only on module 3.
Ruben – Hi Jeff, keep it up man loving the podcast. Since I'm on a somewhat of a budget would you recommend your Audio or MCQ if you had to choose?