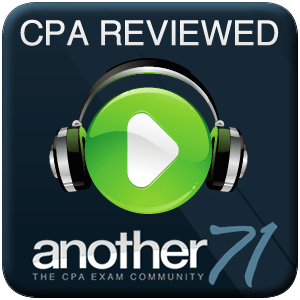 Podcast: Play in new window | Download
Subscribe: Apple Podcasts | RSS
Get it on iTunes.
Brian: Can I use your NINJA notes to replace huge textbooks from other CPA review courses? Have you seen success from people using your notes only? For me, less is more, and I'm trying to avoid information overload to put myself on the right track with the CPA Exam.
Avi: Is partial credit given on the task based simulations?
Sunnie: With tax season, do I even have time to pass REG and AUD before April? The last time I took REG, I scored a 70. How can I prepare myself for the simulations?
Emily: I am sitting for FAR on February 25. I like the idea of copying my notes a second time like you suggested, but I have a photographic memory. How would your NINJA Study Notes help me?
Brad: I've been flirting with the idea of going back into public accounting. Do you have any idea what salary a Big 4 would start an auditor with nine years of experience? Do you think it would be worth plunging back into public or trying to land something with a larger company for more money?
Sheree: I am new immigrant from Philippines with a Bachelor's degree in accounting. I have no accounting work experience and want to take the CPA Exam to land a better job here. I met the requirements to sit in California. Do you think I should enroll in a community college for an accounting certificate to get the taste of U.S. accounting? Or should I just study using review materials and then take the exam when I'm ready?
Todd: Are statistics a big part of the Audit exam? How do I study for statistics?
Craig: Can you walk me through your NINJA program from the time I purchase the product to when I take the exam?