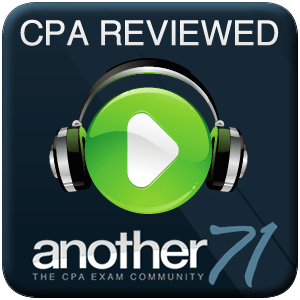 Podcast: Play in new window | Download
Subscribe: Apple Podcasts | RSS
Get it on iTunes.
Sarah – When are you going to have BEC NINJA Audio ready?
Kyle – I have been struggling with the FAR portion of the exam and have taken it twice without even coming close to a 75 with two different review courses. My job is not in accounting, and I don't have an accounting degree, but I did take classes to be eligible to sit for the exam. I assume I need to put in double the effort since I have not had much accounting experience. Can you tell me what you would do if you were in my situation?
Casey – When retaking an exam, would you recommend watching the lectures again? I have read that yes, they benefit you, and also not to waste time on it. In your opinion, do you think they are beneficial?
Sean – I literally thought I aced Audit and just got my score back and failed with a 68. I walked out of the exam more confident than FAR and REG and I passed both of them no problem. Any advice?
Allison – Which review book do you suggest for the contract law section of the CPA exam?
Shawn – I have passed three parts of the exam but just failed REG with a 74. Should I switch review courses? What advice do you have?
Ashley – I just got a 62 for the second time on REG. I got weaker on the MCQ and comparable on the Simulations. I don't know what to do now. Do you have any advice to get me over this hump?
Abe – I just failed REG for the 3rd time in a row with a 71, and now I lost credit for Audit. Do you recommend giving REG a break and starting with Audit, which took me 3 tries to pass 18 months ago?
Sarah – I took the audit section and failed. I was stronger in the multiple choice and weaker on the simulations. Do you have any suggestions for how to study for the simulations and also how to improve on the research part?