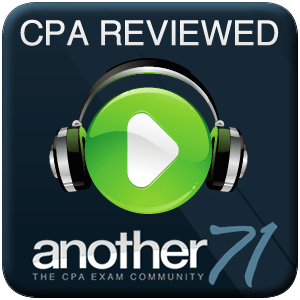 Podcast: Play in new window | Download
Subscribe: Apple Podcasts | Android | RSS
Get it on iTunes.
Update: Scores Released soon after this podcast was recorded 🙂
Reginald – I need 30 more credits to meet my state's 150 credit requirement. Is it advisable to sit for the CPA exam before fulfilling the additional credits I need?
Brian – On the BEC simulations, do I need to put in fillers like "dear sir"? Is there a real difference between the letter or the memo format for this test?
Kelly – If I pass all four sections within the 18 months time span, is there a time requirement on how long you have to get your experience requirement as well? I have zero public accounting experience right now.
Otto – I won't be taking AUD until January while I finish my Bachelor's Degree. How should I use my study time from now until then? My plan is to take AUD in January and then FAR in either February or April.
Blake – I passed AUD and FAR but failed REG after studying the same way for all three sections. I watched all the lectures, took notes, and answered all the Wiley book and online questions. What suggestions do you have to help me pass REG?
Jessica – I've heard that timing is key to start studying for the exam. Is there a good time of year to start studying?
Eric – I've taken all four sections and only passed AUD. Which section should I retake first?
Thien – Are FAR review materials from 2011 outdated?
Michael – My FAR score report showed I was weaker in specific transactions. Do you have any suggestions to help me with this part of the exam?
David – I am considering the CPA Exam for the purpose of professional development. I have no intention of obtaining my license. Is the exam worth my time?
Carol – My degree is in biology, but I took classes to sit for the CPA Exam. Have you heard of someone without an accounting background being successful with the exam?
Free NINJA CPA Review Materials
Want to Study Less & Get Higher CPA Exam Scores?
Can I send you $162.12 of Free CPA Review Materials that will help you…
Study Less
Avoid Common CPA Candidate Mistakes
Get Higher Scores
Spend More Time with Friends and Family
Finally Pass and Get On With Your Life?