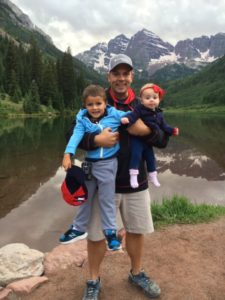 Hello Ninjas,
This will be my last blog entry as a NINJA CPA. I found out at the last score release that I passed both AUD and FAR to bring an end to my CPA exam journey.
My journey with NINJA began about 4 years ago. After not having taken the exam for 7 or 8 years I was inspired by Jeff to get back into the game. I began my journey with FAR. After studying for about 3 months I took the exam only to receive a 74.
Talk about a crushing blow.
I swore off the CPA exam and swore that I was better off without it, that the difference between me and a CPA was their ability to pass a silly exam.
Three years later I was given some incentive by my employer to get my license. Only difference this time was that I was managing a team of 8 and had 2 small children under 4. Now it seemed even more impossible.
After 3 months of studying I took BEC last October with BEC. Pounded multiple choice questions and listened to NINJA Audio. I thought it was the hardest test I ever took in my life.
I thought for sure that I failed.
I ended up with an 80.
Next up was REG. I felt that this section was the hardest to learn, especially since business law and tax are not the most exciting topics in the world. After 3 months of NINJA MCQ and NINJA Audio, I scored an 85. Two down.
I started out strong studying for Audit. I spent 3 years in a Big 4 firm, how hard could it be? It was much harder than I anticipated. I ended up studying for close to 4 months. This was the first exam using the new format, which I found to be very challenging on this exam. I ended up scoring a 79.
Some poor planning on my part left me with less than 3 months to study for FAR before my NTS ran out. I just stepped up my game and started studying for an extra hour a day and every weekend. My family was not too happy but with the finish line in sight I couldn't look back.
The extra work paid off. I scored my highest, an 88 and was finally done.
I went 4 for 4 in less than a year with a full time job with 2 little kids.
Here are some tips for you Ninjas on the journey:
Listen to Jeff's advice about taking notes and rewriting. I filled up 10 black and white composition books with notes from my multiple choice questions. This is painful but it works.
Add something extra from the the NINJA course. The audio definitely provided me with some extra points that helped me pass my exams. It's amazing how Jeff's tips come to your head during the exam.
Take this exam before you have a family and kids!
The most important lesson I learned is that the CPA exam isn't about how smart you are, how well you know accounting or how well you take tests. It is about effort, determination and sacrifice.
If you give it your all and really dedicate your life to passing this exam it will happen. It wasn't about memorizing material; it was about knowing it cold.
Thank you NINJA CPA. I am finally done!!!!!