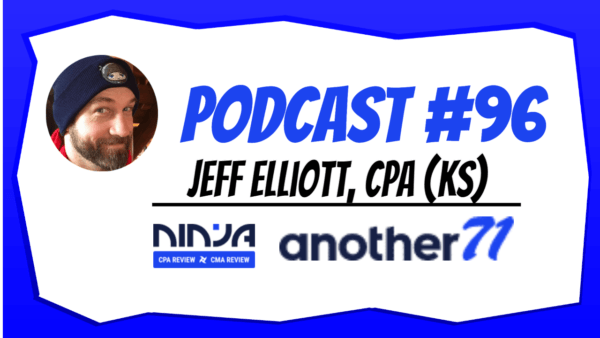 CPA Exam Podcast Questions:
Sloan – I am writing to get some advice. First, I wanted to thank you for inventing NINJA CPA! I will give you a little background. I started my journey with Becker only and scored 71 and then 72 on FAR. After supplementing with NINJA I got a 75. For AUD I used Becker supplemented with NINJA and scored 79. The same method for REG and scored 78. I took BEC and I scored a 71. Do you have any tips? As a side note, I go through all the Becker material first then I do all NINJA questions 3-4 weeks before the exam and listen to the audio every morning. I take notes while studying both and review them.
Crystal – Hi Jeff, I need your wisdom. I received my BEC score – 74. From a strategic perspective, should I retake BEC or take FAR next? What would you do?
Lyla – How do I memorize the various amounts in addition to the phase-in AGI/MAGI ranges for all the credits?? (NINJA & Gleim)
4 Do I have to complete reading the Ninja Notes before jumping into the MCQs? – Jes (NINJA Only)
Yoga – I am using mostly Ninja this time and am hoping to pass my FAR retake on Wednesday. I noticed that I was doing the practice exams well on Ninja. Just to be more sure I also tried giving two practice tests with my other review course provider but didn't score well on them. Just wanted to understand if this is something that one generally be concerned about? I have my exam on Wednesday and want to be as confident as possible.
Jenny – Best way to bring up trending score in Ninja.. organically. Do MCQs random all topics? Or select specific topics and hammer away. (NINJA + Becker)
Samantha – How do you motivate yourself to both study and also know to take breaks to be healthy? (Surgent + NINJA)
Have a question for the podcast? Ask Jeff.