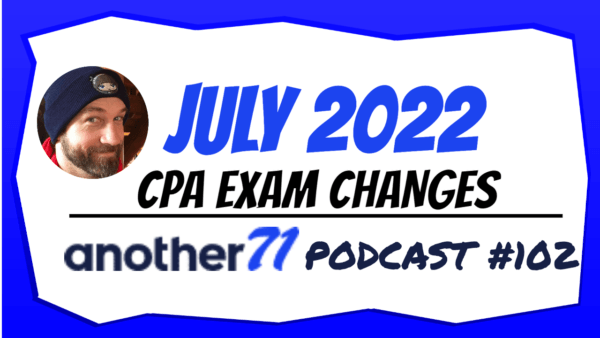 This CPA Exam podcast covers:
July 2023 CPA Exam changes
Erin (DOJO) Currently I am hammering out MCQs. I did poorly on the SIMS but did not feel like any of the practice SIMS I did with (CPA Review course) set me up to succeed.
Gary (DOJO) I took auditing 5 times 68,70,71,74,71. I am losing my mind. I do not know what I am doing wrong. I think the simulations are the issue and tricky mcq. Of the four sections in the audit exam, I tend to do better on parts 1 and 4. Part 2 and 3 I will try to buckle down some more. It is a hit or miss for me. (NINJA Only, Becker + NINJA, Gleim + NINJA)
Thuy (DOJO) I would like to know if I can listen to the Ninja audio while working, without having reading the book or the notes. For the intense note-taking while reading the book or listening to the audio, instead of taking my own notes, can I just rewrite the Ninja notes? (Becker + NINJA)
Matthew (DOJO) I just got my score report and got a 74 and I need to pass audit soon was wondering if you could help me. (Surgent + NINJA)
Lee Anne (DOJO) I have taken the BEC about 7 times and cannot pass the exam. I feel good about the exam but clearly not doing well. I have been studying for the exam for about 2 years. I am currently now just focusing on MCQs and the ninja cram sessions. Would love feedback on what I can do to pass! In the last test I took I received was a 70 which is 2 points up from the last exams. (Becker + NINJA)
Kristin (DOJO) I have ADHD and I have been struggling with the lack of structure/routine for what I need to be doing each day to study with the Becker software. I have pushed my exam back multiple times already and all my friends taking the exam have already moved past me- any daily tasks/ study routine recommendations to prepare for FAR would be immensely helpful as I just feel so overwhelmed I don't know where to start. (Becker + NINJA)
---
Have a CPA Study question? Ask Jeff.
(If you're a NINJA, be sure to let me know in your question, and I'll bump you to the top of the list)