Best CPA Test Banks & 7 Things To Know
Disclosure: This page contains affiliate links. If you purchase after clicking one of our links, we may be compensated (at no additional cost to you).
---
Table of Contents
---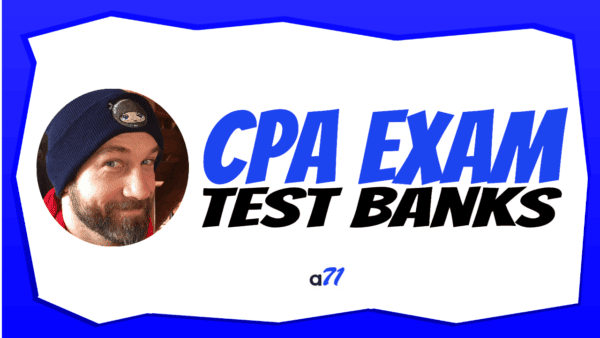 ---
Regardless of your current CPA Review course, you need a second CPA Test Bank.
Consider it a "hedge" against an exam day disaster.
Since we accountants like math, here's some mathiness:
For every two people who walk into Prometric to take the CPA Exam, one will pass, and one will fail.
To put it another way: one in two CPA candidates will have wasted eight weeks of their life studying for a failed exam.
That is a staggering statistic considering that 80%-90% of CPA Candidates use one of three CPA Review courses.
---
"Jeff, love the site and love what you do, but I am a firm believer that if you put in the time and pass, you only need to buy one set of CPA Review materials. You are clearly using scare tactics to push people to buy your stuff."
"Yeah? Can you score a 75% on this 40-question Mock Exam?"
(Note: I know that a 75% is not the same as a 75 on the CPA Exam – if that's a pet peeve of yours too, then I hear ya.)
"Hold my beer…"
(1 hour later…)
"Ok, Jeff, I straight bombed it. You were right – I need a second test bank, apparently."
"And your beer is warm."
"Sorry I ever doubted you."
All is forgiven. Keep reading.
The following is a detailed breakdown of why you need a second CPA Test Bank and a comparison of the three top CPA test banks:
I know the CPA Test Bank market very well.
Before creating NINJA MCQ in 2014, Another71.com was the #1 reseller of the Wiley CPA Test Bank.
Between the Wiley Test Bank and NINJA MCQ, a strong case could be made that I know the CPA Test Bank market better than anyone.
---
1. Yes, You Need a 'Second' CPA Test Bank
---
You've spent thousands on a course and aren't keen on adding more CPA Study Materials (notes, audio, test bank, etc.). I get it.
Think of a second test bank as a sort of insurance policy.
Insurance against failing and the emotional hangover that follows. If you've experienced a failing score, you know the temporary panic, depression, and paralyzing despair that a bad score release can cause.
Insurance against eight weeks of studying down the drain (and the flood of reminders of all the things you skipped to study for those eight weeks… guys' night out… girls' night out…fun nights with the kids…weekends with the kids…Friday night Netflix and Chill sessions (is it still called that when you're married?). GONE. You can't get those opportunities back. And for what? You get to study again.
Insurance against quitting the CPA Exam. One of the biggest risks of failing isn't the NTS fees or the restudying…those things suck real bad, for sure. The biggest risk is that after enough fails, you'll quit.
Statistically, upwards of 20% just up and quit the CPA Exam and never finish. Why? Failure. Enough is enough.
Who do you want to be five years from now?
A CPA.
Being a CPA is a ticket to doing whatever you want – and making more doing it.
Own your own firm/small business?
Do taxes on the side?
Leverage your CPA credential in another area?
It's completely up to you.
While becoming a CPA will improve your future life, what about the pure misery of the CPA Exam life?
The NINJA Study Framework will cut down on weeks of pointless studying and allow you to actually have a weekend (remember those?) again.
Crazy thought, I know.
---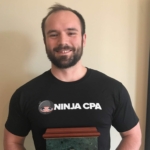 Brian Wright
Elijah Watt Sells Award Winner
"(NINJA MCQ) Gave me the extra practice I needed to get my best score of any of the exams."
---
2. Different Test Banks have Different Questions & Answer Explanations
---
Different CPA Test Banks have different questions. Sure, there is some overlap, but it's not to a material degree, and it has been overblown by people marketing competing "non-AICPA" Test Banks.
For example, Becker, Roger, Wiley, NINJA, etc. had to update their large numbers of revenue recognition questions.
The answer explanations were already completely different, but now each question is completely different and testing on a different nuance of the same concept.
Same with Leases.
Same with TCJA.
Same with QBI (REG), etc.
A supplemental CPA test bank may better explain an answer or concept than your "main" course.
These answer explanations are written by people, and some people are better writers (and teachers) than others.
Over time, the questions themselves change due to standards/regulations changing. A classic example of this is FAR, where each CPA Review Course had to completely re-write its Revenue questions due to FASB ASC 606. Consider for a moment all of the "revenue" questions that the AICPA had released over the years. They all changed. Everything changed – the questions, the answers, and the answer explanations.
The same thing happened with Leases a few years ago. The same thing happened with REG and TCJA in 2017 and again in 2021 when the CPA Exam stopped testing numerous tax concepts. Did the courses simply delete these questions? No. You can see in the table above that there is an "arms race" to have the most questions. The courses rewrote the questions and put them in a different blueprint bucket.
Outside of not wanting to spend money (hey, it's cheaper than buying another NTS for a retake), there's no reason not to use another CPA test bank.
---
3. Each Test Bank has its Pros and Cons
---
NINJA MCQ has more questions and simulations than Wiley, but NINJA is month-to-month, so there's no financial commitment, whereas Wiley CPA ($600) gives you 24 and 18-month access, respectively. NINJA also includes many features that Wiley only offers with their course packages (Study Guide, Audio, Tutoring, Cram, etc.).
The Wiley CPA Test Bank has fewer questions than NINJA but has two years of access. Wiley's test bank software is not adaptive per their website.
Gleim's CPA Mega Test Bank is expensive but often on sale. Gleim's CPA simulations have a great reputation. While the Gleim Test Bank features a review book, like Wiley, it doesn't include the audio, study guide, cram course, etc., that come with NINJA and includes those features in the Gleim Premium Course that retails for $1,999.
---
4. Adaptive Learning Makes Life Easier
---
Adaptive Learning in a CPA test bank was a major feature a few years ago. Today, most CPA Review courses have some form of adaptive technology. You can still pass the CPA Exam without it (as people have done for decades), but you could make a case that you're at a disadvantage vs. other CPA candidates using it. It's like buying a new car without cruise control. It will still get you from point A to B, but it's annoying that it's not there (first-world problems, I get it).
Adaptive Learning allows the test bank to 'feed' you more questions based on your weak areas. Your strong areas are still tested but less frequently. Different courses have different names for it – and each company uses its own adaptive algorithm, so they aren't the same.
NINJA MCQ and Gleim Mega CPA Test Bank are adaptive, whereas the Wiley CPA Test Bank is not.
---
5. AICPA CPA Exam Questions are a No-Brainer
---
Before purchasing any CPA Review Test Bank (aside from Gleim, Wiley, or NINJA), ask them the following question:
Does your CPA Exam test bank use AICPA questions?
If the answer is "no, we don't use AICPA questions" (followed by a long creative excuse explanation as to why), go elsewhere. Period.
"But Jeff, I asked them, and they said they had a really good reason…overlap, blah blah."
Uh-huh. Find a different test bank.
When your test bank doesn't use AICPA-Licensed materials, you're at a disadvantage because only AICPA-Licensed courses get critical content updates from the AICPA Examinations Team and can use past CPA Exam questions in their materials (or service).
How can they help you pass the CPA Exam if they don't know what's tested on the CPA Exam?
It's less important for supplements to use AICPA content, but it's still very helpful.
Your main course must incorporate them into the materials.
Not knowing what's testable on the exam can be the difference between a 75 and a heart-breaking 74.
---
6. More Questions Are Not More Betterer
---
Yeah, that's poor grammar. I don't recommend using phrases like this on your BEC written communications, but I can get away with it since I'm on the other side of the CPA Exam. 😀
A solid baseline for CPA Exam questions in a CPA test bank is 6,000 questions.
Wiley CPA (12,000 questions) seems to be in an "arms race" with Gleim CPA (10,000 questions) to have the most questions in their course.
This is overkill. Why? Let's break down the math.
If we set a benchmark of 6,000 questions (an arbitrary number, but it feels right) for a 7-Week Study Plan, when will there be time to work on the other 4,000-6,000 questions?
Conservatively, using the lower question count of 4,000, if you work 30 questions an hour (one every two minutes, which is a good clip), that's an extra 133 hours of studying just to work each question once.
If you study over 7 weeks, you must study for those additional questions an extra 19 hours a week.
You got time for that? Not likely. 😀
The Wiley Test Bank and NINJA MCQ have around 6,000 and 7,000 questions, respectively.
This is more than enough and then some.
---
7. Take Each CPA Test Bank for a Test Drive
---
NINJA MCQ vs. Wiley CPA Test Bank vs. Gleim CPA Mega Test Bank:
Choose the CPA Exam Test Bank package you like the best.
---
| NINJA MCQ | NINJA MCQ |
| --- | --- |
| Cost | $67 |
| Access | 1 Month |
| Questions | 7,000+ |
| Simulations | 335+ |
| Adaptive | ✅ |
| Wiley CPA Test Bank | Wiley Test Bank |
| --- | --- |
| Cost | $600 |
| Access | 2 Years |
| Questions | 6,000+ |
| Simulations | 200+ |
| Adaptive | 🚫 |
| Gleim CPA Mega Test Bank | Gleim Test Bank |
| --- | --- |
| Cost | $999 |
| Access | 18 Months |
| Questions | 10,000+ |
| Simulations | 560+ |
| Adaptive | ✅ |
---
Get Your Free Test Bank
---
CPA Exam Questions
Simulations
Mock Exam
7-Day Access
Enter Your Best Email & Get Started
---
---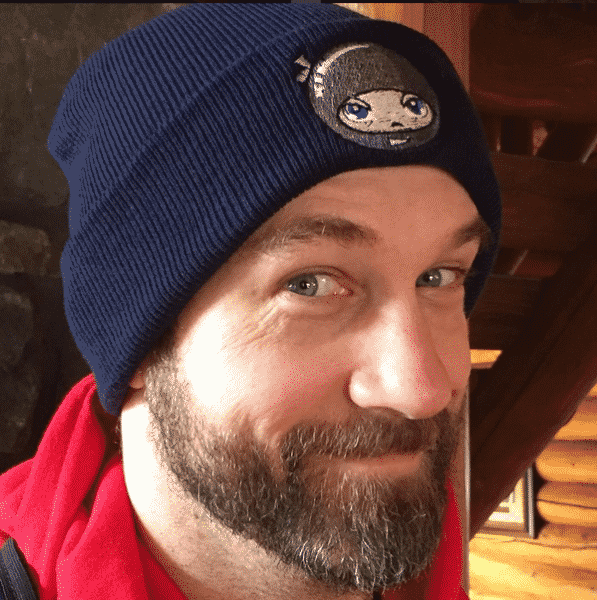 To Your Success,
Jeff Elliott, CPA (KS)
Founder, NINJA CPA & Another71
---