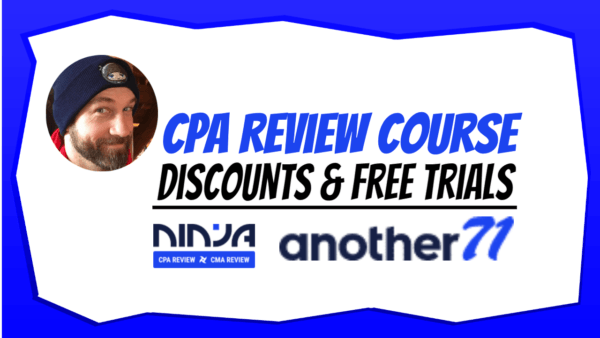 Best CPA Review Courses & 7 Things You MUST Know
---
Disclosure: This page contains affiliate links. If you purchase a course through one of our links, we might make a commission (at no additional cost to you).
---
---
Introduction to the CPA Review Courses
---
I am uniquely qualified to write a guide on 'choosing the Best CPA Review course' because:
1) I own a complete CPA Review course (NINJA), am an AICPA course licensee, and have the same access to the AICPA Examinations Team as the "big" courses.
2) I have affiliate relationships with my competitors and am the only major course (I define "major" as top-5 in market share) that can say that. I've started the affiliate programs for several companies, including Roger CPA Review and CPAexcel wayyy back in the day, and know the companies (and their staff) fairly well.
3) I've been doing this (helping people pass the CPA Exam) full-time for over a decade, and I know every major CPA Review Course and have seen them all evolve over time (and even get sold along the way).
Choosing a 'Best CPA Review Course' among the seemingly endless list of options is the 2nd-most important decision you'll make during your CPA Exam journey.
(The most important decision is to get your butt out of bed on a daily basis and study).
There are two types of CPA Review:
CPA Exam Review Courses (your "main" study materials. Scroll down to a comparison of four of the Best CPA Exam Review Courses below.)
CPA Review Supplements (CPA Test Banks, Study Guides, Audios, CPA Crams, etc.)
Don't have a course yet? You're in the right place. Let's get started.
---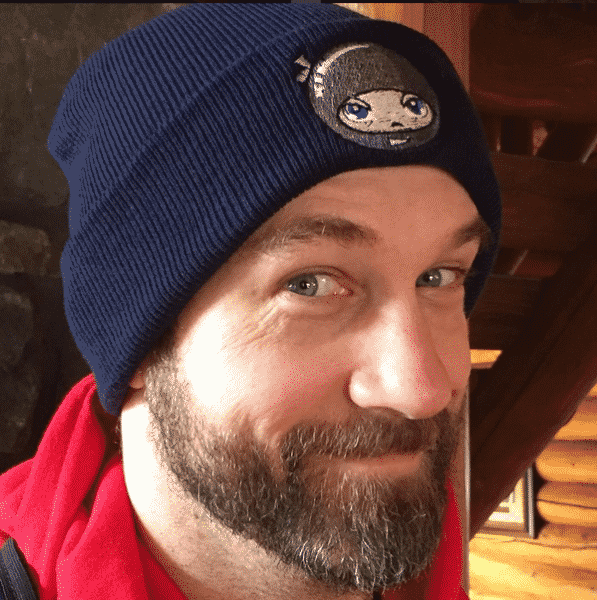 To Your Success,
Jeff Elliott, CPA (KS)
PS – if you haven't already, read My CPA Story.
I think you'll find it motivating for your CPA Journey, especially if you've failed a CPA Exam section (or five)
---
1. There isn't a "Best CPA Review Course"
---
Let's be real from the start:
There isn't a Best Course or Best Courses.
It's a myth pushed by Best CPA Exam Review "ranking" websites looking to make commissions.
The CPA Study courses that pay out referral commissions get highly rated.
The courses that don't pay commissions (NINJA) get dumped on and "can't be recommended at this time." 😀
---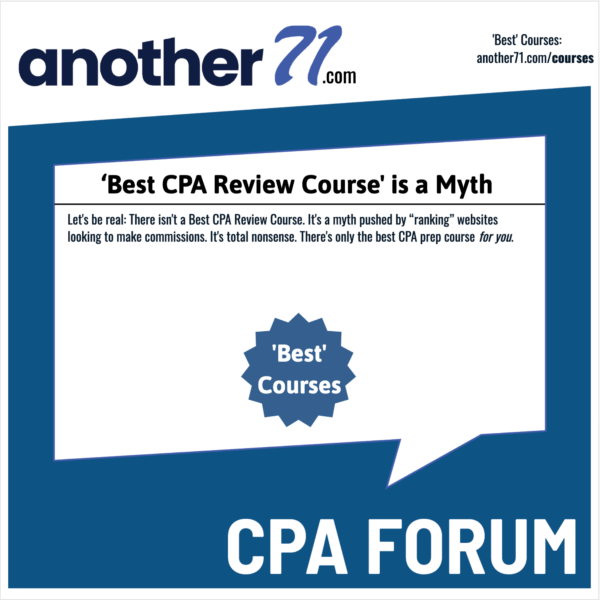 ---
There's only the Best CPA Exam Review Course for you:
✅ Budget (What can you afford? Debt vs. No Debt?) Do you want to be paying for your CPA Course lonnngggg after you've passed and moved on to better things?
✅ Learning Style (Powerpoint lectures? "Dry Erase Board" lectures? No lectures? Test Bank only?)
✅ Peer Review (What is the course's reputation?)
✅ Access (Are there usage limits or restrictions? Does it expire? )
✅ Buyer's Remorse Protection (Can you return it if it's not actually the best CPA prep course for you after all? Is there a penalty?)
✅ 5 AM Test (Can you stomach studying with this course at 5 am, or will you most likely hit snooze for the next 2 hours until you really have to get up?)
✅ Free Trials (How will you know it's the best CPA course if you don't try it first?)
🚫 Ignore advertised course pass rates (more on that below).
🚫 Ignore the fake 'review site' ranking pushing a 'Best CPA Review Course 2022' (see #8 below)
🚫 Ignore anything that triggers your BS detector, Future CPA.
---
2. Know Top CPA Exam Review Courses & Packages Before You Buy
---
The number of courses out there (and options within those options) can be quite overwhelming.
These four courses represent 80-90% of the CPA Exam Review market.
It's important to have a basic understanding of each course, the packages offered, and what to look for based on the promos being offered.
---
CPA Exam Review Course Features:
---
Videos
Book
Test Bank
Study Guide
Audio Review
Cram Course
Flashcards
Live Tutor
30-Day Returns
Free Trials: Would you buy a $2,000 car without taking it for a test drive? Of course not.
What if it smells like grandma accidentally left the cat in there for a month?)
(Which makes no sense, yet makes total sense).
Take your future CPA Exam Review course for a test drive before you drop the equivalent of a nice cruise (do people still take cruises?) on a review course.
Most CPA Study Materials have Promo Codes. Like the Kansas weather (born and raised), if you don't see a CPA Review discount, wait 5 minutes.
---
3. Final Two: Compare CPA Review Courses Before You Buy
---
Pick a Final Two. Find the Course for you.
(yay, that rhymes).
For a CPA Review Courses comparison, click a course for detailed course overviews, discounts, & study plans.
Online CPA Review Courses ranked in order of retail price.
As you read the course comparisons, you'll see tl;dr
That stands for "too long, didn't read" … i.e. just summarize it for me.
It's what the cool kids type. I am not a cool kid, so I googled it.
On mobile? This table is best viewed sideways in landscape.
---
The Best CPA Prep Course Comparison You'll Find Anywhere
---
CPA Prep Courses listed in order of retail cost. No "ranking" intended or implied. I'd be ranking my own course last if that were the case. 😀
| CPA Prep Course | Becker CPA | Roger CPA | Wiley CPA | NINJA CPA |
| --- | --- | --- | --- | --- |
| Course Package | Pro | Elite | Platinum | Monthly |
| Access | Unlimited | Unlimited | Unlimited | Month-To-Month |
| Cost | $3,799 | $3,399 | $2,499 | $67 |
| AICPA-Licensed | ✅ | ✅ | ✅ | ✅ |
| Video Lectures | ✅ | ✅ | ✅ | ✅ |
| CPA Book | ✅ | ✅ | ✅ | ✅ |
| CPA Test Bank | ✅ | ✅ | ✅ | ✅ |
| Study Guide | ✅ | 🚫 | ✅ | ✅ |
| Audio Review | 🚫 | ✅ | 🚫 | ✅ |
| Cram Course | ✅ | ✅ | ✅ | ✅ |
| Flashcards | ✅ | ✅ | ✅ | ✅ |
| Live Tutoring | ✅ | 🚫 | 🚫 | ✅ |
| CMA Included | 🚫 | 🚫 | 🚫 | ✅ |
| CPE Included | ✅ | 🚫 | 🚫 | ✅ |
| EWS Award Winners | ✅ | ✅ | ✅ | ✅ |
| 30-Day Guarantee | 🚫 | 🚫 | 🚫 | ✅ |
| Study Plan | See Planner | See Planner | See Planner | See Planner |
---
Becker CPA Review
---
Becker CPA Review is the biggest name in CPA Exam prep, and they're the most expensive CPA Review course, typically.
The three main Becker CPA Review courses are Pro ($3,799 retail), Premium ($3,099 retail), and Advantage ($2,499 retail).
---
Wiley CPAexcel
---
Wiley CPAexcel, like Becker, is an old-school CPA Prep course. They've been around forever and have a good reputation.
Wiley CPA Review has two main CPA Review courses: Platinum ($2,499 retail) and Pro ($2,199 retail)
---
UWorld Roger CPA Review
---
UWorld Roger CPA Review isn't as long in the tooth as Becker and Wiley, but the course features Roger Phillipp, one of the best CPA lectures around.
While Roger CPA has two CPA Review packages, the only one to invest in is the Elite + NINJA package, given the package features and discounted price.
---
NINJA CPA Review
---
Since the home team bats last, I'll finally cover my company, NINJA CPA Review.
Forgive me for also expanding (a little) on NINJA.
In 2011, we saw a need in the CPA Review industry for a legit set of study supplements that could boost anyone's score and wouldn't break the bank.
NINJA CPA was born.
NINJA is an acronym for Smashing Any CPA Exam section:
(N)ail the Concepts
(I)ntense Notes
(N)on-Stop MCQ
(J)ust Re-Write Your Notes
(A)ll Comes Together (Final Review)
Like everyone else, we used to have 3 packages: small/medium/large, bronze/silver/gold, mega/titanium/ultimate whatever you want to call it.
(except we used NINJA-esque names like "Assassin").
We ditched all that in 2018 and make everything super-convenient and super-affordable via NINJA Monthly.
With NINJA Monthly, you get everything that was included in our $1,300 package … for $67 a month.
Except, (and this is key) … it's not financing. It's not a big payment broken down into little payments.
You can start and stop and come back (or not come back) whenever and however you want.
You can use the Notes, Book, Audio, Test Bank, SIMS, Flashcards, Tutoring, CRAM … all of it, some of it … one of it … it's up to you ...
Full Course? Supplement? You decide.
We'll take care of the rest.
Read more about NINJA CPA and the NINJA Study Framework.
---
4. All CPA Review Companies Have Unlimited Access Packages
---
When comparing CPA Exam Review courses, it's important to keep it apples to apples. If your course is going to expire at some point, it's important to know that.
Thankfully, the courses now make it easy. They basically don't expire until you pass the CPA Exam (with the exception of the "lower-tiered" packages).
When a course advertises "unlimited access," that's like a hotel advertising that they have "Free Cable." Scroll down to #25 for more info.
When comparing CPA Exam Review courses, it's important to keep it apples to apples. If your course is going to expire at some point, it's important to know that.
Thankfully, the courses now make it easy. They basically don't expire until you pass the CPA Exam (with the exception of the "lower-tiered" packages.)
---
5. You Need a Second CPA Test Bank
---
Regardless of your current CPA Review course, you need a second CPA Test Bank. Consider it a "hedge" against an exam day disaster.
---
| CPA Test Bank | NINJA MCQ | Wiley Test Bank |
| --- | --- | --- |
| Test Bank Cost | $67 | $600 |
| Access | Month-To-Month | 2 Years |
| CPA Exam Practice Questions | 7,000+ | 6,000+ |
| Task-Based Simulations | 335+ | 200+ |
| AICPA-Licensed | ✅ | ✅ |
| Adaptive Test Bank | ✅ | 🚫 |
| CPA Book | ✅ | 🚫 |
| Video Lectures | ✅ | 🚫 |
| Study Guide | ✅ | 🚫 |
| Audio Review | ✅ | 🚫 |
| Cram Course | ✅ | 🚫 |
| Flashcards | ✅ | 🚫 |
| Live Tutoring | ✅ | 🚫 |
Read more @ CPA Test Banks & 7 Things To Avoid Disaster
---
6. Your Learning Style Matters
---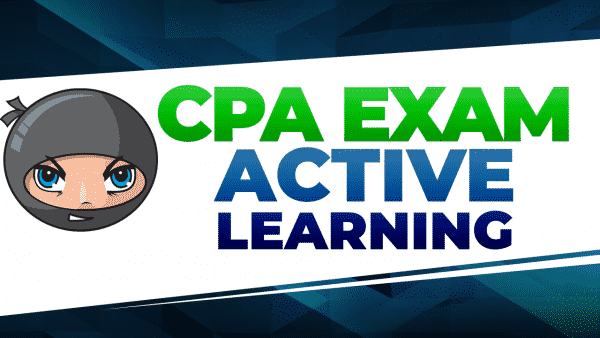 ---
According to the VARK model, there are four types of learning styles: Visual, Auditory, Kinesthetic, and Reading/Writing. Most people are likely a combo of a few, and maybe all of these. I like Kinesthetic, but I also learn well via audio while I'm driving. I can knock out an audiobook on 1.4x speed with a quickness. If you're a combo learner, then go with the course you like, as all of these courses have features that cater to most of these learning styles (not all courses have audio lectures, for instance).
If you know you're specifically one of these, then consider checking these out first:
Visual Learners like to "see" the information in order to process it.
Auditory Learners process information through "hearing" it.
Kinesthetic Learners learn by "doing."
Reading/Writing Learners like to read and write stuff down.
Best CPA Review Course for Visual Learners
Roger, Becker, or NINJA – If you are a visual learner, check out Roger CPA Review (dry erase board style teaching), Becker CPA Review (book annotated on-screen during lectures) or NINJA CPA Review (videos explain concepts visually via NINJA MCQ software and Excel)
Best CPA Review Course for Auditory Learners
NINJA – The NINJA Audio, while not perfect (people say I smack my lips when I talk :D), is the best audio course in all of CPA Review land. Roger has an audio, but it's the audio file from a video lecture, which is a nice bonus, but it's not made strictly for auditory learning (recorded with the mindset that you can't see the material in front of you)
Best CPA Review Course for Kinesthetic Learners
Wiley or NINJA – I'm a kinesthetic/visual combo learner. I get bored easily. I have to "do." If you're a fellow kinesthetic, then you want a course with a CPA Test Bank approach like Wiley or NINJA MCQ.
Best CPA Review Course for Reading/Writing Learners
NINJA – The NINJA Framework is built around this model. Reading/Watching & Taking Notes. Then, re-writing those notes.
---
7. The NINJA Study Framework is the Best Way to Study
---
---
50% of CPA Candidates who walk into any exam will fail that exam. Why?
Wrong Study Materials
Wrong Study Method
All of the Above
The NINJA Study Framework isn't the only way to Study, but it's the Best Way to Study.
(And It's Free.)
Even if you never become a NINJA, you can at least use the NINJA Study Framework.
---
CPA Review Course FAQs
---
Which CPA Exam review course is the best?
---
The one that clicks best with you and the one you'll actually study with.
---
Are CPA prep courses worth it?
---
Is traveling cross-country with a phone that has Google Maps worth it?
You could just whip out your grandparents' Rand McNally map collection.
If money is an issue, NINJA is dirt-cheap. No excuses.
---
Do I really need a CPA Exam review course?
---
This is an online CPA class. This ain't your live, in-person college accounting class (note: don't use "ain't" in your BEC Written Communications).
You need study materials that are specifically designed for one thing: passing the CPA Exam.
Not college accounting books – those for understanding accounting.
Not IRS regs or FASBs – that's an incredibly poor use of your valuable time.
Not Enrolled Agent (REG) or CMA (BEC) materials – those are beyond the scope of the CPA Exam.
Not free CPA review materials that you found online – they are free because they aren't updated (aside from CPA Review free trials).
---
Which CPA review course has the best pass rate?
---
This question comes in various forms:
"Which CPA study material has the highest pass rate?"
or
"Which CPA review course has the highest pass rate?"
A few things to know about CPA Exam pass rates:
The first-time CPA Exam pass rate, according to the AICPA, is approx. 25-30%.
1 out of every 2 people (i.e. 50%) who walk into any given CPA Exam section will fail it (also according to the AICPA).
Some CPA courses advertise 80-90% pass rates.
Ok, future auditor, what stands out to you? 😀
I don't know what mathmagic CPA Exam Review courses use to arrive at their pass rate numbers, and I don't really care.
That's between them and the AICPA.
What I do know is that you shouldn't factor them into your buying decision at all.
If you want the CPA Review course with the highest pass rate, go with NINJA (my company), as we have an industry-leading 803% pass rate. 😀
Note: If you don't like dry humor or sarcasm, you won't like me (or NINJA).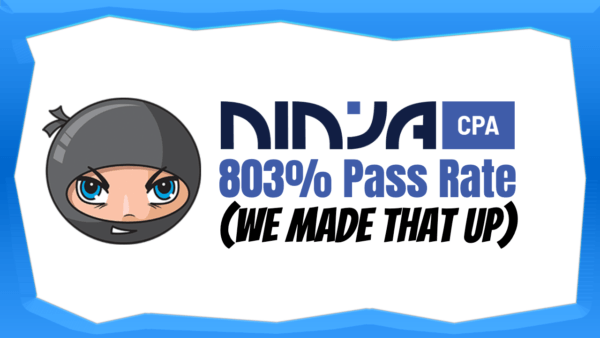 The real question to ask: "When a CPA Review course was able to isolate a representative sample size of customers who used no other materials or supplements, including free online help, what was the pass rate from that representative sample when accounting for the response bias due to people being less likely to report their results after failing due to shame or otherwise apathy?"
Then, rank the courses according to that question.
Which review course has the highest pass rate?
If you find the answer, let me know 🙂
---
What is the best CPA course for working professionals?
---
One that has an audio course to maximize study time while commuting. This leaves Roger or NINJA.
---
How do I choose the right CPA course for me?
---
Budget, Learning Style, and Peer Review. What can you afford? What clicks best for your learning style? What do others say about the course?
---
What is the Best CPA Review course for international students?
---
Each person is different, but if English is your Second Language (ESL), be forewarned that Roger speaks really fast.
---
Are Live CPA Review classes still offered?
---
No more Live CPA Review classes. Not among the "big box" review courses, anyway. NINJA Monthly is the only mainstream CPA Review course offering a live CPA class online right now on a regular basis. We run 5 live sessions a week: FAR (Monday), AUD (Tuesday), REG (Wednesday), BEC (Thursday), and an open Q&A on Saturday morning. If you're looking for CPA review courses in person, this is your best bet.
---
Which CPA Test Banks Have Adaptive Learning?
---
A few years ago, Adaptive Learning in a CPA test bank was a major feature. Today, most courses have some form of adaptive technology. You can certainly still pass the CPA Exam without it (as people have done for decades), but you could make a case that you're at a disadvantage vs. other CPA candidates who are using it. It's like buying a new car without cruise control. It will still get you from point A to B, but it's annoying that it's not there (first-world problems, I get it).
Essentially, Adaptive Learning allows the test bank to 'feed' you more questions based on your weak areas. Your strong areas are still tested but less frequently. Different courses have different names for it – and each company uses its own adaptive algorithm, so they aren't the same.
Becker CPA Review: Adapt2U™
NINJA CPA Review: RECON™
Roger CPA Review: SmartPath™
---
Do CPA Review Courses have Military Discounts?
---
There are two types of Military Discounts for CPA Review: Direct Bill and your regular "discount" code used at checkout.
Direct Bill
The CPA Review course has a direct billing relationship with the U.S. Department of Veterans Affairs. Becker has this and is the only one that I'm aware of that has this sort of direct billing.
Flat Military Discount
Other courses have a flat military discount, but with the competitive nature of the CPA Review course industry right now and courses discounting the packages $1,000+ OFF, the military discount isn't likely going to be any better than the regular discount and depending on the timing, it might be a lower discount.
---
Do CPA Review Courses offer Financing?
---
Yes – most courses offer financing. Double-check the fine print. Some of those payment plans have crazy interest rates. You're better off using a credit card to buy your course or going with something more affordable like NINJA, which at $67 monthly is conveniently priced like financing, but without the 3-year hangover after you pass but are still paying it off.
As NINJA Monthly has become super-popular, we've seen CPA prep course marketing shift to highlight a "monthly" charge.
What they don't highlight is that you need to take that monthly charge times 6, 12, or 24 months.
It's a way to make a course seem as affordable as NINJA, but the difference is this: You can walk away from NINJA at any time for any reason and not pay another dime.
With these payment plans – you're on the hook for the rest of that bill.
That "$70 a month" or "$90 a month" course starts looking a lot more like $2,000 or $3,000 when a spotlight is shown on it. Know what you're signing up for.
---
What about CPA Exam tutoring? Should I hire a CPA tutor?
---
CPA Exam tutoring is more popular (and profitable) than ever. 'CPA tutors' are popping out of the woodwork now.
CPA Tutoring is an easy way to enter the online CPA class market without actually developing a course (or investing the necessary time and capital).
It's also an easy way to get scammed.
Anyone with a pulse, a Zoom account, and an internet connection can be a "CPA Tutor."
The 2020 shutdowns, while long and terrible, they also brought some innovation to the CPA Review space: Live Online CPA Tutoring.
NINJA CPA Review hosts 5 CPA Exam tutoring sessions per week (9 pm Central Monday-Thursday and 8 am Saturday).
Some courses allow you to submit a question and get a reply, but that's not really "tutoring" in this context.
Becker CPA Review also offers live tutoring services with "Up to five 1-hour, 1-on-1 academic tutoring sessions $745 value".
---
Which CPA Exam to take First?
---
Always take the FAR CPA Exam first. A rare exception would be if a CPA Exam section is dramatically changing, but that doesn't happen often.
In general, the order of the CPA Exams should be
FAR – You want FAR out of the way first before your 18-month clock starts
AUD – AUD and FAR have a natural overlap. You're auditing (AUD) the financial statements (FAR)
REG – A case could be made that REG could be second, as there is some overlap with Deferred Taxes (which will make more sense after you've taken FAR). I still like REG third.
BEC – Take BEC last. Ignore the fact that BEC has the highest CPA Exam pass rate. Take BEC lightly, and you'll walk into Prometric and limp out. Ignore this advice at your expiring FAR credit's peril.
---
How to Pass the CPA Exam on the First Try?
---
The odds of passing the CPA Exam on the first try are 1 in 4.
25% of CPA Candidates pass on their first try.
Four people walk into Prometric to take their first CPA Exam.
One person walks out passing.
If you want to improve your odds of passing the first time, you need to study the right way.
None of this highlighting nonsense. Take notes & use the NINJA Framework (free).
---
Does Unlimited Access for a CPA Review course mean Lifetime Access?
---
No. In the context of CPA Exam prep, "Unlimited" means you get access for as long as you're taking the CPA Exam. It doesn't typically mean you get lifetime access.
Becker CPA Access (Pro & Premium Course) is Unlimited: "Take advantage of our CPA Exam Review materials until you pass the exam."
Wiley CPA Access (Ultimate, Platinum, & Pro Course) is Unlimited: "Unlimited Access Until You Pass – Pay Once for Free Course Updates and Repeats until You Pass."
Roger CPA Access (Elite + NINJA) is Unlimited: "Get unlimited course access until you Pass the CPA Exam!"
* NINJA Monthly Access is month-to-month. You can use it for as long as you want and cancel at anytime. For a one-time fee of $197, you can upgrade and get access to all 4 CPA Exam sections at once.
---
Should I Buy a Used CPA Review Course?
---
No. In this day and age, many things are digital, and reselling a course – especially a digital version of a course with logins and such violates the terms of use for a course. Not only is it unethical (to violate the terms of use) as an aspiring CPA (oh, the irony), but you also run a significant risk of buying someone else's course access, only to have it shut off by the course.
If the "customer" lives in California and logged in 435 times from LA, and you live in New York and start logging in, good luck explaining that. Don't start cutting ethical corners to save a buck. Not a good start to your CPA career.
---
Can I get College Credit for my CPA Review Course?
---
Possibly. Some MAcc programs have the CPA Review course integrated into their program. If you're looking into a Master of Accounting program, it might not hurt to email the CPA Review course you're looking at (I'd start with Becker CPA Review or Wiley CPAexcel) and ask them if they have any partnerships with colleges or universities where you can accomplish this very thing. Then, see if that school has an online program.
---
Where do I find the Coupon Codes for the Best Deal?
---
To counter the affiliate farms advertising that they have the "best CPA Review coupon codes [you don't BELIEVE how much money you'll save!!! MUST SEE!!! Click our Link!!!!], CPA Review companies are now putting the coupon code directly on their sites to avoid paying unwarranted affiliate commissions. Go directly to the course website for the best deal.
---
Do Accounting Firm employees get discounted CPA Prep courses?
---
The bigger firms have relationships with the various CPA courses. The courses set up bulk pricing with the firms (usually far below retail), and then new hires pick from the list of "approved" courses and the course gets paid whatever the contracted amount is. If the employee leaves within X amount of time, they have to pay the firm back for the course. If the firm employee needs a second course or an add-on like NINJA, it's on the employee's dime. If you work for a CPA firm – best sure to ask about special pricing from your HR department. Then, take the savings and become a NINJA. 😀
---
Should I be concerned about CPA Review Course Return & Refund Policies?
---
Most CPA Review Return Policies Suck Are Not Friendly. Why are CPA Free Trials so important? Because it's hard to return a course that you don't like.
Some even have a stiff monetary penalty for returning their courses.
You can go to each course's website and dig into the legalese if you want, but here's the long and short of it:
NINJA is the only course on this page with a 30-Day refund policy that doesn't impose usage limits for a valid return.
That's a fancy way of saying: if you don't like NINJA after using it (how dare you!!!) 🙂 , you can have your money back.
---
How long does it take to prepare for CPA?
---
You should plan on studying 20 hours a week and 7 weeks per exam. If you fail twice (the average, according to NASBA), the CPA Exam will take you around one year to complete.
Some take a lot less time to pass. Some take a lot more.
Everyone is different (which, again, is why there is no "Best CPA Review Course" 😀 )
---
Taking the CPA Exam Soon? Get Your NINJA Study Framework:
---
---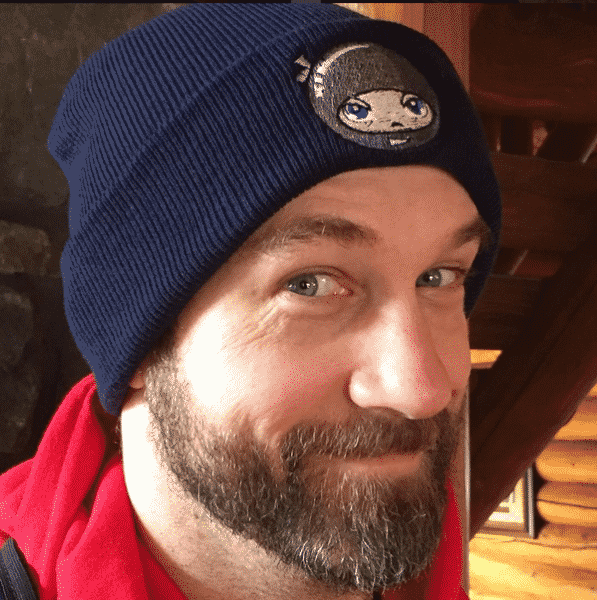 To Your Success,
Jeff Elliott, CPA (KS)
---