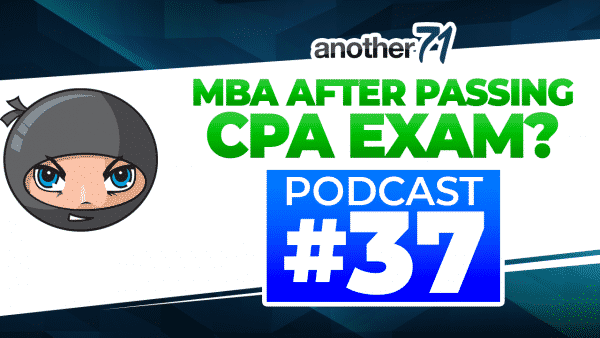 Podcast: Play in new window | Download
Subscribe: Apple Podcasts | RSS
Get the podcast on iTunes.
Call the NINJA Hotline – (323) 834-9132 – and your question/comment will appear in a future edition of CPA Reviewed.
Today's Podcast Giveaway: NINJA Audio
Today's Email Questions:
Emily – I just found out that I failed FAR for the second time. My scores were 73 and 64. I've passed the other parts, so I just need this one! I am wondering if you have any advice on how to take the test. I think the simulations are what have been giving me the most trouble.
Anthony – Where is the best place to get CPE online?
Randy – Where can I find study resources for Treasury Circular 230 on the REG exam?
Anila – I passed Audit. Should I take FAR next or BEC?
Ian – I am having trouble with Cost Accounting in BEC. I have the NINJA Notes, but I need some guidance in this area?
Sherri – How do I prepare myself for the Written Communications portion of BEC?
Spencer – I watched your video on the changes in AUD for 2013. Within the video you mention that changes go into effect on July 1, 2013. My questions is do changes for the other three sections go into effect on July 1, 2013, as well?
Nicole – How many times should I rewrite the NINJA Notes as part of my studies?
Rob – How long should I study for AUD? Is two months enough time?
Ari – I have been studying for REG using 2011 materials. Will this hurt my chances of passing?
Ankit – I am wondering if pursuing CPA after/along with my MBA would help my career? Do people generally pursue CPA after MBA or not? How can CPA help my career growth post MBA?
Paul – Looking to the future – What career opportunities are available for a fresh CPA at 36 years old? And how do I help my family understand the time commitment the CPA Exam requires? I am single, but my family has such a hard time understanding when I say no to family gatherings.
Teresa – I am taking the Audit Exam for the 2nd time and I think I need to brush up on my accounting skills. What do you suggest I do to have a quick review of general concepts? Should I grab an Intermediate or Financial Accounting book to skim over?
Michael – I took FAR for my first time and failed. I studied a lot and I can't say I expected a passing score, but I expected I would do better than I did. Do you have any ideas for me on how to make sure I pass the next time?