Leah is a NINJA CPA Blogger.
Tis the season and all I want is to be able to finish up exams! I am still processing the fact that I've passed FAR, AUD and BEC. It's a good feeling but it somehow seems to have happened quicker than I expected.
I wore my lucky NINJA CPA t-shirt and passed AUD on a re-try right after passing BEC. All of the sudden I'm three fourths finished.
Now that the AICPA has opened up the first week of December for testing, I'm contemplating trying to sit that week for REG instead of waiting until January.
I don't think I would be ready by then, but I've been telling myself I would at least get a look at the exam.
Then again, it would be a pricey look, and a fail could possibly set back my mental game. I'm going to have to play this one by ear and see how it goes.
I've also been thinking about when and how to start looking for work to fulfill the experience requirements. The closer to home the better, but I'm not sure that is realistic given I live in a rural area. The closest viable option is thirty minutes away where there are a handful of one or two person CPA businesses.
Picking up and moving isn't much of an option since my husband has a solid job here. All I can do is hope and pray something will work out.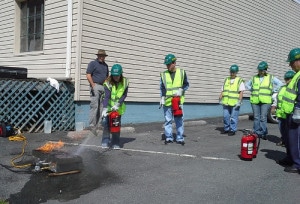 I mentioned in a previous blog entry that I was hoping I would be able to complete CERT (community emergency response team) training while studying for my AUD re-take. I was able to complete it, and it was interesting to learn about basic first aid, search and rescue, and basic preparedness.
The fire chief taught about chemicals and fires obviously, but then came the fun part. We got to put out a fire in the back parking lot. Check out the picture of my husband and me putting out the flames. I wish I had brought hot dogs and marshmallows. It wasn't easy to squeeze in the time for training, but it gave me a much-needed break from studying.
I wish everyone an early Happy Thanksgiving! Be kind to others, but don't forget to be kind to yourself too.