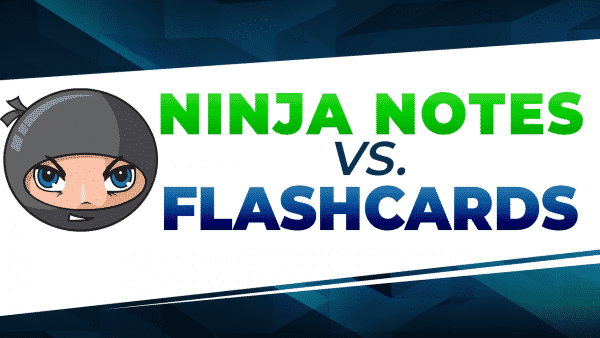 Carly says, "Would you say that the NINJA Flashcards are equal to the NINJA Notes, but in flashcard format? When reviewing both, they seem to be the same. I'm curious because I learn better via the Flashcards, but I don't want to shorten my time on the NINJA Notes."
The Flashcards do not contain all of the info in the NINJA Notes. The NINJA Notes are already very abbreviated but they go a lot more in-depth on topics than the Flashcards.
The Flashcards are simply for reviewing when you're at the doctor's office or whatever. I tell people to remove Facebook from their phone and put the NINJA Flashcard app in place of Facebook, so that when your thumb, your muscle memory naturally goes to Facebook, or whatever your app of choice is, you can trick yourself into studying.
No, you cannot study only the Flashcards instead of the NINJA Notes. You will not get the full benefit. The Flashcards probably are 60% of the notes, maybe…just give or take.