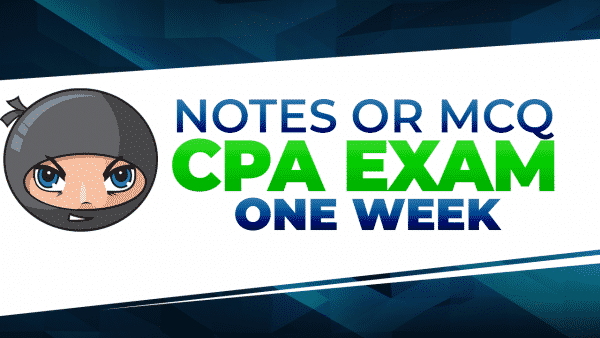 NINJA MCQ vs NINJA Notes when you have one week of studying before your exam?
Question on Facebook Live, "Hey Jeff, I'm taking FAR next Monday. I've been using Roger review course. Any advice on how purchasing any of the available NINJA materials can help me pass." Taking FAR next Monday, so you have a week. Well, I would say either NINJA MCQ or NINJA Notes. If you want a cram type of deal, get the Notes. If you think you'll do 500 questions in NINJA MCQ in the next week, get NINJA MCQ. If you just want something to review and keep using you Roger questions, get the Notes.
The NINJA MCQ will give you your trending score, which, tells you how you're trending, which, might cause you to freak out if you're not doing well and so I might go with the Notes. If you had two weeks out, I'd get the MCQ.