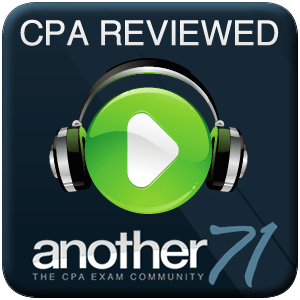 Podcast: Play in new window | Download
Subscribe: Apple Podcasts | RSS
Get it on iTunes.
Chris – I'm taking FAR. I have completed all of the lectures and some of the assigned MCQs from my CPA Review course. I was wondering if you had any advice in terms what to focus on. My strategy from this point is to just do as many MCQs as I can. I also have a cram course which I will probably do in early April as tax season dies down.
Emily – I sat for FAR exam and failed, but I did add 9 points to my score by following your ELL system and writing and rewriting my notes. I feel that I now have my review material memorized. I made a 68 on the exam and thought that the simulations were what killed my grade. I am thinking about just doing all of the Wiley test bank questions and simulations. I will only watch the videos if I have a trouble area. Do you think this is the best way to proceed?
Kendall – I failed FAR by one point! I studied using 2011 CPA Study materials but now it's 2012. Should I keep studying using my 2011 materials and hope it'll be enough to get me over the hump or buy new 2012 materials? Also, how much time to I give myself to prepare? I only took the exam at the end of the FEB testing window, so it's still fairly fresh.
Ron – After three tries at FAR and no passing, I am very disappointed and want to give up. I read your journey and was inspired, but at this point I'm thinking it's not going to happen for me. Will you please advise on how to move on after three failed tries?
Karen – My BEC expires on May 31, 2012. Can I take my last exam on May 31 without losing credit or would I have to take it before that day?
Romi – I just passed my last exam and your information had much to do with that. Do you have any information on the ethics exam?