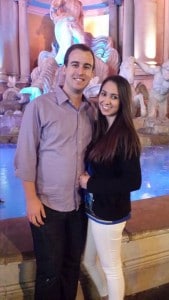 Joshua is a NINJA CPA blogger
What a month.
Last we left off; I was interviewing for a job in public accounting and was feeling pretty good about my chances. Well I should have taken those instincts to Vegas with me because I was made an offer and accepted in April.
I got in the door and, much like my new co-workers told me, "It'll be like drinking out of a fire hose your first 5 weeks."
It was a busy month of orientation and conferences, but now that the dust has settled, it's time to refocus on the CPA exam.
I was under the impression that breaking in to the real accounting world would alleviate the pressure to get the certification done and that I would be able to take a little more time to truly focus and ease in to the exam. On an unrelated note, my face is the only thing used to define naïve in the dictionary.
My group does accounting consulting and outsourcing, which is very exciting (to me) and actually provides a service that will help smaller and mid-size businesses report and forecast properly.
The problem is my senior and my director are not currently, nor will they ever be, interested in taking the CPA exam, but the team needs a CPA to sign off on all of the financials.
This would be the point in the comedy where all heads in the room turn to the guy scrolling through Buzzfeed on his phone, blissfully unaware of what's happening.
After my first 5 days of imagining a summer not spent at a desk and instead doing things like going to baseball games, bowling, seeing family members, remembering what my friends look like etc.,
I have sent my application in to the Accountancy Board and am waiting for my ATT (and also praying they didn't notice that the check bounced the first time they cashed it).
I have laid out my calendar, requested my review materials and blitzkrieged my way through the remaining portions of my accounting classes. This is where the fun begins. This is what I've been looking forward to since I started my journey last fall.
Bring it on FAR.