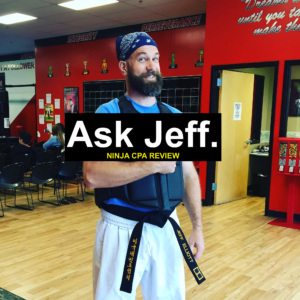 Need CPA Exam Study Advice? Struggling with balancing Life and the CPA Exam and need to vent?
You can Ask Jeff, and your question/comment/frustrations will be answered in an upcoming Ask Jeff/Podcast.
Disclaimer: This is general advice only – I don't know all of the facts/details of your situation. Please keep in mind that my opinion is often wrong – just ask my wife.
Appealing a 74 after Losing REG Credit
I have failed REG with a 73, 74, passed with a 75; and then eventually lost credit for it. I currently have credit for BEC (passed it twice) and AUD. I just failed REG with a 74. Is there anything I can say or do to get the AICPA to adjust the grade to a 75? Is it worth appealing the grade? Is there any specific wording I can use to get them to consider changing the grade? I have been trying to pass the exam for 4 years now. The amount of time and money I have spent on this exam is killing me.
Jeff: I feel your pain. I scored back-to-back 74s on REG and lost my FAR credit to boot. I was one "point" from being a CPA and then I was back to … only two sections passed!?!?!?!?! A flurry of thoughts/option went through my head.
1) Quit
2) Throw my laptop through the wall
3) Decide that the AICPA wasn't going to beat me
I chose Door #3. Granted, the AICPA wasn't trying to hold me down, but mentally, I think you need to choose an enemy in your head – be it the AICPA, the jerky co-worker in the cubicle next to you, or a relative that doesn't think you can pass – and let them fuel your desire to work, work, work, and defeat them.
As far as appealing a 74 on the CPA Exam – forget about it. In 9 years of running another71.com, I've never heard of anyone doing it and being successful. You're better off getting back in there and taking it again.
One note I'll add about your 74: If you're like me, there are a few areas you're weak on and don't really want to study and it is costing you on exam day.
For me, it was Like-Kind Exchanges and AMT. Who wants to study THAT!?!?!
People who want to pass REG, that's who 🙂
I went on to score a 92 on REG after my 74(s) and I wish you the same success.
Hi Jeff, I came across your article about failing the CPA Exam. I've been there 5 times (2 for BEC and 3 for AUD).
I just got my AUD score for the 3rd time, 52! I am so frustrated! I don't know to what am I frustrated on: myself, my reviewer, the exam. I don't know why I am writing this letter–just to relieve my frustration or venting or anything.
I am just so angry and sad at the same time that because I have devoted time to understand the material, but yet have not passed at least one part of the CPA! And now the exam format is changing! I question myself: am I even fit to be a CPA because I have not passed any–it's frustrating. I don't know what I am doing wrong. Any encouragement, tips, or a slap on my face to wake me up and pass the CPA, I really appreciate that. Anyway, I just want to thank you for your insight on the "other side." That gives me great comfort knowing the grass is so much greener on the other side. Thanks Jeff.
Jeff: Hey – chin up. At least you're still in the fight. I've seen people take 30+ attempts to pass. There are very smart and capable people who are just plain horrible at standardized tests and you may be one of them. Keep fighting. Keep studying. Only you control your CPA Exam destiny – it's never over unless you say it is.
Keep Moving Forward.
If you haven't already done so, I think you'll benefit from reading my CPA Exam Survival Guide and in particular, using the NINJA Study Framework and applying it to your study materials.
International CPA Candidate Losing Credits in November
Hey Jeff, I am an international candidate. I have passed all the parts of CPA exam except for Audit. I have taken this 4 times and scored 55, 61,71, 69. I really have no clue what is going wrong with this "easy" exam for most CPA candidates and toughest one for me. I haven't left anything to chance, I've redone all the MCQ multiple times, all the pages, the ninja notes, flash cards, everything.
I have only got the time until November 2017 till I lose all credits. Now with the new syllabus being tested in April 2017, is there anyway I can overcome this thing! It's kind of getting tough for me financially as I don't live in the country. I have to fly down to take the exam. Please guide me.
Jeff: I'm curious to know what your NINJA MCQ "Trending" Score has been heading into your exams, because if it's sub-80, that's a red flag. Here is what I would do: Demo 3 AUD courses – including the Ten Point Combo (which includes the NINJA PLUS videos) and pick the one you like best. You have too much at stake.
Here is a 2017 CPA Review Course Comparison.
Invest in an AUD course and apply the NINJA Framework and PASS.
Boss says I don't need to pass the CPA Exam
I posted this on the Another71 Forum, but would like to know what you think?? I graduated in 2013 after years of night classes, so my education was spread out. I work as an Office Manager and bookkeeper for a small Broker-Dealer. Since my boss is both a CFP and CPA, he told me after graduation that there was no reason for me to sit for the CPA Exam. I have now decided that I want to sit for the exam. My concern is that it has been 4 years since graduation and my accounting experience has been very limited during that time. I'm hoping that once I begin studying, a lot of the information will come back to me. Wondering if there is anyone else out there who has studied for and taken the exam under similar circumstances?!?! Any advice / pointers / nuggets of wisdom / comments about study guides that worked or didn't work, from anyone out there would be greatly appreciated!!
Jeff: You may not "need" the CPA designation for your current job, but I would argue that you need it for your career – if nothing else as a "hedge" to protect yourself from missing out on other opportunities. Fast forward five years from now and you're looking for a new job (potentially), and you see "CPA Required" on jobs that fit your salary requirements. Oops. Now is the time to do something about it.
2013? That's "fresh out of school" in CPA Exam standards. There are all sorts of CPA Candidates in their 30s who graduated 10+ years ago. Just pick a CPA Review Course and get studying – you can do it.
Paper and Pencil exam-taker starting over
Jeff, I had conditioned back in 2002 but ended up being a single mom and no money to continue. Very rare to find a government willing to pay for the exam although they all want the certification. Now I need to finish up. I took FAR and got a 70, but after so many years of not studying, I was surprised at how much I forgot. How do I refresh my "old" memory and get this done?
Jeff: When people fail – even with a 74 – I tell them they need to start over and study from scratch and don't cut any corners. 2002 was eons ago. I had no kids and hair back then. Now, I have 8 kids and no hair. 🙂
Just "start". It sounds like you're about my age … you can do it, no sweat.
Re-take AUD or move onto BEC?
Advice please! I just failed AUD for the 3rd time with the dreaded 74. The first scores were a 58 and a 60…I have a BEC credit due to expire mid-August. With the new exam changes, should I take a break from AUD and move on to another section or start over from the beginning with AUD and retake it before any other section. Any advice gladly accepted.
Jeff: From a studying standpoint, it doesn't matter because you need to start over for each exam, regardless. From a mental standpoint – maybe BEC would be good because you're probably sick of AUD. Plus – you can be one of the BEC SIM guinea pigs, which could be fun.
You can always tell your grandkids that you took the first BEC exam that had SIMS and they can stare at you with a blank face as you try to explain that once upon a time, people did accounting and taxes instead of machines.