---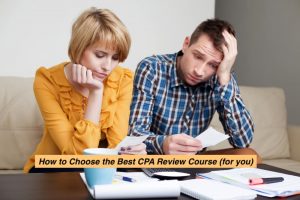 Looking for the Best CPA Review Course?
Here's a Secret: There is no "Best CPA Review Course".
That's Fake News.
Every CPA Review Course has their advantages … and their drawbacks.
Some are affordable … but might not have as many bells, whistles, and flashing lights.
Some have the above-mentioned bells, whistles, and flashing lights, but between a mortgage, car payments, student loans, starting a family, trying to take a vacation once every five years, 401(k) contributions, Roth IRAs … good luck paying it off before you have grandchildren.
Want to find the Best CPA Review Course – *For You*? Now we're talking.
Whether this is your first CPA Review Course purchase or you simply want to add some extra firepower to your current (and crazy-expensive) CPA Review Course, you've come to the right place.
How to Choose the Best CPA Review Courses (For You)
When looking to pick the Best CPA Review Course (for you), here are 3 things you need to consider before dropping the equivalent of a nice celebratory cruise for two – or for the more practical-minded, the equivalent of a 27″ iMac, MacBook Pro, and an iPad Pro (the Apple fanboy in me is shedding a tear).
As the 90s rap song said, "you can get with THIS, or you can get with THAT."
You can buy THIS (expensive course) or you can buy THAT (lower-priced course + Celebratory Cruise/Macbook, etc).
Opportunity Cost isn't just a theoretical concept in your BEC study materials – it's very much alive and well in CPA Review-land.
Budget.

Do you want to be paying for your CPA Exam prep course lonnngggg after you've passed and moved on to better things?

How many years of Christmas bonuses and raises will you have to fork over to the credit card company to pay off the CPA Review Course?

According to CNBC, the average household in America owes $16,883 in credit card debt.

Tacking on a $3,000 CPA Review Course will add $230 in interest per year – and that's a conservative 7.6% interest rate.

Some CPA Review courses offer financing with up to 30% APR. We're talking $900 per year in interest!

(I realize this is getting a little soap-boxy, but no one talks about the real cost of buying a CPA prep course – as well as the opportunity costs. You're taking on the CPA Exam so that you can have a better career and provide a better life for you and your loved ones – so it's important to point out the impact that a CPA Review course will have on you long after the euphoria and high-fives of passing have faded and you cringe opening up your credit card statement each month.

Saying "yes" to an expensive course will likely mean saying "no" to fun things (and fun little people who want to do fun things) down the road.

Take the plunge if that's the best path for you – but just do it with eyes wide open.

If none of this sounds appetizing – then consider paying cash (i.e. don't go into debt) for your CPA Review course.

This may mean that you don't pick one of the most expensive CPA Review courses.

Then again – the most expensive courses might not be for you anyway because of your learning style…which brings us to the next consideration…

Learning Style.

Do you prefer "power-point" style lectures or a "talking head"?

If it's a talking head – does the instructor stare straight ahead and read from a teleprompter, or do you like that they wing it and dance around?

Do you want to read the book yourself or have the instructor read it to you?

If the latter – are you willing to pay $2,000-$3,000 for them to read it to you?

Not trying to be cute here – just pointing out the elephant in the room.

The lecture information is already in your book.

Do you want audio lectures and study notes to study in your downtime?

If so – does the course even offer study notes and an audio?

Peer Review.

What is the course's reputation?

Have you done a search for the course in the CPA Exam Forum?

Are there usage limits or restrictions?

Does it expire?

What happens if you don't pass? Free updates?

Can you take it for a test drive and try before you buy?

Can you Return it without penalty? If not – why?

What is their Refund Policy?
Let's dive into the cost/features/benefits from 4 CPA Review Courses…
NINJA CPA Review

vs

Wiley CPAexcel

vs

Roger CPA Review

vs

Becker CPA Review
Affiliate Disclosure: Another71.com's parent company owns NINJA CPA Review and also has an affiliate relationship with many CPA Review Courses on this site and could be compensated if you purchase a CPA Review Course through our links. Courses listed in order of "Premium" package retail price. No rankings implied.

Prices as of 7/1/2018. Course price/features/details/policies/discounts subject to change without notice. See company sites for the latest information.


NINJA Monthly

Platinum Course

Elite Course

Becker Bundle

$67
$2,450
$2,999
$3,487
1 Month Access (Auto-Renewal)
Until You Pass
Until You Pass
18 Months Access
✅ EWS Award Winners
✅ EWS Award Winners
✅ EWS Award Winners
✅ EWS Award Winners
✅ Video Course
✅ Video Course
✅ Video Course
✅ Video Course
✅ Course Textbooks
✅ Course Textbooks
✅ Course Textbooks
✅ Course Textbooks
✅ 6,000+ MCQ/SIMS
✅ 6,000+ MCQ/SIMS
✅ 6,000+ MCQ/SIMS
✅ 6,000+ MCQ/SIMS
✅ AICPA-Licensed
✅ AICPA-Licensed
✅ AICPA-Licensed
✅ AICPA-Licensed
✅ Audio MCQ
🚫 Audio MCQ
🚫 Audio MCQ
🚫 Audio MCQ
✅ Study Notes
✅ Study Notes
✅ Study Notes
✅ Study Notes
✅ Audio Course
🚫 Audio Course
✅ Audio Course
🚫 Audio Course
✅ Flashcard App
✅ Flashcard App
✅ Flashcard App
✅ Flashcard App
✅ CRAM Course
🚫 CRAM Course
✅ CRAM Course
✅ CRAM Course
✅ Private Study Group
🚫 Private Study Group
🚫 Private Study Group
🚫 Private Study Group
✅ 30 Day Returns


✅ Full Refund

✅ 10 Day Returns


✅ Full Refund

✅ 10 Day Returns

🚫 $200 Return Charge

✅ 10 Day Returns


✅ Full Refund

$67
$2,450
$2,999
$3,487

NINJA Monthly

Platinum Course

Elite Course

Becker Bundle