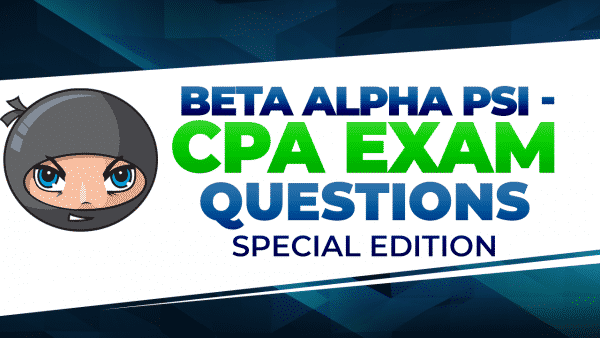 Podcast: Play in new window | Download
Subscribe: Apple Podcasts | RSS
Like the Podcast? Please Subscribe and Review!
[Listen on iTunes]
[Listen on Stitcher]
[Listen on Tunein]
Want to be on the Podcast?
Ask Jeff
Facebook Live
Intro: Questions from Beta Alpha Psi – University of South Dakota
1. What is the success rate of students passing the CPA exam the first time using NINJA?
2. What is the cost of the NINJA program?
3. Can you give a tutorial of program to see how it functions?
4. What types of CPA Exam questions are used?
5. Are there any special kinds of materials that NINJA offers?
6. Does is schedule deadlines for material to learn to keep us focused and on task?
7. Are there contacts through the program if we are stuck either on material and/or IT issues?
8. How would you compare and contrast your product to what (other CPA Review courses) offer?
9. What makes NINJA's product superior to those on the market and how can you maintain that advantage at your price point?
10. How does the adaptive learning feature in NINJA adapt if the user guesses correctly but does not fully understand the material?
11. Once we purchase this software, how long can we continue to use it? Is there a limit? If you don't pass the first time do you have to pay again or is the material available to you until you pass?
12. Does NINJA use old CPA exams and how many of those questions are available to students taking the tests?
13. How do I access NINJA? Though a website or is it a paper medium?

14. What experience do you (Jeff) have with taking the CPA exam?
15. What is the best tip you could give to a prospective CPA exam taker?
16. What is the best way to pace oneself for the exams?
17. Does NINJA include a study guide?
18. When do you suggest starting to study with your materials? How far in advance of the CPA exam?
19. What is something unique about your program?
20. What order do you suggest taking the four sections in?
21. What components (books, flashcards, notecards, videos, lectures, questions) are included with the NINJA review?
22. Is there an outstanding characteristic that makes NINJA review stand out?
23. I am probably graduating after 2017. How is the exam change going to affect me? Can NINJA review prepare me for the change?
24. With the changing industries, how often does NINJA update with the current rules and regulations?
25. What is the hardest exam of the four? When do you recommend taking the hardest exam (first one, get it out of the way, somewhere in the middle, or save it to the end)??
26. Do you suggest using multiple study resources?