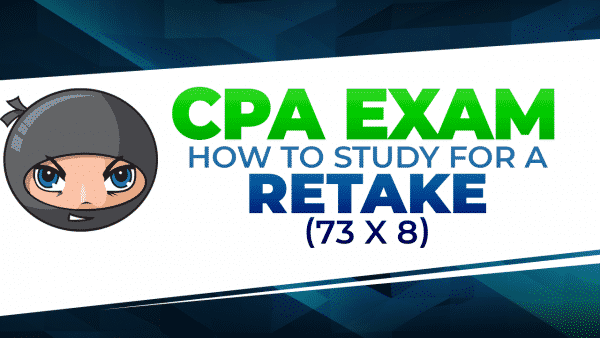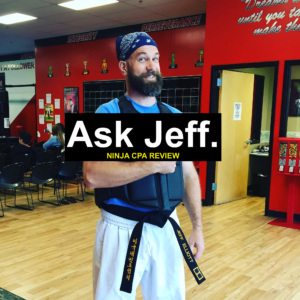 Need CPA Exam Study Advice? Struggling with balancing Life and the CPA Exam and need to vent?
You can Ask Jeff, and your question/comment/frustrations will be answered in an upcoming Ask Jeff/Podcast.
Disclaimer: This is general advice only – I don't know all of the facts/details of your situation. Please keep in mind that my opinion is often wrong – just ask my wife.
Struggling with AUD
I've taken audit 4 times and haven't passed…scored 73, 67, 74 and 71. How do I pass so I can move on to my final exam – FAR?
Jeff: It looks like you're following a pattern of scoring lower than you did with your previous exam.
73 … 67
74 … 71
My guess is that you study hard – barely miss it (73/74) and then cram because you're "only a few point away", which is a recipe for failing. It's a common CPA candidate mistake to think that they are only a few points away and study up on "weak" areas and then get back in there.
The path to success on a retake:
1) Re-do everything you did to get that 74 … every video … every book page … every MCQ … every page of notes.
Re-do it.
2) Hit your weaknesses hard … even the stuff you hate studying … especially that.
I scored 74/74 on REG and it wasn't until I embraced that I hated AMT and Like-Kind exchanges that I had success (92). I wish you the same success.
Restarting BEC
Hi Jeff, scored 66% first time I took BEC. Now would want to go with the Ten Point Combo version. What would be your recommendation to focus on in order to pass BEC? Thank you!
Jeff: Re-studying from a 66 on BEC is no different than re-studying for a 74 on BEC.
Start over.
Follow the N.I.N.J.A. Framework exactly as it's laid out.
Nail the Concepts
Intense Notes
Non-Stop MCQ
Just Re-Write Your Notes
All Comes Together
Be sure to do a quick read of the CPA Exam Survival Guide, which lays this all out in detail.
BEC in 5 Weeks???
Hey Jeff, You say 5 weeks to study for BEC and I am finishing week 2. I don't feel like I'll be ready by week 5 or 6. Are these quoted study times based off a sample or what? Thank you!
Jeff: It's based on experience and watching thousands of people take BEC over the past 9 years. 5 Weeks might be tight, but it's a goal that pushes you forward vs 7 weeks, which might cause you to take your foot off of the gas.
Aim for 5 weeks … little "schedule stress" is a good thing. If it takes you 6 weeks, you're right in the sweet spot. No more than 6 weeks for BEC unless you have extenuating circumstances. I will allow "busy season" to count 🙂
Starting the CPA Exam after 14 years?
My CPA story: I am so glad I stumbled on your book. (Thank God) I started my CPA journey in 2003 after I graduated in 2002. On my first trial I had AUD-62, REG-57, FAR-35, BEC- 45.
I tried again in 2006 but did not pass any of the parts. I got married started a family; eventually got my MBA in 2013 and moved to Africa with my family. Now I feel short-changed, I feel like I am still not done with what I'm supposed to do. Every managerial position I apply for in Accounting asks for CPA,ACCA or CA. I am not sure what to do. Do I study for the CPA again or study for ACCA or CA. Help, Please ! Thanks.
Jeff: Wow – you've had a lot going on! Here's the thing – your past CPA Exam scores are irrelevant. I believe that was under the paper-and-pencil version anyway. Let me answer it like this:
If you want to be a CPA – no one can stop you but yourself.
Yes – I think you will be kicking yourself throughout the rest of your career as you wince every time "CPA" is required for the jobs you want. Imagine how nice it will be to search for new jobs with confidence because you have nothing to "explain" at the interview when they ask about why you're not a CPA.
Jump in and go for it.
NINJA MCQ & BEC SIMS
Im planning to buy ninja BEC MCQ for 2017 2Q test. I'm wandering there will Be SIMs questions launched for new BEC test?
Jeff: We won't have BEC SIMS per se – they technically don't exist yet as they haven't been released by the AICPA to the review providers. I realize that some vendors advertise them, but they are made-up and home-grown by the provider. We will be releasing something that I believe will help CPA candidates more with BEC SIMS than anything else out there. Stay tuned.
Restarting Studying or go back to school
Hi Jeff – I was in public years ago and didn't like the work-life balance after 6 years and went into private. Back then, I passed AUD and nearly passed BEC but life got in the way and I never completed the exam. I want to go back into public now but after all this time, I'm a little overwhelmed about where to begin. So much has changed since I sat for the exam 10 years ago. Is it even possible to pass this exam now without going back to school? I'm a lot reading online and feeling quite defeated now. Do you have any advice where to begin?
Jeff: "Going back to school" is not a silver bullet for getting back up to speed. It's as simple as getting a CPA Review course and getting started. If you feel like you need a refresher – simply read your CPA Review book. You'll be fine.
Pass with MCQ Only?
I have already failed FAR 3 times. I took it once and shut out any activity that wasn't work or studying for a month, because I couldn't afford study materials and was using someone else's materials. I took it 2 more times and got a 71 and 73. Now they are changing the exam, which means by taking the exam April 3rd, I have to wait until August for my scores – during this time I have 2 other exams expiring – which is irrelevant at the current moment, but adding to the stress and pressure. Do you think MCQs are enough for the new exam? If not, what other NINJA items do you recommend. I WISH I HAD FOUND NINJA A YEAR AND A HALF AGO!
Jeff: At a minimum, you need something that 1) Teaches the concepts (NINJA Book, NINJA PLUS)) and 2) Tests the concepts (NINJA MCQ). It's always nice to give yourself as many study weapons as possible, so some materials that 3) Review the concepts (NINJA Notes, NINJA Audio, NINJA BLITZ) are optional.
Again – at a minimum, a Book and MCQ.
NINJA in Q2
Do you have an updated version of the NINJA Book and NINJA Notes for those who will sit for the exam after April?
Jeff: We will be releasing a newer version, but it's basically the same version with a few chapters removed. That's what the "update" is as far as studying goes. Some materials are removed (Dodd Frank in REG)…that's it. I wouldn't re-download anything for April if you already have it.
The major CPA Exam updates happen twice a year – January and July and this year is no different.