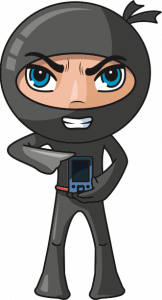 The NINJAs have emerged from the depths of the recording studio (what is this sunlight you speak of?) to bring you the Completed NINJA Audio for Financial Accounting and Reporting.
The early-released Part 1 has been a hit and weighing in at just under 3 hours, Part 2 packs a punch as well.
"The audio is easy to listen to, professional (no throat clearing, um's or any of that) and not monotone like some of the others I have heard. The tips and examples he gives to focus on are direct and easy to understand. It makes me think ok I know this, I can pass this thing!" – Mom2two
I really like it actually! It's nice to hear you focus on the about the items running through my brain & visualizing it differently from the text or MCQ's. FAR is a killer for info overload, as you know. This at least summarizes the must knows and makes me think of which chapter, etc. I need to refocus on. – Tiffany S.
Chapter 1: Financial Reporting (29:30)
Chapter 2: Working Capital & Ratios (4:21)
Chapter 3: Statement of Cash Flows (3:17)
Chapter 4: Stockholders' Equity (19:20)
Chapter 5: Consolidations (4:02)
Chapter 6: Segment & Interim Reporting (4:28)
Chapter 7: Fixed Assets (13:00)
Chapter 8: Bonds (18:13)
Chapter 9: Leases (7:03)
Chapter 10: Inventory (14:31)
Chapter 11: Investments (3:00)
Chapter 12: Deferred Taxes (5:06)
Chapter 13: Derivatives & Hedging (6:57)
Chapter 14: Partnership Accounting (5:33)
Chapter 15: Governmental Accounting (10:06)
Chapter 16: Not-For-Profit Accounting (7:37)
Chapter 17: Pensions (3:54)
Chapter 18: IFRS (14:32)
Reinforce the Concepts through Repetition
MP3 Format – Instant Download
Commute? Jogging? At Work? Study!
Go here: https://www.another71.com/products-page/ninja-audio/