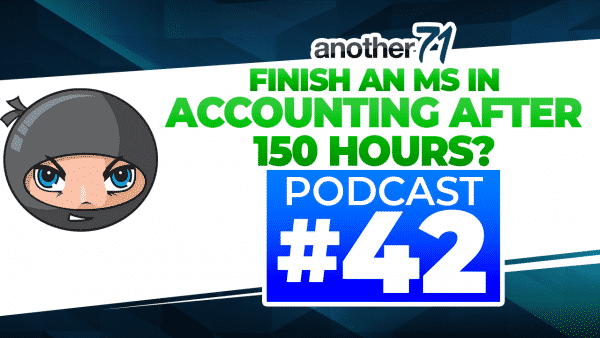 Subscribe on iTunes
Have a question for the Podcast?
Option1: Call the NINJA Hotline – (323) 834-9132
Option 2: Ask Jeff
Podcast: Play in new window | Download
Subscribe: Apple Podcasts | RSS
Today's CPA Reviewed Questions:
Jared – I took Audit, used my video course, NINJA notes and Wiley TB and I got my worst score ever. I left the exam feeling super confident and now I do not know where to go. I am taking BEC at the end of May and I am thinking of putting Audit away for a while and starting fresh with either REG or FAR. Which do you suggest I go after first? Do you think I need a new course?
Nabeel – I failed my first attempt at FAR. I'm having a hard time retaining the information. Do you have any tips for easy ways to get points so I can pass?
Ken – I started studying for REG in February, and I'm scheduled to take the exam in May. Do you have any words of encouragement?
Gayle – What % of candidates pass all four parts of the CPA Exam on their first try?
Rose – I am currently studying for REG, and I'm struggling with Contract Law, particularly common law. I have read the Wiley chapter twice, read the NINJA Notes a few times, and spent one entire day watching videos by a law professor on YouTube. I felt like I had a good grasp on the material until I practiced MCQs. Do you have any words of wisdom?
Mykel – I have failed FAR and AUD, and I'm lost on what to do next. Before each exam, I was averaging at least 75 on the Wiley MCQs, but I come up short on the actual exam. What should I do?
Kevin – I graduated in 2009, and now I'm ready to study for the CPA Exam, but I don't know where to start. I don't want to spend a lot of money on a review course unless I have a solid plan. My current job is unrelated to accounting, so I may need a refresher on some of the concepts. What do you recommend I do?
Rebecca – I am a student in an MS Accounting program, and I'm only 12 hours away from the 150 hour threshold required to sit for the CPA Exam. But I lack the work experience requirement for licensure. I am thinking about quitting the MS program after I complete the twelve hours I need and studying for the exam instead. Is this a good idea? Or should I complete the masters program first?
Eric – Can you please explain how the 18 month rule works? How do I know when my credit will expire?
Brandon – In your opinion, how important are the performance measures included on each score report?
Spencer – For the simulation portion of the REG exam, will I be graded against others who had my SIMs or against the aggregate population of CPA candidates in general?
Navneet – I passed CPA Exam in 2011, but now I am having difficulty getting a job with a CPA firm. I have 2 years of private company experience in the accounting department. Do you have any suggestions for finding a job?
JJ – Hey Jeff, my question relates to your ninja framework. I was looking over the framework and for the "note taking" section, I saw that it suggests taking good notes from whatever video course one may have. However, all I have are the Wiley books and testbank along with the ninja audio. Is it necessary to purchase a video course? So far I've been reading and taking notes from the Wiley texts; however I feel the organization in the books isn't the best. Do you suggest using the wiley texts and taking notes while reading through them? also, I tried your suggestion of taking a ton of mcqs before reg, but came out of the exam feeling more demoralized than ever – I'm guessing that's normal? Take care and thank you for all that you do!
Lina – Advise to pass Reg? First time taking it.
Jason – I was 7 points away from passing FAR. Having been stronger in the Sims comparatively, I feel like its just a matter of misreading the MCQ that got me. That said my class for REG is starting up and the next class for FAR isnt until September. Should I study on my own and attempt both within the July-Aug window?
Tessa – How long do you suggest to review before the exam? I'll have time to allow six weeks to study, but I didn't know how fast I needed to get through the material to leave enough time for review. Should I plan on two weeks like my review course suggests?
Labrita – Failed BEC with a 71:(. How do I study for a retake?