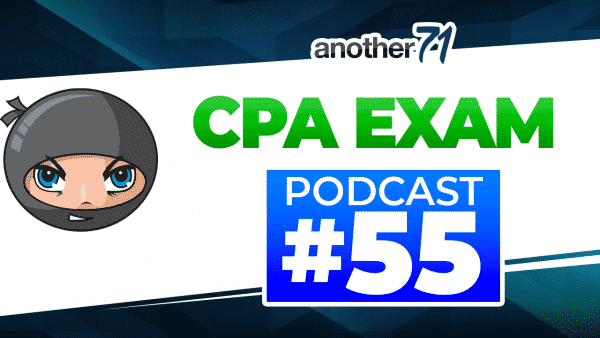 The CPA Reviewed Podcast is back!
(I can tell you missed it).
Podcast: Play in new window | Download
Subscribe: Apple Podcasts | RSS
Like the Podcast? Please Subscribe and Review!
[Listen on iTunes]
[Listen on Stitcher]
[Listen on Tunein]
Want to be on the Podcast?
Ask Jeff
Facebook Live
Rod – I studied for FAR for over 5 months, went through my video course 3 times, as well as the Wiley test bank, and passed with a 77. Now that I'm studying for Audit I don't want to go through the same process. What lessons should I learn from my first studying experience?
Alejandra – I have taken the audit exam 3 times and my scores were 70,69,70. What can I do to better prepare for my retake?
Barbara – About 5 years ago, I started registering for the CPA Exam and never completed my registration. A whole lot of excuses later, I am ready to embark on this journey. Where do I begin?
Ashley – Do you know if the pass rates for the exams are skewed so low because of 1) people who don't study, and 2) people who graduated 30+ years ago? If you had to guess, what percentage of people who have recently graduated with accounting degrees and are actively studying for the exam actually pass?
Carolina – Is it possible to study day and night and pass all four sections in six weeks?
Mike – I hate my job as an auditor and have a new job offer. I don't want to leave my company hanging during busy season. Should I tell the new company I'm available in April?
Eric – Best way to quickly and efficiently pass the CPA Exam while studying full time?
Alicia – How large are the NINJA Audio files? I am guessing they are MP3 files, but I'd like to know if they can fit on my old MP3 player which is only a 4GB player.
Also how do the updates work for the notes and the audio? Do you have to provide copies of your failing scores to receive the updates? I was just wondering if for some reason an exam got pushed back from the 2014 year to the 2015 year because of whatever, would someone still be eligible for the updates for free? I'm planning on starting the exam this fall and with the weather here in the northeast and my luck, I'll get snowed out on at least one exam testing day. What is the best way to pass quickly and efficiently the CPA exam? I am between jobs and I want to take advantage of my time off.
Get More CPA Reviewed Podcasts
Free Resources:
CPA Exam Survival Guide
CPA Exam Study Planner