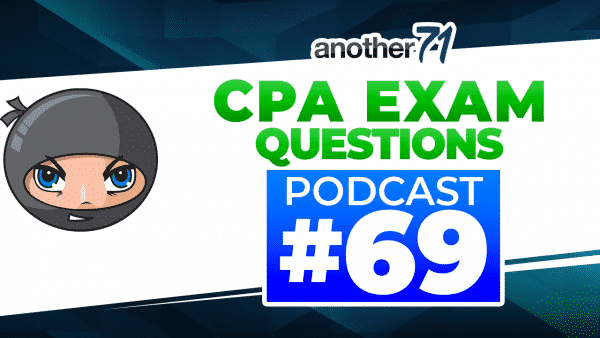 Like the Podcast? Please Subscribe and Review!
[Listen on iTunes]
[Listen on Stitcher]
[Listen on Tunein]
Want to be on the Podcast?
Ask Jeff
Facebook Live
1. Audrey – I made a 71 on my last attempt. BEC is my beast. Do you recommend focusing on what I know or do I try to learn what I don't know?
2. Mohamed – I have completed 129 hrs at my university. So I am short of 21 hrs and I have to finish this before November 2016.
Do you have any suggestions to get this done?? Due to nature of my job, I can only do online courses.
3. Bill – I'm About to take BEC. With regard to the written communication questions, do you have any advice on how to prepare for the question that doesn't lead you to the technical content the question requires? I could work MC for days at this point but when it comes to explaining topics I don't know if I will do A very good job of giving textbook definitions for things.
For example if they say "a new hire doesn't understand Activity Based Costing, explain it to him…" I Would appreciate any insight.
4. Elsie – I have FAR in 15 days and i last read the Becker material last December and took FAR on Jan and failed it. What is your advice for me now? What approach can i take to pass this exam. I am leaving the country in September and i can't move the exam since i have reg left to do as well. I am not working at the moment. Thank you for your help
5. Anna – I'm an international candidate and need help with studying multiple parts at one time. I am so not organized. As you can imagine, it gets quite costly to travel to the US to sit an exam part (I'm from the Caribbean). This includes (hotel, airfare, car rental, US Visa fees in addition to the study materials cost, registration and examination fees). I simply cannot afford to take one section at a time like US students, considering my self-imposed time crunch. My immediate goal is to pass at least 3 of the 4 parts before the end of 2016. In that regard, please provide suggestions on how I may improve my study habits for studying multiple parts. I just sat REG. Hopefully its a pass. If it is, I could be finished before year end. If its not, then I want to complete REG, AUD and BEC before the end of the year. Please help!
6 – Brendan – I used Becker videos and had to switch to Ninja MCQ to really nail down my stuff. I was wondering if you had a Reg individual/corporate AMT lecture that may help. Just can not wrap my head around it. Hope all is well!
7. Naseef – Hi Jeff, After one has passed the CPA exam, is there a time limit by which to complete the 150-credit education requirement and the 1-year experience requirement for the CPA license? (Recently graduated with 122 credits -plan on working for a year, along with studying for/passing the CPA exam. Then, get the Master's to complete the 150)
8. Theo – I've been reading your blog for about 6 months now and was wondering if I could get your advice on what my next step should be. I just got back my score for BEC and received a 74. I took FAR again for the second time in May and got a 73. It is really frustrating to be so close to passing twice but still not close enough. I really want to quit honestly but since I am so close I feel like should keep on trying. I am restudying for FAR again however I already purchased REG and AUD. They both expire in Oct. Would you suggest continuing studying for FAR and then move on to BEC or switch over to REG and AUD since I already paid for those test? I've read your blog post on retakes and have already made changes based on what you suggested. I have a scheduled time of 30 hours per week for studying. Thanks!
9. Krystal – Not certain if this is a fair question to ask or of you can even provide any insight but I have read and heard many different opinions about whether Becker and NINJA will adequately prepare me for FAR. I am using both and find that the questions from the Wiley book emphasize different areas than Becker. Needless to say, I am a bit worried about being prepared for my August 29th exam!
10. Keeley – I am taking the BEC exam in less than two weeks and am afraid that I am a little behind on purchasing Ninja Notes/MCQ but I was not aware of this service until recently. I think that I am going to purchase just the BEC MCQ by itself for now, to see how I like it. I am afraid that I am too late for the notes for BEC because it says read them 5 times with 2 weeks left and I am already in the window. With only being two weeks out, is there any other product that you would suggest?
11. Tatsiana – I need books for Auditing and BEC. Are your books online or I can get a hard copies?
12. Margaret Ann – I Failed REG – at a loss and so sick of studying. Feel like I will never pass. Any strategies for passing and motivation to study when all I can do is fail? Since I failed I lost my BEC credit on top of it.
13. Kevin – I'm 49 and almost nailed this this about 5 years ago. Except life threw me some curveballs and had to deviate away from studying. OK….time to nail this once and for al and get my career to the next level. I appreciate some of the other posts I've read. Especially knowing that it IS possible at 49 with wife, kids, house, etc to study and PASS the CPA. Ah, but where/how to start? I'm looking for some advice on what courses/materials others may recommend in my situation.
14. Barbara – Hi, i just had my BEC exam today. I would just like to ask your opinion, in the exam if the timer is done, would the exam automatically stop and exit the testlet? Awhile ago when the timer was already at zero, i was still able delete a word for a split second and hit submit. I'm afraid that my essay wont be counted or disregarded because I didn't submit on time. I would appreciate your opinion on this as I've been stressing about it all day. Thank you