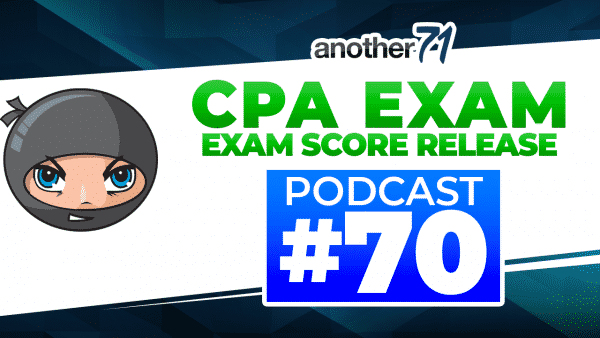 Like the Podcast? Please Subscribe and Review!
[Listen on iTunes]
[Listen on Stitcher]
[Listen on Tunein]
Want to be on the Podcast?
Ask Jeff
Facebook Live
1. Mouzam– I passed BEC last year in June, 2015. Since then I have attempted AUD 3 times scoring 69,61,74. And also attempted REG once scoring 70. I have hit the lowest point of my journey to a CPA now when I scored REG-70 & AUD – 74 in a span of 2 months. My 18 months period is about to get expired very soon on November 30, 2016 & I will loose my BEC credit. I am in dire need of some expert guidance to help me through. 1. How do you suggest I plan my next attempts for AUD & REG ? I seem confident doing MCQs but when it comes to simulations, this looks like my weak point in every exam as they always ask questions which I never even practiced (Out of the blue). 2. How can I prepare myself for these TBS ? 3. Should I attempt AUD & REG both in this August & early September window now to save time & try to pass FAR on 1st attempt which is the biggest challenge so to have any chance of saving BEC.
2. Manny – Hey Jeff I bought your MCQ ,I was wondering does your notes reflect the MCQ from a simpler from instead of me taking the my own note from the question.
Do you have any suggestions to get this done?? Due to nature of my job, I can only do online courses.
3. Xavier – Hello Jeff, I am a senior getting my undergrad and I want to start focusing on the CPA exam specifically the FAR portion. Aside from my intermediate financial textbook I dont have any resources. What do you recommend for someone who is literally starting today. Your prices and ratings have convinced me to try NINJA but specifically what should I do? Where should I start? I got a 99 in my 4111 class so I like to think I have a strong background.
4. Scott – I just applied to sit for the exam. I work for a company that will reimburse the Wiley Excel Gold review upon passing. When I was looking at what was included, it didn't seem to be have MCQs, or notes. I have been telling my friends about your site, and am wondering what would be the best way to go. Even if my company pays for the Wiley Excel, it's only after I pass. Does the Ninja Review 10 point combo cover the material on the CPA exams? From my reading it does.
5. Cindy – I am retaking FAR section this fall, but going back to it made me realize how very broad this topic is, and it makes it tougher to even focus. I'm performing the Wiley Test Bank on top of your review, but it hasn't helped so far. Any suggestions on how to break it down?
Maybe get further readings on subjects such as Statements of Financial Concepts? Maybe take a practice test first, and see what areas to study on?
Geoffrey– I just purchased the ten point combo for BEC & FAR. I just applied for my NTS and plan to take both this next window. I haven't taken the test since '07 and had trouble with the simulations, also the BEC was just multiple choice back then, how can I best use your materials to focus on these.
6 – Dufie – Hi Jeff, According to the analysis I got with my regulation score, my weakness is simulation and property taxes. My becker access has expired and I was thinking of purchasing just the ninja mcqs. The question is does it come with simulations and will I have to supplement it with any of your other products? I still have my becker text books, though. Thanks .
7. Sean – Advice with one week left for FAR do you suggest hitting government hard and non-profit as i've heard those are heavily tested? And should i practice a lot of sims?
8. Nathan – I am currently faced with a difficult decision and would greatly appreciate your advice. I graduated from undergrad in January 2015 and worked at a small firm for 10 months. This past October, I left for an entry level position at a top 20 firm in their Audit and Tax group. During busy season, I prepared over 175 partnership, corporate, and individual tax returns, worked on two real estate audits, five reviews and comps in the retail and consumer products industry, and prepared financial statements. About a month ago, several staff including myself were laid off.
I was told that they were overstaffed and needed to cut payroll. I received good year end reviews and have a few references at the firm including a manager and three seniors.
I am unsure whether to start looking for a new position or pass the CPA exam beforehand. The test makers will be changing the format of the exams this coming March/April. I sat for my first exam (BEC) last week and scored a 40, and am scheduled to take REG soon. I personally know two partners at Big Four and two at top ten. A friend of mine who is a manager recommended that I should begin to interview as soon as possible instead of passing the CPA.
He told me that interviewers will think that I am unable to balance work and personal life if I take off time to pass the exams. However, if I begin interviewing in November or December and hopefully pass all of the exams, I will be a more marketable experienced hire. In your opinion, which plan is better?
9. Pablo – Hello Jeff, I took FAR in late April and received a 67 with my weak areas being in Financial Statement Accounts and Specific Transactions & Events. My strong suit is government and non-profit since I work for a public accounting firm.
I began studying Auditing shortly after I took FAR. My question is should I reset my FAR Progress Data so that I can refresh my memory with everything FAR related.
I logged in over 130 hours and never got to the review stage while taking FAR. I do have CPA Excel for the videos, study text and multiple choice. I didn't fully utilize it for FAR but I am doing so for Auditing to ensure I nail the concepts. My goal is 8 weeks of study time for FAR after I finish studying for Auditing. Please provide any insight to my studying habits.
10. LeAnne – Which order to you recommend taking the CPA exam with all the new 2017 changes coming?
11. Shawn – Hey Jeff got your audit MCQs for my last test think they really helped out a lot. Get the results in a couple weeks. Just started Reg today about 25 days out. So with not much knowledge about REG besides a couple classes in college how do you think i should approach this? Not watch the becker videos and go straight to MCQs not knowing really anything? Confused on your approach to doing it in this time frame.
12. Jeff – Now, I am so closed to obtain my CPA license from Washington state. As per WA state rule, I have the responsibility to select and engage a CPA who has been licensed at least 5 years to evaluate my experience and competence. I called WA state board of accountancy and asked what type of responsibility the verifying CPA is held against and how to find one.  Anthony from the state board answered my call and said that the only responsibility of verifying CPA is to determine the competence of the candidate using his/her judgement either via knowing or interviewing this person.  My CPA who prepared my income tax is not licensed for 5 years and other CPAs that I approached are not willing to help me either.
Anthony suggested me to ask around.  I have no ideas how to find a CPA to evaluate my competences and sign my application.  My prior employer is able to provide me an employment verification, but they are not likely to find a CPA to sign the paper work.  Do you know anyone who might be able to help me in my situation?
13. Another71 Forum – EBrestovansky – A little background- I graduated with a BS in Accounting in 2013 and started working in Tax at a public accounting firm in December 2013. I'm still working at the firm and passed all 4 parts of the exam in February 2016 right before I went on maternity leave (perfect timing I know).
I still need to get 28 credits- 6 of which need to be in accounting in order to be licensed. My question is- should I get an MBA (36 add'l credits for $20,000) or just get the credits via another BS degree (30 credits at $8,100)? Note: I have a very busy lifestyle with 2 kids and I work full-time so it's not an option for me to just focus on schooling- I will be going part-time 1-2 classes a semester. My goal, ultimately, is to become a partner at the firm. Is the cost of the MBA worth it? I almost feel like I should just get the credits to get the license and save the $12,000. Any insight/experience would be appreciated.
14. 75isthegoal – Any advice on how to motor through this material? Extremely disappointing to see it makes up half of the study material in Wiley. I was under the impression that this section would focus predominately on tax, which would play to my advantage.