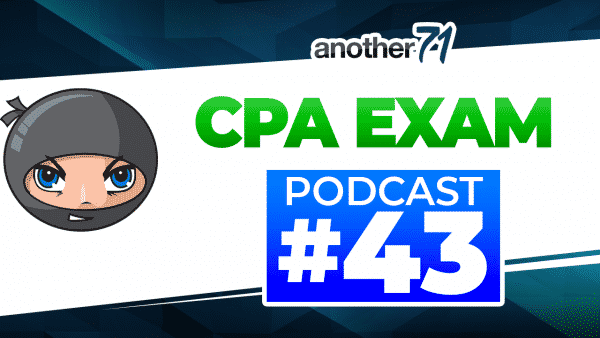 Subscribe on iTunes
Have a question for the Podcast?
Option1: Call the NINJA Hotline – (323) 834-9132
Option 2: Ask Jeff
Podcast: Play in new window | Download
Subscribe: Apple Podcasts | RSS
Today's CPA Reviewed Questions:
Tressa – I've decided to get back to studying for the CPA exam after a 3 year hiatus. Given the exam changes and the upcoming exam changes, where do I start? I plan to use your study materials and am anxious to get started. What advice do you have for people coming back to testing after a long break and what section is the best to start with?
Ru – I did a simulated practice exam and got 48%. I reworked all the problems and got 100%. Do I keep doing this until exam day?
Johnny – Do you think it's necessary to refrain from social media while studying for the CPA exam? I check Twitter a lot throughout day and follow several blogs. I know you've said it takes sacrifice to be able to get through studying. Would you say that sacrifice also applies to Twitter and the news and blogs?
Roberto – I am taking BEC in a month for the third time. The first time, I studied half of my book and scored a 65. The second time, I watched all the videos got a 50. Do you have any suggestions for me? Will the NINJA system work for me?
Rob – What is the most efficient and effective strategy for studying for the governmental and nonprofit accounting section for FAR? I'm going through this stuff and I'm hitting a brick wall because my mind is numb. Do you have an accelerated way of moving through this stuff?
Jack – Is there anything I can do if my prior employer won't sign off on my experience? Aren't they obligated to do so? I keep sending them the form to fill out and 5 months later, still nothing.
Caitlin – I have a complete video lecture course from 2010 that I never got around to using, but I'm going to get started with studying for the exam soon. Do you think I should buy an updated package, or can I get by with the 2010 materials if I add in NINJA and Wiley?
Sylvia – I have recently taken the Auditing exam. I felt like the first testlet was straightforward, the second progressively harder, and the third much harder than the second. Is that a good sign? Do you know how MCQs are graded?
Next Week's Giveaway x2: Ten Point Combo Lite