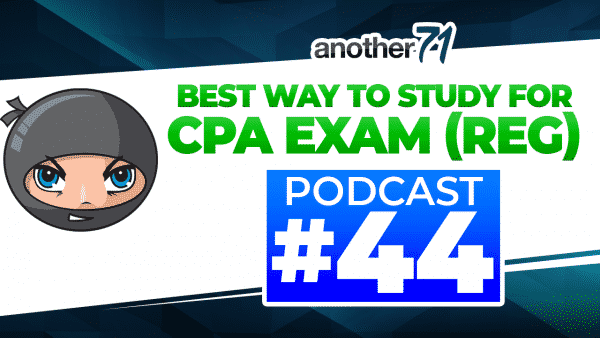 Subscribe on iTunes
Have a question for the Podcast?
Option1: Call the NINJA Hotline – (323) 834-9132
Option 2: Ask Jeff
Podcast: Play in new window | Download
Subscribe: Apple Podcasts | RSS
Today's CPA Reviewed Questions:
Matt – I have the updated Ten Point Combo for AUD. Do you think the combo will be enough to supplement my studies without having to buy another book? Or do I need to purchase updated videos for the Clarity Project?
Ryan – On exam simulations, can you earn partial credit? For example if you are working an income statement and don't present something net of tax, do they only look at the net income number or do they look line by line to see if you did each part correctly?
Cedric – In the NINJA method, a what point do you stop doing non-stop MCQs and move on to rewriting the NINJA Notes? My concern is that I may use up too much time working questions and not leave enough time for the rewrite.
George – I just got my score for FAR, and it's 77. How do you keep the knowledge for a passed section if you don't do that type of work?
Cristy – For the multiple choice portion of the FAR, approximately what percentage of MCQs are actual problems that have to be worked?
Laura – In your experience, how much of an impact will the new audit material have on the exam?
Diana – I want to complete the exam by the end of 2013. What sections would you recommend that I study for first? Based on my time frame, should I try and complete 2 sections in one window?
Snehal – What is the best way to study for REG? I have the 10 point combo and Wiley book.
Agatha – Should I start studying before I schedule an exam, or schedule and then start studying?
Ruby – I just took the REG exam and went through all 4 testlets but clicked on quit instead of submit at the end. I received a confirmation letter that I took the test when I signed out from Prometric. Will the test still be graded? Is there anything I can do at this point?
Mariela – I'm planning to take FAR at the end of August. Do you have any recommendations to supplement my studying? I'm getting the 10 point combo lite, but I don't know if I should also get a book. I have an old review book from 2011, but I don't know if many changes have already taken place. Also, are there any changes to FAR starting Q3?
Sam – I work for a Big 4 Firm. Do you know whether passing my CPA exam on my anniversary date is considered passing within one year (eligible for $5,000)?
Jen – What is your advice for a career-changing adult who has no accounting experience, but is hoping to find a job after passing the exam?
Jess – If I am a licensed CPA in one state, can I refer to myself as a CPA in another state, where I am not licensed?
Danielle – How do you regroup after a 70 on FAR? What do you concentrate on or do you just start from the beginning with lectures again? Unfortunately, I had credit for three sections, and now I only have credit for two since I didn't pass FAR.