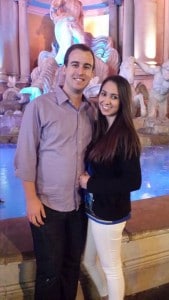 Joshua is a NINJA CPA blogger.
5 days to go!
I have completed my first final practice exam (let's just say there's some wiggle room for improvement) and I am doing MCQs so often, I have started having nostalgic moments with certain questions I got way back at the beginning of my MCQ assessment phase.
There is a lot left to do between now and Saturday morning, and it will be pretty much non-stop work until I get to that finish line!
I can now confirm that I am an accounting nerd, because the first reaction to getting approved and my NTS number was excitement to finally be able to test.
I am definitely nervous, this being my first attempt of any kind for this exam. It helps to know that the answer to 60% of the test will be right in front of me, and that if I take a minute to breathe and really focus on the problem, the SIMS will not be too daunting either.
It's been a long 11 months from starting up with classes at LSU online to getting to this point, and I know that the hard part is still in front of me. Like every other NINJA before me though, I know that this test is conquered one step and one problem at a time.
Having an EWS winner in your office is a bit stressful when people start using them as the model for CPA success. I like to take the Vin Diesel approach to my exam thoughts "it doesn't matter if you win by an inch or a mile, winning is winning."
At this point, a 75.00001% is just fine in my book and if it means I can let these [A71 product="notes"]FAR notes and books collect dust until the end of days, all the better.
I have the same nerves now that I got the first time I interviewed for a job; mostly excited, but definitely nervous. 4 days seems short, but it can be all the time I need if I just admit that there is no life outside of the exam this week.
My girlfriend has been supportive enough to block all websites outside of A71 for me as well as hide all of the TV remotes, PS3 controllers and non-essential electronics that would waste time (somehow she doesn't see Candy Crush level 394 as needing to be beaten this week). It's blinders on and focused mind for the next few days. Time to crush this test!
Hi-Ya!