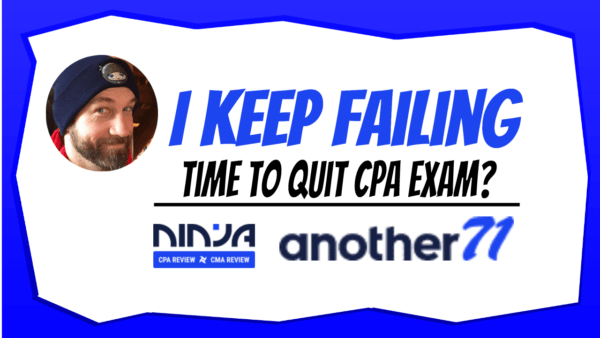 Jeanette writes in, I don't know what to do anymore. The CPA exam has been the only obstacle to my dreams. I keep failing over and over. I guess it's time to quit. Without knowing your circumstances, even without knowing your circumstances, I can tell you that it's not time to quit because if you are smart enough to become exam eligible it means that you have the work ethic to obviously get your college degree, get your requisite hours to get the equivalent of an accounting degree.
If you got your 150 hours and go through all the hoops of getting your NTS and getting NASBA approval, et cetera. And so you are, you have the work ethic to do it, and you're smart enough to do it. The question is, and I don't know anything about your study plan. It's just a question that came in actually on YouTube.
So the question is, what do you do when you don't feel like it. You're smart enough to pass the CPA exam. And I'm not going to even mention ninja. I guess I just did, but I'm not gonna turn this into how to pass with ninja because that's not the point. So the question is how are you studying?
First, are you studying 10 hours a week or are you studying 20 hours a week? You're not studying 20 hours a week. You change that. How are you studying? Are you studying? The conventional way. And this is when I'll plug in the ninja framework. At least you can use it with any course.
Are you doing it? The old school way of just chapter one videos, chapter one questions, or are you more effectively and efficiently doing, the concepts, intense notes, nonstop, MCQ, then you rewrite your notes, then you do your MCQ in reverse order weakest to your strengths. So how are you studying your review course?
Do you, is your course working for you? Meaning, I'm of the mindset that you can pass with any review course, but sometimes people just grow to hate their review course, or that people just grow to hate me. Sick of listening to the ninja audio and they just that's okay. I get sick of me too.
So if you don't want to get up and study in the morning, then you should probably switch courses because if you're like, I just can't stand that instructor's mannerisms. I refuse to study anymore. Is that a little petty? Yes. A little shallow. Yes. Is it reality? Could be, you might just need to punt and get a different CPA Review course.
Have a question for the podcast? Ask Jeff.