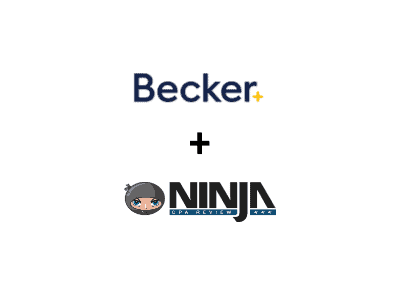 CPA Review Courses: 10 Things You Must Know
---
1. CPA Exam Prep isn't like College Accounting
---
CPA Review courses differ from a college accounting class in three major ways:
Breadth of coverage – Your college accounting class spent an entire semester covering the nuances of auditing. Your CPA prep course covers it in a matter of hours. It's a review.
Purpose – Your college accounting classes was designed to teach you accounting (whether or not they actually taught you how to be an accountant is a different topic for a different day.). Your prep course has one purpose: to drag you over that 75 threshold on exam day.
Laser Focus – College accounting classes will cover topics that aren't on the CPA Exam. For instance, there are tax topics that are simply beyond the scope of the Regulation Exam. A good REG course will only cover topics on the REG CPA Exam.
---
2: Cost of CPA Review Courses range from $67 to $3,500+
---
Disclosure: This site owns

NINJA CPA Review

and has affiliate/advertising relationships with

Becker

and

Roger CPA Review

.


---
3. The Cheapest CPA Review Course is NINJA
---
The cheapest CPA prep course is NINJA CPA Review. It's a complete course that gives you everything you need to pass the CPA Exam:
Textbook to learn the CPA Exam concepts
Review videos to reinforce the concepts and hit trouble spots
Adaptive Learning Testbank that knows what you know (and what you don't)
Study Notes for review
Audio Course so you can study on the go
Live Tutoring 4x a week
AICPA-Licensed content
NINJA CPA Review costs $67/month.
Since NINJA switched to the subscription model, numerous companies have come out with a kind-sorta-not-really product like NINJA.
They advertise a low monthly fee (like NINJA), but they make you stay until you've paid thousands of dollars (unlike NINJA).
NINJA Monthly is not financing and there's no commitment.
It's a subscription – like Netflix.
You can start…cancel if you want…start again…cancel again, etc.
NINJA is the only CPA Review company that will start and stop as you wish, with no penalty.
Don't just take our word for it:
---
Investopedia published an unbiased review of the various study courses and listed NINJA as a top-rated course and named us "Best Price."
Why We Chose It: Ninja CPA Review works nicely as an inexpensive supplement to an online course. This is an efficient studying tool that can be used as your main course but serves best as an auxiliary study aid with an excellent online support community.
– Investopedia: The 5 Best CPA Prep Courses of 2021
---
4. The Best CPA Study Courses for 2021 depends on you
---
Which CPA Review courses are the best? Easy. There is no "best course." The real question is: "which review course is best – for me". It really comes down to:
Budget (will you still be paying for this course 15 years from now?)
Learning Style (talking head? powerpoint? self-study?)
The 5 a.m. Test (will you want to study with this course at 5 a.m. or does the instructor annoy you so bad, you want to stay in bed?)
Refund Policy (do they stand behind their course if you're not happy?)
---
5. Ignore Advertised CPA Exam Pass Rates
---
There are high CPA Exam pass rates out there advertised by some CPA Review courses. The first time pass rate for the CPA Exam is around 30-ish%. The pass rate for any given CPA Exam section is around 50%. You will see some review courses advertise a rate nearly double that of the AICPA, and I'm not privy to their data, so I don't know how they've arrived at those numbers.
Nearly all – if not all, CPA candidates use more than one study source for the CPA Exam. If you visit the another71 Forum and get help on a homework question, technically, you've used more than one study source. I don't know how anyone can know what their exact pass rate would be. Another curveball is that CPA candidates are more likely to tell you they passed than they failed. When you pass – you shout it from the rooftops.
When you fail, you lock yourself in your spare bedroom and eat 5 gallons of ice cream and don't talk to anyone for three days.
That's a long-winded way of saying – don't factor advertised pass rates into your buying decision.
---
6. Every Company has Online CPA Prep Courses
---
Back in the day, in-person courses were all the rage. Of course, VHS vs Betamax was still a debate as well. In this day and age, all CPA prep courses have an online presence and digital option. CPA Review Courses like Becker and Roger have physical and digital materials, whereas NINJA is 100% online.
If you purchase NINJA, however, you get printing permissions, so if you want a physical textbook, you can take the NINJA Book via flash drive to Staples or Office Max and print it out. Plenty of people do this.
We (NINJA) also don't get crazy with locking the PDFs, so you can easily use them on your phone, laptop, or tablet, for studying on the go.
---
7. The Best Review Course for FAR? (Surprise! There isn't one.)
---
The best course for FAR or any CPA Exam section is the one that meets your learning style, preferences, and budget.
We've already covered that.
FAR has the lowest CPA Exam pass rate and is the one that gives people nightmares (and pre-exam nausea).
If you're struggling with FAR – and on a budget (who isn't??), then try going Full NINJA.
Check the out via our Free Downloads.
In addition to the full NINJA FAR weaponry (book, notes, audio, testbank, etc), NINJA offers weekly FAR Tutoring.
NINJA Mike is awesome. Check out one of our FAR sparring sessions.
---
8. CPA Prep Course Tax Deductibility? Negative, Ghostrider
---
CPA Review courses are not tax-deductible according to IRC§ 1.162-5. since they allow you to meet the minimum requirements of your job as a CPA.
Bummer, I know.
---
9. Read Customer Ratings and Reviews
---
Considering a course? Use the search function in your favorite online study groups and forums.
What does Reddit, Facebook, and the Another71 Forum have to say about the course you're considering?
Btw – Love your Course? Can't stand your instructor(s)?
Rate and Review your CPA Prep materials in this super-quick CPA Review Survey.
---
10. Choose your Review Course Wisely
---
You will find all sorts of opinions/rankings/ratings on the interwebs about CPA Review courses. Most of them are biased or have a financial relationship with the courses they recommend.
You may be thinking "yeah, but you recommend NINJA – a course that you own." A very good point.
I won't tell you to buy something that I won't personally stand behind, which is why…
NINJA has a 30-day, no questions asked, money-back guarantee.
Most courses have flimsy refund policies (if they are allowed at all).
No company can match NINJA's return policy or even come close.
No risk if you don't like it and no commitment if you do?
It doesn't get any better than that. 🙂
---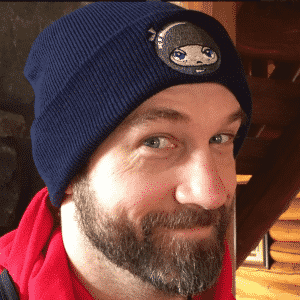 Jeff Elliott, CPA (KS)
PS – Check out our NINJA Free Trial.
---