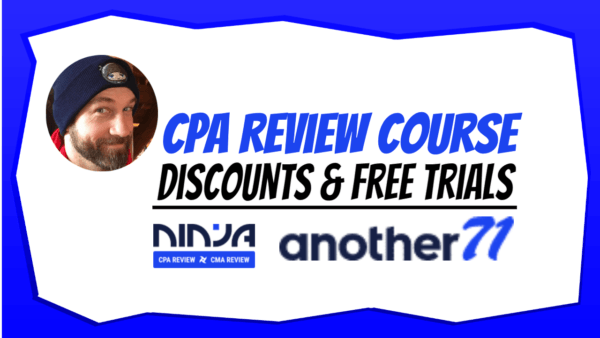 CPA Review Courses: 7 Things You MUST Know Before Buying
---
Disclaimer: This site owns NINJA CPA Review and has affiliate/promotional partnerships with the CPA Review courses on this page.
NINJA also has a limited-time promotional partnership with Roger CPA Review.
In addition to the $1,300 discount, 4 Months of NINJA is included with an Elite Course purchase.
Here are seven things to know before you purchase a CPA Review course:
---
1. The Cost of CPA Review Courses range from $67/month to $3,499
---
Self-Study? Online? Subscription? Lump-Sum?
There is a wide range of choices, features, and costs with CPA Review courses.
Click a course for details on updated pricing, features, test bank, and discounts.
We might make monies if you purchase through one of our links.
We will certainly make monies if you purchase NINJA, so please definitely do that. 😀
---
CPA Review Course Comparison
---
Here's a listing of 5 Top CPA Review courses by price.
The "premium" package of each course is listed, so click a course to explore features, benefits, and options among their various course offerings.
Note: NINJA only has one option and we give you everything for $67 a month. 😀
Most of these course packages offer "Unlimited" Access or the equivalent.
Click each course for details.
---
---
2. The Cheapest Course is NINJA
---
The cheapest CPA prep course is our company, NINJA CPA Review.
It's a complete CPA Review course that gives you everything you need to pass the CPA Exam, for $67 a month.
NINJA Includes:
Textbook to learn the CPA Exam concepts
Review videos to reinforce the concepts and hit trouble spots
Adaptive Learning Testbank that knows what you know (and what you don't)
Study Notes for review
Audio Course so you can study on the go
Live Tutoring 4x a week
AICPA-Licensed content
---
Since NINJA switched to the subscription model, numerous companies have come out with a kind-sorta-not-really product like NINJA.
They advertise a low monthly fee (like NINJA), but they make you stay until you've paid thousands of dollars (unlike NINJA).
NINJA Monthly is not financing and there's no commitment.
It's a subscription – like Netflix.
You can start…cancel if you want…start again…cancel again, etc.
NINJA is the only CPA Review company that will start and stop as you wish, with no penalty.
---
3. The Best CPA Review Courses for 2021 depends on you
---
Which CPA Review courses are the best? Easy. There is no "best course."
All courses (for the most part) have a CPA Review book, audio course, test bank, lectures, etc.
---
The real question is: "which review course is best – for me". It really comes down to:
Budget (will you still be paying for this course 15 years from now?)
Learning Style (talking head? powerpoint? self-study? white board lecturer like Roger?)
5 a.m. Test (will you want to study with this course at 5 a.m. or does the instructor annoy you so bad, you want to stay in bed?)
---
4. Ignore Advertised Pass Rates
---
There are high CPA Exam Pass Rates out there advertised by some CPA Review courses. The first-time pass rate for the CPA Exam is around 30-ish%. The pass rate for any given CPA Exam section is around 50%. You will see some review courses advertise a rate nearly double that of the AICPA, and I'm not privy to their data, so I don't know how they've arrived at those numbers.
Nearly all – if not all, CPA candidates use more than one study source for the CPA Exam. If you visit the another71 Forum and get help on a homework question, technically, you've used more than one study source. I don't know how anyone can know what their exact pass rate would be. Another curveball is that CPA candidates are more likely to tell you they passed than they failed. When you pass – you shout it from the rooftops.
---
When you fail, you lock yourself in your spare bedroom and eat 5 gallons of ice cream, and don't talk to anyone for three days.
That's a long-winded way of saying – don't factor advertised pass rates into your buying decision.
---
5. Check for CPA Review Discounts & Coupon Codes
---
In CPA Review land, the price is rarely "the price".
NINJA doesn't run specials or discounts, because it's always $67 a month.
No Commitment. Cancel anytime (for any reason).
Most review courses run discounts and sales throughout the year and you can usually find a coupon code floating around.
We currently have an exclusive promotion with UWorld Roger CPA Review.
(Save $1,300 on the Roger CPA Elite course and get 4 months of NINJA free ($268 value).
Total package savings: $1,568. Not too shabby.
At $1700 (ignoring tax), it's the best deal going in CPA Review (assuming that Roger doesn't speak too fast for your liking and that my midwestern twang doesn't drive you crazy on the NINJA Audio) 🙂
---
CPA Discount & Coupon Codes
---
---
6. Add a Second CPA Test Bank? Good Idea.
---
While all AICPA-Licensed CPA Review courses get their MCQ from the AICPA, the differences among courses are notable.
Adding a second CPA test bank is a good idea. Here are three reasons why:
---
Different courses emphasize different sub-topics. If one course lightly covers one area, but another course hits it harder, you're better prepared for exam day.
Many CPA candidates begin to memorize questions and can have a false feeling of confidence heading into exam day, which can lead to disaster. Using two test banks helps prevent this.
Not all adaptive learning algorythms are created the same. Do you know your Trending Score?
With the Roger + NINJA promo, you'll get around 12,000 questions to practice. That'll keep you entertained for a while 🙂
---
CPA Test Bank Comparison
---
---
7. Check out the Free Trials
---
Would you buy a $3,000 car without driving it first? Of course not.
Why wouldn't you test drive a $2,000-$3,500 CPA Review course?
(or even a $1,699 Course) 😀
Be sure to also use the search function in your favorite online CPA study groups and forums and get the good, the bad, and sometimes, the ugly.
---
PS – Check out our Free Downloads
---