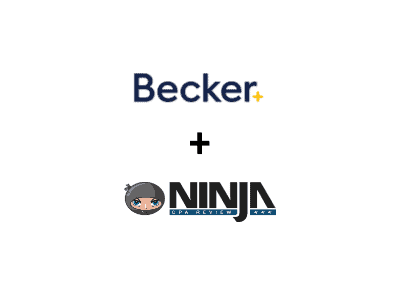 CPA Review Courses: 7 Things To You MUST Know
---
1: The Cost of CPA Review Courses range from $67/month to $3,499
---
Disclosure: This site owns NINJA CPA Review and has affiliate partnerships with the courses on this page. No course "ranking" intended or implied.
Self-Study? Online? Subscription? Lump-Sum? There is a wide range of choices, features, and costs with CPA Review courses.
Here are three popular CPA review courses to check out and compare:
---
2. The Cheapest CPA Review Course is NINJA
---
The cheapest CPA prep course is NINJA CPA Review. It's a complete course that gives you everything you need to pass the CPA Exam:
Textbook to learn the CPA Exam concepts
Review videos to reinforce the concepts and hit trouble spots
Adaptive Learning Testbank that knows what you know (and what you don't)
Study Notes for review
Audio Course so you can study on the go
Live Tutoring 4x a week
AICPA-Licensed content
NINJA CPA Review costs $67/month.
Since NINJA switched to the subscription model, numerous companies have come out with a kind-sorta-not-really product like NINJA.
They advertise a low monthly fee (like NINJA), but they make you stay until you've paid thousands of dollars (unlike NINJA).
NINJA Monthly is not financing and there's no commitment.
It's a subscription – like Netflix.
You can start…cancel if you want…start again…cancel again, etc.
NINJA is the only CPA Review company that will start and stop as you wish, with no penalty.
Don't just take our word for it:
---
Investopedia published an unbiased review of the various study courses and listed NINJA as a top-rated course and named us "Best Price."
"Why We Chose It: Ninja CPA Review works nicely as an inexpensive supplement to an online course. This is an efficient studying tool that can be used as your main course but serves best as an auxiliary study aid with an excellent online support community."
– Investopedia: The 5 Best CPA Prep Courses of 2021
---
3. The Best CPA Study Courses for 2021 depends on you
---
Which CPA Review courses are the best? Easy. There is no "best course." The real question is: "which review course is best – for me". It really comes down to:
Budget (will you still be paying for this course 15 years from now?)
Learning Style (talking head? powerpoint? self-study?)
5 a.m. Test (will you want to study with this course at 5 a.m. or does the instructor annoy you so bad, you want to stay in bed?)
---
4. Ignore Advertised CPA Exam Pass Rates
---
There are high CPA Exam pass rates out there advertised by some CPA Review courses. The first time pass rate for the CPA Exam is around 30-ish%. The pass rate for any given CPA Exam section is around 50%. You will see some review courses advertise a rate nearly double that of the AICPA, and I'm not privy to their data, so I don't know how they've arrived at those numbers.
Nearly all – if not all, CPA candidates use more than one study source for the CPA Exam. If you visit the another71 Forum and get help on a homework question, technically, you've used more than one study source. I don't know how anyone can know what their exact pass rate would be. Another curveball is that CPA candidates are more likely to tell you they passed than they failed. When you pass – you shout it from the rooftops.
When you fail, you lock yourself in your spare bedroom and eat 5 gallons of ice cream and don't talk to anyone for three days.
That's a long-winded way of saying – don't factor advertised pass rates into your buying decision.
---
5. Check for CPA Review Discounts
---
In CPA Review land, the price is rarely "the price".
Most review courses run discounts and sales throughout the year and you can usually find a coupon code floating around.
Here are the current CPA Review Discounts (as of 3/24/21):
NINJA: Just kidding. We never raise or lower the price. Ever. It's always an affordable $67/mo with no commitment whatsoever.
Becker: Save $1,300 on the Becker Pro course + 4 Months of NINJA Free.
Wiley: Save $700 on the Wiley Platinum Course.
---
6. Add a Second CPA Testbank? Good Idea.
---
While all AICPA-Licensed CPA Review courses get their MCQ from the AICPA, the differences among courses is notable.
Adding a second CPA testbank is a good idea. Here are five reasons why:
---
The AICPA doesn't provide answer explanations, so each course writes its own answer rationales.
When accounting or tax standards change, each course makes editorial changes to those base AICPA MCQ, adding further differentiation. For example, when the Revenue Recognition and Lease standards changed dramatically for FAR, the questions underwent a material change.
Most CPA review companies also have their own homegrown, instructor-written questions – particularly over topics lightly covered in the AICPA-released questions. A good example of this are QBI tax questions from REG when TCJA became testable. The review courses had to write their own QBI questions.
Course software and analytics are not created equal. People love the NINJA MCQ adaptive learning and RECON feature 🙂
You will likely start memorizing your course's questions – particularly if you're studying for a retake. This is bad. You're headed for another 71. It's time for a fresh look at the questions.
---
---
7. Customer Reviews Tell the Real Story
---
Considering a course? Use the search function in your favorite online study groups and forums.
What does Reddit, Facebook, and the Another71 Forum have to say about the course you're considering?
Btw – Love your Course? Can't stand your instructor(s)?
Rate and Review your CPA Prep materials in this super-quick CPA Review Survey.
---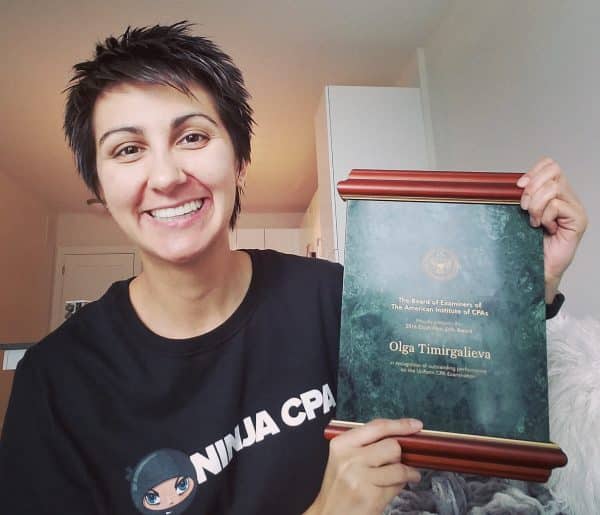 "Thank you Jeff!! It definitely would've not happened without your MCQs… Thank you!! NINJA MCQ – A must! Solving through all of the MCQ, understanding solutions, and adding new information nuggets to your notes — absolutely critical.

With the NINJA Notes, I printed out the notes and used them as a knowledge check closer to the exam. Information is high-level, so you can quickly run through and get a comfort level on what you should go back to review in detail.

NINJA Audio is nice to use during the commute or if you are an auditory learner. The Audio MCQ is nice to keep you engaged."
– Olga Timirgalieva, Elijah Watt Sells Award Winner*
*Results not typical. Only 1 in 1,000 CPA candidates win the EWS Award.
---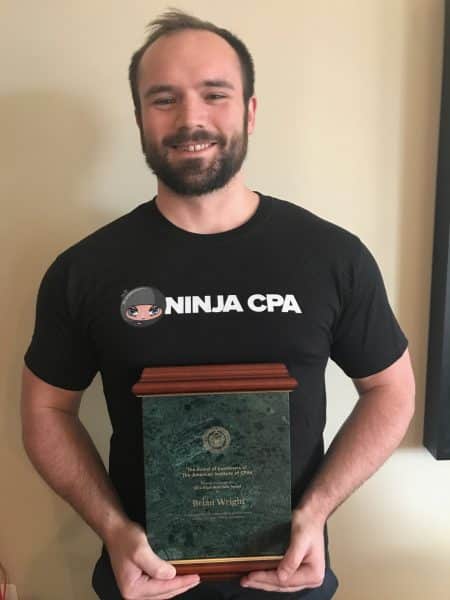 "After taking three exams I was in reach of the EWS award. I knew that I needed a high score on my last exam to get it, so I decided to use NINJA MCQ and practice tests to supplement my Becker materials.
The questions and practice tests were extremely useful, they helped me find some weak spots I didn't even know I had and gave me the extra practice I needed to get my best score of any of the exams."
I thought it was set up really well and had a different approach which definitely helped."
– Brian Wright, Elijah Watt Sells Award Winner*
*Results not typical. Only 1 in 1,000 CPA candidates win the EWS Award.
---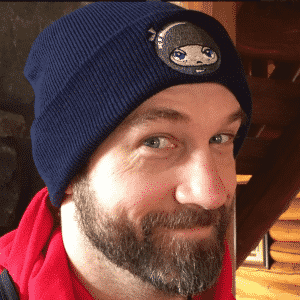 PS – Free NINJA for All Becker Students
---