Leah is a NINJA CPA Blogger.
As the saying goes around the Another71 Forum, I'm half way to CPA! After making it past FAR and then failing AUD, I was hoping for a pass with BEC just to prove passing FAR wasn't a fluke.
I did pass BEC, but it was in the window that had such a high pass rate. I'm still not sure what to make of that and may never know considering AICPA will probably not offer any explanations.
The BEC pass gave me a boost of confidence going into an AUD re-take. My first try at AUD was nothing like my AUD re-take. My first attempt left me feeling dazed and confused, and I wasn't able to use AL on SIMS. I scored comparable on MCQ and weaker on SIMS and ended up failing by 6 points.
I left my re-take feeling like I may have done well enough for a pass. I felt I did just as well on MCQ and was able to use AL on several SIMS. I was a little shaky about 2 SIMS, but that is much improved over my first try.
I won't be holding my breath though. I know it's tricky to try and base anything off how you feel coming out of an exam.
After spending five months hitting the books and taking two exams in one window, I finally got a couple of days to slow down. I'm moving on to REG while I wait for my AUD score. I'm glad that I get to switch to a different subject.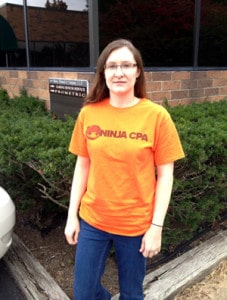 I've included a picture that my husband took right before my AUD re-take. The Prometric where I test moved this past month. I was hoping there would be an awesome Prometric sign on the new building like the one on the previous building.
When we finally found the new building the only sign was a laughable 2-inch letter sign on the side of the building. If you squint, you can see it in the picture on the left. Maybe they forgot to move the other big sign? Oh well.
My t-shirt is orange for fall, and I ordered it big intentionally. We have an almost 2 hour drive one way, and I try to be as comfortable as possible for these exams.
You may detect a slight look of apprehension on my make-up-less face. This is how I rolled right before my big exam sans any other luxury items not allowed into testing.
I'm thinking they should give me extra points on my AUD re-take just for being able to find the building.