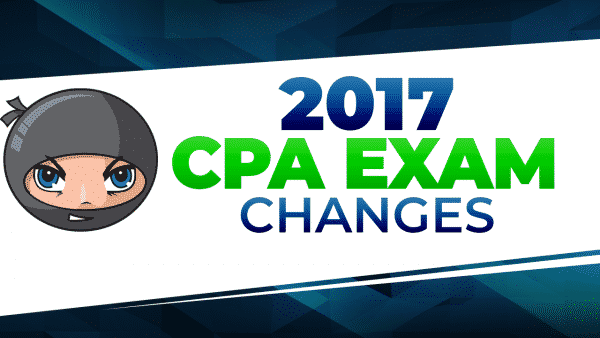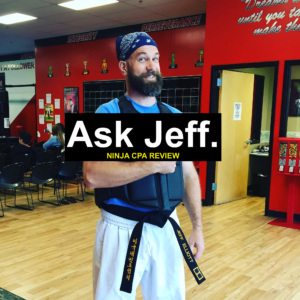 Need CPA Exam Study Advice? Struggling with balancing Life and the CPA Exam and need to vent?
You can Ask Jeff, and your question/comment/frustrations will be answered in an upcoming Ask Jeff/Podcast.
Disclaimer: This is general advice only – I don't know all of the facts/details of your situation. Please keep in mind that my opinion is often wrong – just ask my wife.
Oh Study Planner, Where Art Thou?
Where can I get the Study Planner? I have tried to click the link under study tools and it brings me to the free download page. I am not sure if I am doing it right but even after I download it I cant find it. Please help!
Jeff: Here you go: NINJA Study Planner. You're not crazy – the Study Planner was missing and the ninjas added it back 🙂
I Passed!
Hi Jeff, I don't have a question but I just found out the other day that I finally passed the CPA! I was about to lose my credit for both BEC and REG in March and I failed AUD 4 times (73, 71, 73, 73) using Becker. This was my last chance to pass and I wouldn't have been able to do it without the Ninja MC. I was able to raise my score to an 85 and I've already recommended CPA Ninja to my friends.
Jeff: A big congrats to you! Your referrals are very much appreciated! You should start a rival another73.com 🙂 Just kidding…that would hurt my feelings.
Which 2017???
Jeff, Taking the BEC portion in march before the cut-off and just noticed I purchased the 2017 notes. Are they applicable for this exam or are they structured for the new exam?
Jeff: The NINJA Materials won't be materially changing for Q2. The concepts are the concepts – only the exam day experience is slightly changing. I will need to pull some topics like Dodd Frank from REG, but other than that…business as usual for CPA Candidates.
Computer Issues – Lost Free Stuff
Hello Jeff, I signed up with my email to receive the sample materials a few months ago but my lovely computer decided to delete it (I must have left it in the "Downloads" folder). Do you still have the 2016 sample materials? I would love to see your input before I test Thanks!
Jeff: Here you go: Free Stuff (it's 2017 materials you want, not 2016, btw) 🙂
Drill down in the MCQ?
Does the MCQ test per section e.g Corporate Governance separate from Info technology or is it comprehensive-all BEC MCQ at random?
Jeff: In NINJA MCQ, you can do it both ways – a global mix of questions, or you can drill down like you describe.
Got Pre-Test?
I know the test doesn't advise that question is pre-test. What in your opinions, make you feel that it is one of them? During the exam, I got some bizarre questions which I did not encounter on the test bank and WILEY past exam questions, barely mentioned on Study text. Do you think this is a hint? Also, since there are 12 pre-test questions in BEC, are they assigned proportionally, such that, 3 testlets get 4 pre-test questions each, or can they be randomly assigned?
Jeff: My guess is that they are evenly distributed, but I don't know for sure. My guess and a quarter will get you a phone call. A collective "huh??" from the millennials out there. You think your cell phones are gross…back in the day, gas station pay phones were where it was at. Yes – a bizarre question…a particularly wordy question…could be an indication of a Pre-Test question…or it could just be a "difficult" question because you're rocking the exam.
Study Time for Each CPA Exam Section?
Hello Jeff, my name is Micah and I was wondering with your Ten Point Combo package, how long do students typically study each CPA Exam section before they go take the test? I am only a junior in accounting but am already starting to research and prepare for when the time comes for me to study.
Jeff: I recommend:
BEC & AUD – 5 Weeks
REG & FAR – 7 Weeks
Now, I could say 6 & 8 weeks, respectively, but you would just waste a week messing around on Netflix because you know you only need 5 & 7 🙂
Anyone who recommends studying more than 8 weeks for any exam…likely hasn't taken the CPA Exam since Beta Max was more than a lovable Disney character.
NINJA Book: PDF or what?
Hey Jeff, Are the ninja books actual textbooks or PDFs?
Jeff: They are downloadable PDFs only…but still real textbooks 🙂
Kaizen?
In your note book, do you have more information regarding KAIZEN? Such as calculation. I looked at my textbook, I did not see it.
Jeff: Just be generally familiar with what it is … nothing beyond that for purposes of the CPA Exam. Let me put it another way – if I were studying today for BEC, I would generally know what it is … and move on.
2017 FAR Changes
Jeff – with all the talk of the new cpa exam format changes in April, like what's going away, etc., is there a summary of changes or new pronouncements that are to be tested starting Jan 2017 specifically for FAR? I'm taking FAR on 2/24 and feel kind of like all focus has been on the new exam ever since the New Year started.
Jeff: What! You missed my CPA Exam Change Summary video … and I got all dressed up and everything…