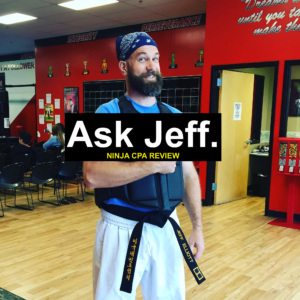 Need CPA Exam Study Advice? Struggling with balancing Life and the CPA Exam and need to vent?
You can Ask Jeff, and your question/comment/frustrations will be answered in an upcoming Ask Jeff/Podcast.
Disclaimer: This is general advice only – I don't know all of the facts/details of your situation. Please keep in mind that my opinion is often wrong – just ask my wife.
2016 or 2017 Tax Law?
Hi Jeff, I'm taking the exam on 7/1, will 2017 tax law be included in the exam? I've got Audio and MCQ but was wondering if I should be included 2017 tax law in my study program.
Jeff: Your REG exam will be over the 2017 tax law. REG is still a very conceptual exam. It would be very difficult for the examiners to update the REG question bank with every whim of Congress. There are a few numbers that the CPA Review courses update each June for the new tax law changes (Section 179, Estate Tax, etc). You can start studying in May 2017 for your July REG exam and adjust for a few number tweaks in June – no big deal.
Deferred Taxes – Current or Non-Current?
Hi I am studying for the FAR test and I have a question on Tax. My thinking was that all deferred tax and liability are not classified as non-current. When does this go into effect and if this is in effect already some questions on MCQ need to be adjusted to reflect this?
Jeff: Deferred Tax Assets/Liabilities are all non-current now. This was eligible for the CPA Exam beginning January 2017.
AUD SIM Practice?
Hi Jeff, Is there any separate simulation module do you have for practice for AUD? As I have already given audit 2 times but I got 74 and 71 only. And now from April 1 on, simulations also got 50% so wanted to study and focus more on that too before I lose my credits. Please advise.
Jeff: Yes – NINJA MCQ has more SIMS than you can possibly practice (or rather, should practice). The SIMS are included with the MCQ.
Recommended Order of Exams?
I have not started studying for any of the CPA exams and have been out of school for over 4 years. What order should I take the tests and how much time do you recommend studying for each test?
Jeff: Your average CPA candidate (age 29, per NASBA) has been out of school at least that long, so that's a non-issue. I would go FAR — AUD — REG — BEC. Not always, but almost always.
FAR has a naturally cross-over into AUD. Studying FAR will help you to understand Taxable Differences in REG. There's some Ethics cross-over from AUD to REG (although the new Blueprints have lessened that), and BEC is a content dumpster (and some would say a Dumpster Fire), for everything else.
NINJA MCQ on one Computer?
I am having trouble signing in from a separate computer. Is the Ninja MCQ limited to 1 computer? Meaning, I can only sign in with the computer I used to purchase Ninja MCQ?
Jeff: You can sign-in on multiple computers. There is an IP restriction, but that's an issue with one person a month – maybe.
NINJA Book – 2017 Changes?
Hi Jeff Has the FAR book been updated for the 2017 changes? Or will the current version I have from last year work?
Jeff: Yes – the NINJA Book, Notes, Audio, etc are up to date for the April Exam. Remember – the conceptual content didn't change – at all. Bonds are still Bonds. Corporate Tax is still Corporate Tax. BEC is still weird.
FAR Re-take – REG Credit at risk
I work full time and study after work and on weekends. I've taken the FAR section of the CPA exam 4 times. I've passed REG, BEC and AUD. However, time is now against me (REG expires in April) and I'm uncertain how to conquer the FAR section of the exam. In the past, I've prepared for each FAR exam by re-dong all homework and assignments and pumping through random test bank questions.
Jeff: I would start over from scratch completely with FAR. Re-watch all videos, take new notes, etc. You're likely failing because you're re-doing questions vs completely re-doing your study program. The "less-miserable" path (skipping book/lectures in favor of MCQ) often leads to more misery (re-takes).
Updated NINJA Notes Price?
I was wondering if there is a discounted price for those of use who purchased ninja notes previously and need the updated notes for the new exam?
Jeff: Good news – NINJA Materials come with free updates until you pass 🙂 Email support@another71.com for your fresh copy.
They eliminated That much from FAR?
Hi, I failed my first attempt at FAR in Feb, 2017. I was really hoping that I would pass before the new format comes in, but I got 73 and failed. Now, I am planning to retake the exam on April 10th. Honestly, I am quite scared coz of the new format. I went through the changes on Becker, and apparently, they are eliminating A LOT of stuff. Here is the list of things being eliminated according to Becker: Personal F/S Liquidation basis F/S Joint Ventures Investment Property Debt with conversion features (convertible bonds) Other options (stock options..?) Deferred compensation arrangements Non-retirement Post-employment Benefits ARO Related Party Transactions.
Honestly, I can't believe they are getting rid of this much stuff! Is this a reliable/correct information? Should I just not study for them at all and be more effective with other areas? I am worried that I would get those questions on the exam when I would not have studied for them at all. Help me Jeff!!
Jeff: Yes – that information is correct and reliable. It sounds like a lot of material to eliminate, but it's not when you take into account the number of pages/MCQs to remove. REG, on the other hand, had more with Negotiable Instruments stripped out. The AICPA says this stuff isn't tested any longer, so you should roll with it.
Best CPA Review package
Hi, good morning I just got back my results for my two exams and I passed them so now the clock is ticking. I have just graduated from university, and I am not planning to seek employment until I finish with all sections. I wish to do the BEC and FAR exams in May or maybe sooner. Nonetheless, I want to know what exactly to do. I did not read my previous textbooks, so I am contemplating getting your notes and MCQ. You said to watch videos so I want to know the best package. What is included in the ten point combo? Thanks in advance.
Jeff: The Ten Point Combo comes with everything you need to pass – books, notes, lecture videos, cram videos, audios, MCQ/SIMS. The question is: Is NINJA right for you? I would check out the demos (https://www.another71.com/cpa-exam-study-plan/) for NINJA and other courses as well.
Which section first?
Hi Jeff, I've been out of school since 2012, currently working as an accountant for a Broadway company mostly working with the financials BS, IS, variance analysis, etc. Any advice on which part I should tackle first?
Jeff: FAR. Can you score the ninjas some tickets? 🙂
Jeff:
Frustrated with REG
Jeff, I am frustrated. I have passed 3 parts of the CPA exam using (an expensive course) but I am about to lose FAR because I have been unsuccessful passing Reg. I have taken the exams 3 times now and I am at my wit's end. Every time I think I'm prepared, I go into the exams and the information looks foreign to me. I need advice on how to proceed. I am going to take it again in April (and unfortunately will need to take FAR again) but I cannot use the same materials. HELP
Jeff: If you're like me (about to lose FAR because you refused to study AMT and Like-Kind Exchanges), then you know your weaknesses. After failing REG 3x (like me) – it's a matter of being stubborn (or a tad-bit of laziness … if you're like me in this area as well).
1) Start completely over with REG – start to finish
2) Hit everything hard – and hit those areas you hate (AMT?) extra-hard.
3) Swap out your current MCQ with NINJA MCQ and you will have a Trending Score, which gives you a solid idea of where you stand. If you're scoring mid-80s and you're in the review stage…you're looking good on exam day. Here is the NINJA MCQ Trending vs Actual CPA Exam Scores thread for reference.
I don't know you or your situation, but my guess is that you know where your conceptual weaknesses are and it's time to roll up your sleeves and get to work (like I had to do … and scored a 92 after losing my FAR credit).